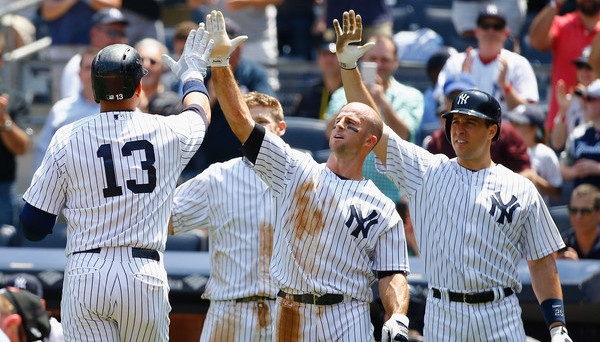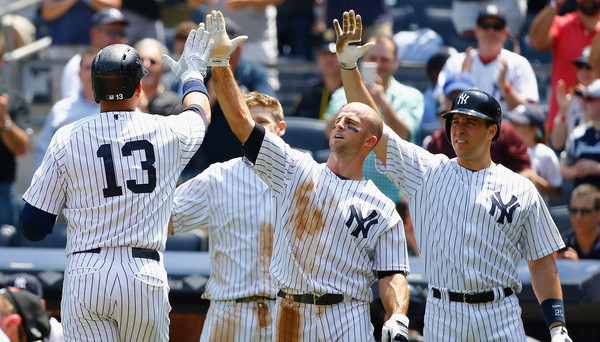 As part of Mike's great Midseason Review series, I'm here to give you some of the amazing (both good and bad) statistical notes from the unofficial first half of the season, plus a quick look ahead to a few of the records that these six Yankees below will be chasing during the remainder of 2015.
Without further adieu, your first-half Yankeemetrics:
Brett Gardner
Gardner is certainly deserving of the being the Yankees' first-half MVP, and if Mike's write-up on Tuesday didn't convince you, then how about this note: Gardner is the second player in franchise history with at least 10 homers, 20 doubles, 15 steals and a .300 batting average at the break. The other? Alfonso Soriano in 2002 — which just happened to be the year he came thisclose to a historic 40-40 season (39 homers, 41 steals).
Something to watch for in the second half: Gardner needs three steals to reach the magic number of 200. He would be the second Yankee, along with Hal Chase, to have 200 stolen bases in their first eight major league seasons — and the only player in franchise history with at least 200 steals and 50 homers through their first eight career seasons.
Mark Teixeira
Teixeira is having a tremendous bounceback season, leading the AL with 62 RBI and also hitting 22 homers. He is just the second Yankee in the last 40 years to be the outright league leader in RBI at the break, along with A-Rod (2007) and Don Mattingly (1985).
This is the third time as a Yankee he's had at least 20 homers and 60 RBI before the All-Star break (also in 2009, 2011). Since the first All-Star Game in 1933, here's the list of other Yankees to reach those benchmarks three-or-more times before the break: Mickey Mantle and Jason Giambi.
Something to watch for in the second half: Teixeira is on pace for his first 40-homer season as a Yankee. The only other player in franchise history to hit at least 40 homers in his age 35-season or older is Babe Ruth, who did it three times (1930-32).
Alex Rodriguez
If you told me that A-Rod would have the third-most at-bats on the team (he's healthy!) and have 18 homers and 51 RBIs (he's productive!) in the first half of the season, I might have suggested psychological treatment for you. How rare is it for a guy as old as A-Rod to be hitting that well?
The only other players in their age-39 season or older to have at least 18 homers, 50 RBI and 80 hits before the All-Star break (since 1933) are Edgar Martinez (2003), Andres Galarraga (2000) and Dave Winfield (1991). Yup, the Summer of Al continues.
Something to watch for in the second half: If A-Rod can stay healthy and get at least 500 plate appearances this season, while maintaining his current slash line of .278/.382/.515 or better, he'd join Barry Bonds (2004) and Ted Williams (1958) as the only players to finish a season with those marks in their age-39 season or older.
Stephen Drew
Of course we had to put Drew's bizarre statistical first half into context, even if he might just be a bench guy in the second half (yes, please). With 12 homers and an unfathomable .182 batting average in the first half, Drew is the first player in franchise history to hit double-digit home runs and have a batting average under .200 at the break.
In fact, his .182 batting average is the third-lowest in major-league history for any player with at least 10 homers in the unofficial first half of the season. The only guys with a lower average are the Cubs' Mike Olt (.144 in 2014) and the Twins' Tim Laudner (.181 in 1987).
Something to watch for in the second half: I don't think Drew is going to get enough at-bats to reach 20 or 25 homers, but what if he gets to 15? The lowest batting average for a guy that hit at least 15 homer runs in a season is .179, done by Dan Uggla (2013) and Rob Deer (1991). That's doable!
CC Sabathia
At least he is healthy, right? Well, that might actually be the problem, because Joe Girardi has little choice but to keep sending Sabathia out there every fifth day (sort of) despite his ugly numbers (4-8, 5.47 ERA).
Sabathia is the third Yankee starter to lose at least eight games before the break with an ERA of 5.40 or higher. The other pitchers on this inglorious list are Tim Leary (1991) and Ralph Terry (1964). In the words of the aforementioned manager, "it's not what you want."
Something to watch for in the second half: How bad can it get for CC the rest of the season? The highest ERA for any Yankee pitcher that qualified for the ERA title in a non-strike season is 5.30 by Bump Hadley in 1937. (Unfortunately, Hadley is better known for something else that season, as the pitcher that beaned Hall-of-Famer Mickey Cochrane and ended his career.)
Dellin Betances
Betances couldn't quite match his numbers from the first half of the season last year (84 strikeouts, 1.46 ERA), but still has had a terrific couple of months so far with 77 strikeouts and a 1.53 ERA.
Those back-to-back first-half performances are unprecedented for any pitcher since the first All-Star Game in 1933. That's right, no pitcher (starter or reliever) in that span has entered the break with at least 75 strikeouts and an ERA of 1.60 or lower in back-to-back seasons. Bravo, Betances.
Something to watch for in the second half: Last year Betances set the single-season franchise record for the most strikeouts (135) by a pitcher with zero starts. He's probably not going to break that record again, but even if he regresses a bit and finishes the year with more modest numbers, he'd do something that no reliever in major-league history has ever done: consecutive seasons with at least 115 strikeouts and a sub-2.00 ERA.