It's the last series at Yankee Stadium before the All-Star break. The Athletics are on the East Coast and will be in the Bronx for three games starting tonight. The Yankees dropped three of four against the A's out in Oakland back in May. That was not a fun series.
What Have The A's Done Lately?
The A's had an off-day yesterday and split a four-game set with the Mariners over the weekend. They went 4-6 on their just completed ten-game homestand. Oakland has one of the worst records in the league at 38-47, but they've been much better since June 1st (18-14) and do have a stellar +49 run differential. That 38-47 record is deceiving.
Offense & Defense
At 4.38 runs per game with a team 103 wRC+, the A's are a tick better than the average MLB offense. They're relatively healthy too. OF Coco Crisp is out with a career-threatening neck injury and UTIL Tyler Ladendorf is out following ankle surgery, but that's it. The rest of the roster is healthy. Crisp's injury sucks though. Hate to see a guy's career end due to an injury.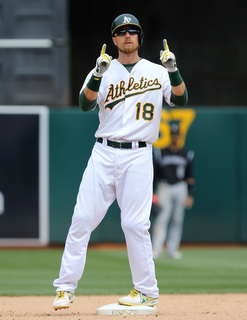 Manager Bob Melvin has three excellent everyday players in C Stephen Vogt (145 wRC+), OF Josh Reddick (130 wRC+), and 2B Ben Zobrist (127 wRC+). Reddick has made some major approach adjustments and now his strikeout (10.6%) and walk (8.3%) rates are nearly identical. Also, if the A's just want to leave Zobrist behind in New York when the series is over, that would be great.
OF Billy Burns (122 wRC+) is appropriately named because he's super fast, and 3B Brett Lawrie (113 wRC+) is finally starting to live up to the hype. Maybe. Possibly. Probably not. SS Marcus Semien (99 wRC+) and DH Billy Butler (92 wRC+) are the other every players. C Josh Phegley (155 wRC+ vs. LHP) and 1B Ike Davis (120 wRC+ vs. RHP) are Melvin's two top platoon weapons. 1B/OF Mark Canha (102 wRC+), OF Sam Fuld (75 wRC+), and IF Eric Sogard (69 wRC+) are also on the bench.
Depending on your choice of defensive metric, the A's are either great defensively (+8 DRS) or terrible defensively (-23.9 UZR). Reddick, Fuld, Burns, Zobrist, and Lawrie are very good in the field while Semien is error prone. Canha and Davis are fine. Vogt and Phegley have combined to throw out more than one-third of attempted base-stealers and StatCorner says they're average and above-average pitch-framers, respectively.
Pitching Matchups
Tuesday (7pm ET): RHP Nathan Eovaldi (vs. OAK) vs. RHP Sonny Gray (vs. NYY)
Gray, 25, recently dealt with a bout of salmonella, which caused him to miss one start and have another pushed back. He's good to go tonight though. Womp womp. Gray has been one of the best pitchers in baseball this year, posting a 2.09 ERA (2.67 FIP) in 16 starts and 107.2 innings. Good strikeout rate (22.9%), great walk rate (6.1%), great ground ball rate (54.2%), great home run rate (0.42 HR/9), great success against righties (.228 wOBA), great success against lefties (.251 wOBA). Just all around great. Gray throws both two and four-seamers in the mid-90s and he uses them both equally. A hammer low-80s curveball is his out pitch, but he also throws mid-80s sliders and a handful of mid-80s changeups per start. The Yankees scored two runs in eight innings against Gray back in May. Hopefully the recent illness and long layoff means he's off his game tonight.
Wednesday (7pm ET): LHP CC Sabathia (vs. OAK) vs. LHP Scott Kazmir (vs. NYY)
Audition? Kazmir is an impending free agent and figures to be traded before the deadline, and the Yankees have been connected to other rental arms like Johnny Cueto, Mike Leake, and Jeff Samardzija, so I assume they're in on Kazmir as well. The 31-year-old southpaw has a 2.56 ERA (3.24 FIP) in 16 starts and 98.1 innings with good to great peripherals across the board: 23.0 K%, 8.3 BB%, 46.0 GB%, and 0.64 HR/9. Righties (.279 wOBA) have had more relative success against him than lefties (.252 wOBA). Kazmir has reinvented himself since his arm injuries and is no longer the mid-90s fastball/wipeout slider guy was with the (Devil) Rays. He still throws the four-seamer and slider, but now operates mostly with a low-90s two-seamer and mid-80s changeup. It's cliche as hell, but Kazmir is a pitcher now after being a thrower earlier in his career. The Yankees didn't face him during the four-game series in Oakland earlier this year.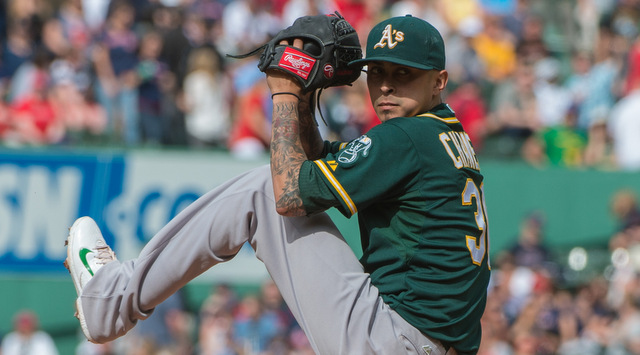 Thursday (1pm ET): RHP Masahiro Tanaka (vs. OAK) vs. RHP Jesse Chavez (vs. NYY)
Chavez, 31, moved into the rotation a few weeks ago and has been excellent, pitching to a 3.20 ERA (3.09 FIP) in 95.2 innings spread across 14 starts and four relief appearances. His strikeout rate is just average (20.7%) while his walk (5.9%), ground ball (41.8%), and home run (0.66 HR/9) numbers are lower than the MLB average. Lefties (.317 wOBA) have a lot more success against Chavez than righties (.251 wOBA). Chavez is a bit of a kitchen sink guy, throwing five different pitches including four at least 16% of the time. He's got low-90s two and four-seamers, an upper-80s cutter, a mid-80s changeup, and an upper-70s curveball. The curve is the fifth pitch he uses fewer than 5% of the time. Chavez struck out six in eight scoreless innings against the Yankees in May.
Bullpen Status
Like the Yankees, the A's were off yesterday, so their bullpen is as fresh as it's going to get in early-July. Ex-Yankees farmhand RHP Tyler Clippard (3.78 FIP) is closing with LHP Drew Pomeranz (3.98 FIP) and RHP Edward Mujica (4.94 FIP) serving as the setup men du jour. LHP Eric O'Flaherty (4.52 FIP) recently came off the DL and will face tough lefties.
LHP Fernando Abad (5.62 FIP), RHP Evan Scribner (4.06 FIP), and RHP Fernandez Rodriguez (1.75 FIP) are the rest of the regular relievers. RHP Chris Bassitt (4.35 FIP) is the 13th arm and he started in place of Gray the last two times out. He started Sunday and will either be sent down for a fresh arm today or out of action the next two games. Head over to our Bullpen Workload page for the status of Joe Girardi's bullpen and Athletics Nations and BeaneBall for the latest on the A's.