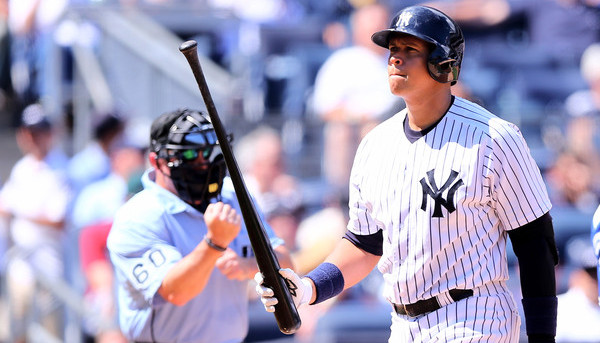 Okay, that series over the weekend was a nightmare. No positives to be taken from it. The offense was miserable, they had the off-day yesterday to clear their heads, and now it's time to get back to scoring a boatload of runs. I mean, I'll be happy with like four tonight, that could be enough to win, but I really want to see a crooked number. Big inning, everyone involved, the works. No runs is no fun.
Oh, and tonight is Luis Severino's second career start. Stupid offense kinda stole the spotlight away. Severino was good in his first start — he looked ridiculous at times and also looked like a 21-year-old rookie at times, that's usually how it goes — but hopefully the first start jitters are out of the way so he can go out and shove against a depleted Indians lineup. They've traded some veteran bats in the last two weeks or so. Here is Cleveland's lineup and here is New York's lineup:
CF Jacoby Ellsbury
LF Brett Gardner
DH Alex Rodriguez
1B Mark Teixeira
C Brian McCann
RF Carlos Beltran
SS Didi Gregorius
2B Stephen Drew
3B Brendan Ryan
RHP Luis Severino
It has been raining in New York most of the day but not in Cleveland. It's just cloudy and humid there. No wet stuff in the forecast. Tonight's game will begin at 7pm ET — the Yankees have no more games outside the Eastern Time Zone, you know — and you can watch on YES. Enjoy.
Injury Updates: Michael Pineda (forearm) threw 25 pitches off a mound yesterday and had no problems. He'll throw a full bullpen session Thursday … Chase Headley acknowledged his legs are a little banged up from foul balls and stuff. He is available tonight but they want to give him two days off.