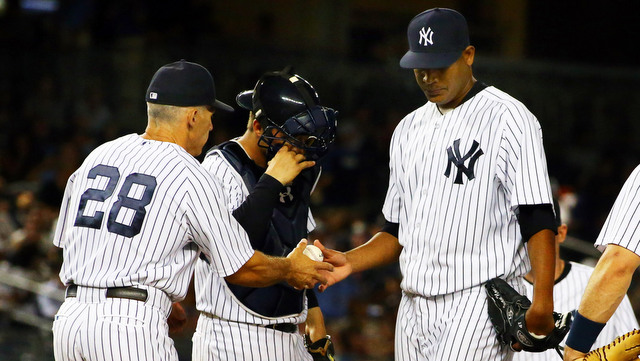 Coming into the season the Yankees had several starting pitchers with injury concerns set to be in the rotation. Masahiro Tanaka (elbow), Michael Pineda (shoulder), and CC Sabathia (knee) all missed time with injury last year, and Nathan Eovaldi was something of a question mark as well after coming over from the Marlins. Chris Capuano and the unproven-as-a-starter Adam Warren were the backup plans.
The Yankees also had Ivan Nova slated to return from Tommy John surgery at some point in the first half. He had his elbow rebuilt in late-April last year, but the Yankees took it slow with his rehab, so he wasn't scheduled to return to the rotation until late-May or June sometime. The team certainly wasn't counting on Nova to come back and have an impact, but he was a viable big league arm who could provide some support in the second half. Turns out he wasn't able to give them that.
The Rehab Trail
The Yankees did take it conservatively with Nova, so much so that he made the vast majority of his rehab starts in the controlled environment of Extended Spring Training. There the team could simply end an inning if Nova was out there too long, or they could send extra batters to the plate if he had a quick inning, stuff like that. Nova was really eased back into things.
I'm not sure how many ExST starts Nova made exactly, but it was enough that he was stretched out and able to throw 4.2 innings and 72 pitches in his first official minor league rehab start with High-A Tampa on June 8th. Five days later he threw six innings and 72 pitches for Triple-A Scranton, and six days after that he threw five innings and 84 pitches for the RailRiders. Nova allowed eight runs in 15.2 rehab innings, but the results weren't important. It was important is that he felt healthy and strong, which he did.
Nova's Return
After 14 months of rehabbing from Tommy John surgery, Nova returned to the rotation on June 24th, which pushed everyone back a day and gave the other starters extra rest. The line score says Nova was pretty good — 6.2 scoreless innings — but the red flags where there. While facing a dreadful Phillies team, Ivan walked more batters (two) than he struck out (one), got only seven swings and misses out of 92 pitches, and generated way more fly balls (15) than ground balls (eight).
That said, it was Nova's first start back from major arm surgery, so he's allowed to be rusty. I'm sure he was a little excited and overthrowing as well. Nova held the Angels to two runs in 5.1 innings next time out and actually fared pretty well in his first seven starts back, pitching to 3.10 ERA (4.29 FIP) in 40.2 innings. But again, the strikeout (14.7%), swing-and-miss (8.0%), and walk (8.2%) rates weren't looking too hot. (His grounder rate did settle in at 52.8%).
Nova certainly wasn't great when he first returned from Tommy John surgery but he was serviceable, and there was reason to believe he would get better as he got further away from surgery. I didn't like that the Yankees moved Warren to the bullpen to make room for Nova, though at the time my concern had more to do with Sabathia staying in the rotation than Nova. Either way, Nova was back and taking the ball every fifth day.
The Crash & Burn
Those first seven starts were pretty good. The next seven? Yeesh. Nova got rocked during a seven-start span from August 8th to September 12th, pitching to an unsightly 7.46 ERA (5.69 FIP) in 35 innings. The strikeouts (12.9%), grounders (45.2%), and swing-and-misses (6.0%) all disappeared. Opponents hit .290/.362/.503 against Nova during this seven-start stretch. For reference, Manny Machado hit .286/.359/.502 this year.
Nova's worst start during that stretch was September 12th, in the second game of a doubleheader against the Blue Jays. With the Yankees holding on to slim AL East hopes, Nova allowed six runs and recorded only five outs. It was brutal.
Nova never allowed fewer than three runs in any of those seven starts and the Yankees won only two of them. His season ERA went up almost every start during that stretch, from 3.10 to 3.52 to 3.57 to 3.72 to 4.50 to 4.50 (again) to 4.50 (again again) to 5.11.
The Yankees could no longer wait for Nova to snap out of his pitching slump. Their AL East chances were fading and even though they had a comfortable lead on a wildcard spot, they still needed to clinch the damn thing, and Nova wasn't helping the cause. So, on September 16th, the Yankees demoted Nova to the bullpen.
Demoted, Temporarily
The demotion to the bullpen lasted only a few days. Tanaka felt a tug in his hamstring while running out a bunt against the Mets on September 18th, forcing him to miss a start. Nova was right back in the rotation without making a relief appearance. I don't even think he warmed up in the bullpen at any point.
Nova allowed one run in 5.2 innings against the Blue Jays on September 23rd, eleven days after his last start. His final two starts after that were pretty crummy — four runs in seven innings against the Red Sox and then five runs in 5.2 innings against the Orioles. Tanaka had returned but the Yankees had to keep Nova in the rotation just to get Tanaka lined up for the wildcard game, and also because they had a doubleheader on the second to last day of the regular season.
All told, Nova posted a 5.07 ERA (4.87 FIP) in 17 starts and 94 innings after coming back from Tommy John surgery. The Yankees went 6-11 in those 17 starts, including 1-7 in his final eight starts. Nova's ground ball rate (49.0%) and walk (8.0%) rates were fine — his walk rate was higher than usual because location is the last thing to come back following elbow reconstruction — but his strikeout (15.3%) and homer (1.24 HR/9) rates were ghastly. He was slightly better than replacement level (0.5 fWAR and 0.6 bWAR) and not any sort of second half pitching boost.
The Stuff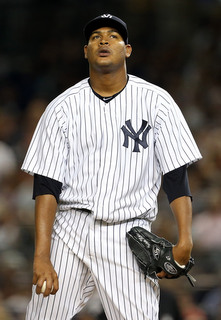 The good news is Nova's stuff returned to where it was before Tommy John surgery. His fastball sat right in that normal 92-95 mph range and his curveball retained its velocity and depth as well. Nova throws both a sinker and a four-seamer but he's basically a two-pitch guy, throwing fastballs and curveballs. He shelved his slider back before 2013, the season before he got hurt, and he's never used his changeup more than 5% of the time or so.
Nova's pitches had the same general velocity and movement as before surgery according to PitchFX, which really is great news. A lot of guys lose a little something following Tommy John surgery, and most pitchers can't afford to lose stuff. Nova's command was terrible this year though. When he missed, he missed out of the plate, and opponents punished him. There is no great way to measure command — walk rate measures control and that's basic strike-throwing ability, command is the ability to locate precisely — but I think we all saw it. Nova missed his spots consistently.
Bad command is pretty common for guys coming back from Tommy John surgery, so Nova is hardly alone here. His stuff isn't good enough to get outs on its own — the book on Nova has always been that he lacks deception in his delivery, so hitters can easily pick up the ball out of his hand — and we saw what happens when you combine Nova's stuff with bad command this year. Ivan was an inconsistent starter before he blew out his elbow. After surgery, he was an inconsistent starter with an excuse.
Looking Ahead to 2016
This offseason Nova will be arbitration-eligible for the final time. He's projected to earn only $4.4M next season, which is nothing. In fact, it's already been reported the Yankees will tender Nova a contract rather than cut him loose as a non-tender. As bad as he was this year, I don't see a reason to non-tender him. Pitching depth is a good thing, and with Nova you can at least hope he will improve as he gets further out from surgery.
Given his performance this year, I can't imagine the Yankees will count on Nova to be part of their rotation next season. He'll have to compete for a spot, perhaps along with Warren and someone like Bryan Mitchell. Nova could also be trade bait, though the Yankees would be selling low, and I'm not sure he has much trade value anyway. I'd rather keep Nova around and hope for rebound to league average-ness than take a shot on a Grade-C prospect or something. If he stays, Nova's going to have to prove to the Yankees he belongs in the rotation.