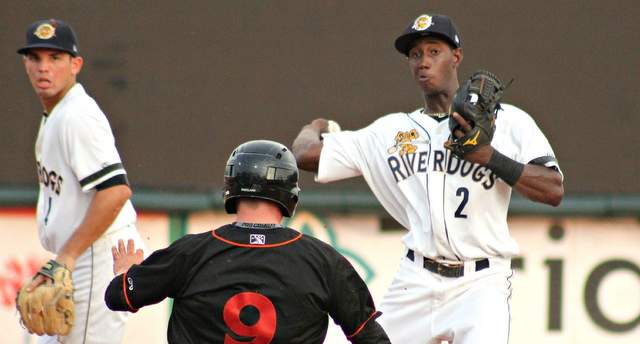 Baseball America's look at the top 20 prospects in each minor league continued today with the Low-A South Atlantic League. The list is free but the scouting reports are not, as always. Red Sox 2B Yoan Moncada predictably claims the top prospect and is followed by SS Jorge Mateo. He ranks second and is the only Yankees farmhand on the list.
"Mateo has tools to rival the league's No. 1 prospect Yoan Moncada," said the write-up. "Mateo is just as fast, just as prolific at stealing bases, has similar power potential and a better arm. Plus, he is a potentially above-average defender at shortstop … Mateo is a well-rounded prospect who could end up making an impact both offensively and defensively."
Mateo, 20, hit .278/.345/.392 (114 wRC+) with two homers, a 19.6% strikeout rate, and an 8.6% walk rate overall this season, including .268/.338/.378 (106 wRC+) in 96 games with Low-A Charleston before being promoted to High-A Tampa. Mateo led the minors with 82 steals this season — no one else had more than 71 and only one other player had more than 65 — and was only caught 17 times for an 83% success rate.
The most common comp for Mateo is Jose Reyes because they're speedy shortstops, but that's optimistic. Mateo is a righty hitter, not a switch-hitter, and Reyes had a 102 wRC+ in the big leagues when he was Mateo's age. That's not a fair comparison. That said, with RHP Luis Severino having graduated to MLB and OF Aaron Judge struggling in Triple-A, you could argue Mateo is the Yankees' top prospect right now.
The next list relevant to Yankees fans is the Double-A Eastern League, and boy, the Yankees should be well-represented. Severino, Judge, 1B Greg Bird, C Gary Sanchez, and 3B Eric Jagielo are the big names with OF Jake Cave and RHP Brady Lail other possibilities. Severino and Judge may rank one-two in some order. That'd be neat. That list is due out next week.
Other league top 20s: Rookie Gulf Coast League, Rookie Appalachian League, Short Season NY-Penn League, High-A Florida State League