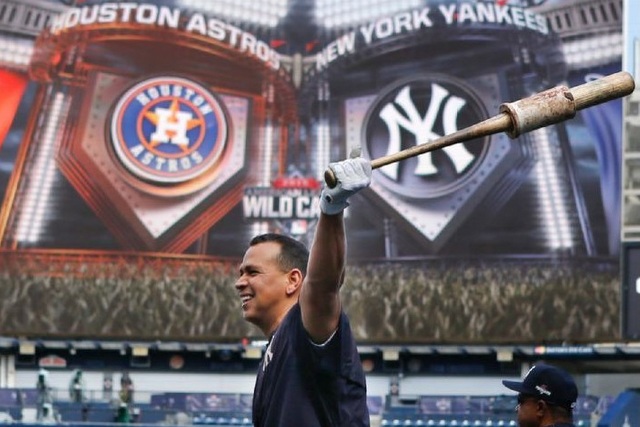 Later tonight the Yankees will host the Astros in the 2015 AL wildcard game. The loser goes home, the winner goes to Kansas City to play the Royals in the ALDS. It's Game Seven without all the fuss of Games One through Six. I'm excited and I want to puke at the same time. Here are some thoughts.
1. Talking about the baseball implications of CC Sabathia's decision to go to rehab is kinda uncomfortable but it is something that needs to be discussed. The Yankees have already had these talks, after all. Sabathia was going to be on the wildcard roster as an extra long reliever tonight — Brian Cashman all but confirmed it during his press conference yesterday — and now they don't have anyone for that role. At least not anyone besides Adam Warren, who may be needed in middle relief. Michael Pineda just started Sunday and can't pitch tonight. He won't even be on the roster. I do expect Luis Severino and Ivan Nova to be on the roster as just in case arms, but a) I doubt Joe Girardi wants to use them, and b) they won't be able to provide much length. Both started Saturday and today is their usual between-starts bullpen day (I think), so maybe the Yankees can get an inning or two out of them if necessary. In that case, if the game is tight and Girardi needs three outs before going to the usual late-inning relievers, maybe it's best to let Severino air it out for an inning so Warren is available in extras. The hope was Sabathia wouldn't have to pitch, but the fact he won't even be on the roster now may change the bullpen dynamic.
2. The more I think about it, the more I'm convinced Chris Young will be in the starting lineup tonight. For starters, he has pretty great numbers against Dallas Keuchel — 6-for-20 (.300) with two doubles and a triple, though the two doubles came back in 2012, long before Keuchel broke out as an ace — and Girardi loves that stuff. He uses hitter/pitcher matchups all the time even though they aren't the most predictive thing in the world. Eno Sarris had a more convincing reason why Young should be in the lineup: fly ball hitters tend to have a lot of success against ground ball pitchers. Young has one of the highest fly ball rates in baseball and Keuchel is the game's most dominant ground ball pitcher. I think he'll be in the lineup tonight and I think it'll be Brett Gardner who finds himself on the bench. I'd rather see Jacoby Ellsbury on the bench — they've both been terrible in the second half, but at least Gardner's at-bats are competitive, Ellsbury anecdotally makes a ton of weak contact early in the count — but there's no way that happens. Gardner has sat in favor of young more often than Ellsbury this year and that's what I think will happen tonight.
3. I'm not sure pitching on three days' rest will be a big deal for Keuchel — I think the adrenaline of pitching in the postseason will more than compensate for any additional fatigue — but with any luck, he'll tire out in the middle innings and force manager A.J. Hinch to go to the bullpen. A revived relief corps was a huge reason for Houston's success this season, though that same bullpen struggled in September. They blew a lot of leads and let some winnable games slip away. That said, Hinch's core relievers were fine in the final month:

All small sample sizes, obviously. Pat Neshek's the only one who seems to have some real problems given his inability to miss bats or get ground balls. The other guys all had strong strikeout and walk rates — except for Will Harris, I guess, his strikeout and walk numbers were closer to average — and they weren't getting clobbered with hard contact. I don't want to make too much out of such a tiny number of innings. Houston's bullpen had a mess September, yes, but the core relievers were mostly fine. Some bounces just didn't go their way, hence the ugly ERAs.
4. So who's ready for Postseason Carlos Beltran? By now you all know he has incredible career October numbers — those numbers: .333/.445/.683 (195 wRC+) with 16 homers in 51 games — and there is zero doubt in my mind his postseason success was a reason the Yankees targeted him two years ago. The only reason? Of course not. But definitely a reason. Can Beltran still do that stuff at age 38 — he "only" hit .268/.388/.464 (140 wRC+) in 17 postseason games with the 2013 Cardinals — after running around the outfield all summer? Gosh, I hope so. The offense has looked sluggish for weeks and the arrival of October Beltran would be one heck of a shot in the arm.
5. The Yankees signed Masahiro Tanaka to win a game just like this one, and I feel like he's not getting nearly enough respect heading into tonight. Don't get me wrong, Keuchel had a tremendous year and probably deserves the Cy Young award, but Tanaka's no slouch either. He's shown the ability to step up in big games — Tanaka was the only Yankees starter to put up a fight against the Blue Jays down the stretch, and he flat out dominated that offense (22 IP, 12 H, 3 R, 3 BB 20 K in three starts) — and that's why the Yankees lined him up to start the wildcard game. The Astros offense had the second highest strikeout rate (22.9%) and the 11th highest chase rate on pitches out of the zone (31.3%) during the regular season. Tanaka, meanwhile, had the second highest chase rate this year at 38.6%. (Carlos Carrasco was first at 38.7%, so he and Tanaka were neck and neck.) He excels at getting hitters to expand the zone. Keuchel might dominate the Yankees because he's left-handed and has a changeup, sure. But don't forget that the pitcher who is better than just about anyone at getting hitters to chase out of the zone is about to face a bunch of hitters who tend to hack at pitches off the plate.