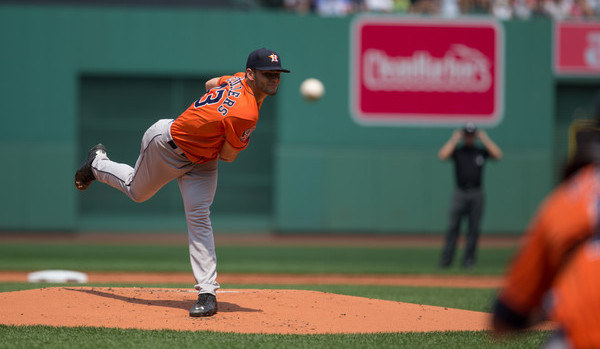 As part of their efforts to land a young controllable starting pitcher, the Yankees asked the Astros for right-hander Lance McCullers Jr. in trade talks involving Andrew Miller earlier this offseason, reports Jon Heyman. Houston shot that down entirely and instead traded other players to the Phillies for Ken Giles a few weeks later.
McCullers, 22, had a 3.22 ERA (3.26 FIP) in 22 starts and 125.2 innings for the Astros last season, his MLB debut. His father Lance Sr. played for the Yankees from 1989-90. Lance Jr. had a very good strikeout rate (24.8%) due in part to all the curveballs he throws (35.8%). He does he lacks a reliable changeup though. McCullers is very promising but is also a work in progress.
During the Winter Meetings it was reported the Yankees sought righty Vincent Velasquez from the Astros in a Miller trade. Seems like the Yankees asked for McCullers first because hey, why not? When the Astros said no, they moved on to Velasquez. The 23-year-old Velasquez was included in the Giles trade a few weeks ago, as was former No. 1 overall pick Mark Appel, Houston's other notable young hurler.
For what it's worth, Jeff Passan recently reported the Yankees were "very, very close" to trading Miller to the Astros a few weeks ago. Both Heyman and Nick Cafardo now say it's unlikely Miller will be moved at all. As an elite reliever signed to an affordable contract, Miller has a ton of trade value, and there's no reason for the Yankees to rush into a deal. I wouldn't rule it out completely though.