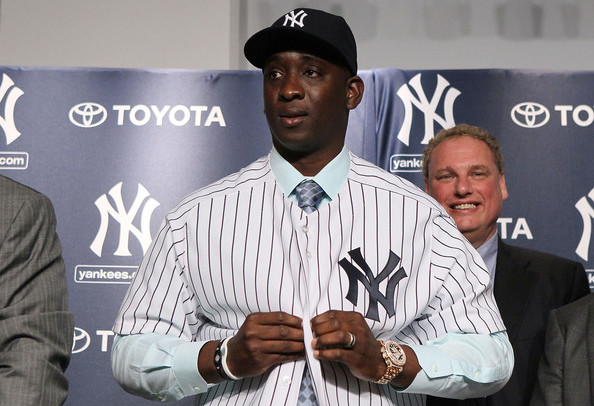 It's a new month and new year, which means it's time for another trip through the MLB Trade Rumors archives. We covered December 2010 last month, so we're now in January 2011. As a reminder, the goal here is not to mock anyone for these rumors, but instead look back and remember all the weird stuff that went on five years ago. Five years is a long, long time in baseball.
In January 2011 the Yankees were still in the process of picking up pieces after Cliff Lee shocked the world and signed with the Phillies. The Yankees did work out new deals with Derek Jeter and Mariano Rivera earlier in the offseason, but those two didn't help the suspect rotation at all. Finding a way to beef up the starting staff was the priority, except now the biggest name was the off the board. On to the rumors.
January 1st, 2011: Several Teams Interested In Brian Fuentes
TUESDAY: SI's Jon Heyman pegs the Red Sox, Blue Jays, Rays, Rockies, Mariners, Twins, Pirates, Phillies, Brewers, Yankees, and Mets as teams with some interest in free agent lefty reliever Brian Fuentes.
The Yankees thought they addressed their need for a lefty reliever by signing Pedro Feliciano a month earlier, but Fuentes was one of those guys who could get out both righties and lefties. The plan was to add Fuentes to a setup crew that included David Robertson — who had yet to break out — and Joba Chamberlain. And I guess Feliciano.
I was never a big Fuentes fan — his funky dinosaur arm delivery weirded me out — but he was a very good pitcher. He had a 2.81 ERA (3.85 FIP) in 48 innings for the Angels and Twins in 2010. Fuentes was also 34 at the time, and he was starting to show some signs of decline, mostly in his strikeout rate. The A's gave Fuentes a two-year, $10.5M deal later in the offseason and he had a 3.70 ERA (4.16 FIP) in 2011 before falling off a cliff in 2012 (7.20 ERA and 5.70 FIP). Luckily the Yankees signed only one dud lefty reliever that offseason.
January 3rd, 2011: Yankees Expect To Hear From Pettitte Soon
A Yankees official told Wallace Matthews of ESPNNewYork.com that the front office expects to know within a few days whether Andy Pettitte will pitch in 2011. Pettitte appears to be leaning toward retirement, but the Yankees are waiting to address other needs until they know the veteran left-hander's intentions.
Ah yes, the Pettitte saga. Pettitte was deciding between pitching another year and retirement, and as much as I love Andy, it was tiresome. We were getting daily non-updates, and the worst part is we were all hanging on every one because the Yankees needed Pettitte badly. At the time their tentative 2011 rotation was CC Sabathia, Phil Hughes, A.J. Burnett, and Sergio Mitre. Not even a fifth starter. (Ivan Nova got a cup of coffee in 2010 but wasn't considered a lock for a rotation spot.)
Anyway, the Pettitte thing dragged on and on and on. The Yankees expected to hear from Andy soon, but of course they didn't. This was just another one of those daily non-updates.
January 4th, 2011: Yankees Rumors: Burnett, Pettitte, Balfour
The Yankees don't like the idea of giving up a first round pick to sign Grant Balfour or Rafael Soriano, two Type A relievers who turned down offers of arbitration and are now tied to draft pick compensation.
Always fun to be reminded of the good ol' Type-A/Type-B draft pick compensation system. That was bad, and somehow the qualifying offer system is worse. At least the Type-A/Type-B system would treat second tier players a little more fairly. (Type-B players netted their former team a pick but didn't force their new team to give up a pick.)
As for Balfour and Soriano, yeah I wasn't on board with either at the time. I was a Robertson believer — to be fair, I never thought he would be this good — and thought minor leaguers like Ryan Pope and George Kontos would be able to hold down the fort in the middle innings. Wrong, I was. Maybe that's a reminder to not count on the bullpen shuttle relievers in 2016.
January 4th, 2011: Yankees Interested In Jeremy Bonderman
The Yankees have been on the lookout for pitching since losing out on Cliff Lee, and that search has led them to Jeremy Bonderman. Jon Paul Morosi of FOX Sports reports that they have interest in the right-hander according to a Major League source.
The 2010-11 free agent pitching class was really bad. Lee was the top guy by far, and the next best options were Pettitte and Hiroki Kuroda. Pettitte was on the fence about retirement and Kuroda never even hit free agency — he re-signed with the Dodgers during the exclusive negotiating period.
The Yankees were connected to every washed up starter available after Lee went to Philadelphia. Bonderman was somehow still only 27 at the time, so he offered the illusion of upside, but he had a 5.53 ERA (4.90 FIP) in 171 innings for the Tigers in 2010. He had a 5.19 ERA (4.77 FIP) from 2007-10 and battled all sorts of injuries.
No team signed Bonderman that offseason and he sat out the 2011 season. He blew out his elbow during offseason workouts and missed the entire 2012 season due to Tommy John surgery as well. Bonderman attempted a comeback with the Mariners in 2013, was very bad (5.40 ERA and 5.12 FIP), and got released. He's been out of baseball since. He's still only 33 too. Crazy.
January 5th, 2011: Heyman On Yankees, Greinke, Young, Giants
The Yankees appear to have at least "a modicum" of interest in Freddy Garcia and Kevin Millwood. 
Like I said, the Yankees were connected to every washed up starter on the market. Garcia had a 4.64 ERA (4.77 FIP) with the White Sox in 2010 while Millwood had a 5.10 ERA (4.86 FIP) with the Orioles. The Yankees wound up signing both. What a world. (Millwood never did pitch for the Yankees. He spent a month in Triple-A in 2011, exercised an opt-out clause in his contract, then signed with the Rockies.)
January 5th, 2011: Minor Deals: Iribarren, Yankees, Zavada, Hernandez
The Yankees claimed righty Brian Schlitter from the Cubs, according to MLB.com's Carrie Muskat (on Twitter). Schlitter, 25, appeared in seven games for the Cubs last year. He spent most of the season at Triple-A Iowa, where he posted a 3.15 ERA with 8.3 K/9 and 4.1 BB/9 in 45 2/3 innings.
Schlitter was a pretty eventful non-Yankee. The Yankees claimed him from the Cubs in January, designated him for assignment in February to clear a 40-man roster spot for Andruw Jones, and he was claimed off waivers by the Phillies. Philadelphia found something in his elbow during his Spring Training physical and the commissioner's office rescinded the waiver claims. Back to the Cubs he went. Schlitter had a decent 2014 season which Chicago, pitching to a 4.15 ERA (3.61 FIP) in 56.1 innings.
January 6th, 2011: Soriano Open To Setting Up For Yankees
The best closer on the free agent market is open to being a setup man. Agent Scott Boras told Andrew Marchand of ESPNNewYork.com that Rafael Soriano would consider signing with the Yankees even though it would mean setting up for closer Mariano Rivera.
The whispers were getting louder and louder. Soriano was the best free agent on the market at the time — that was back when all the top non-Scott Boras clients signed before New Year's, unlike this offseason — and the Yankees had the Cliff Lee money burning a hole in their pocket. I should have seen it coming.
January 7th, 2011: Yankees Not Showing Interest In Rafael Soriano
Rafael Soriano would join the Yankees as a setup man, but as of last night the Bronx Bombers weren't interested in the Scott Boras client, according to ESPN.com's Buster Olney (on Twitter). Soriano "would have to make himself absurdly cheap" on a one or two-year deal before the Yankees would even consider him, Olney writes.
The funny thing is the Yankees, at least the baseball operations folks, were not interested in Soriano. They didn't want to give up the draft pick or meet Boras' asking price. Boras doesn't mess around though. He goes over the GM and straight to ownership for his biggest clients.
January 7th, 2011: Yankees Will Not Surrender First Round Pick
Yankees GM Brian Cashman says he intends to hold onto his 2011 first round draft choice, according to Chad Jennings of the Journal News. That means the team won't sign any of the three remaining free agents tied to draft pick compensation: Rafael Soriano, Carl Pavano and Grant Balfour.
See?
January 9th, 2011: New York Notes: Castillo, Choate, Garza, Soria
Brian Cashman told Anthony McCarron of the New York Daily News that he felt the asking price for Matt Garza was too high to seriously pursue a trade with the Rays. "We never got off the dime, but strong impressions were that it would be something that would cost us more because we are in the division, kind of like Roy Halladay," said the Yankees GM.
The Rays traded Garza to the Cubs a few days earlier for five players, most notably Chris Archer, who had yet to really blossom into a top notch pitching prospect. There was never any indication Tampa would seriously consider dealing Garza to another AL East team. They had a ton of suitors and preferred to send him elsewhere. The Yankees desperately needed pitching help though, and seeing a good young pitcher like Garza get traded without New York being involved created some headlines.
January 10th, 2011: Yankees Have Strong Interest In Andruw Jones
Andruw Jones appears to be the Yankees' top choice as they continue to search for a fourth outfielder, according to Jon Heyman of SI.com (on Twitter). The sides are still apart on money, Heyman writes. Agent Scott Boras, who represents Jones, also represents Johnny Damon, who is one of the Yankees' backup options. Former Yankee Marcus Thames is still a consideration for the Bronx Bombers.
Gosh, Thames was so awesome in 2010. He hit .288/.350/.491 (126 wRC+) overall and .300/.352/.454 (118 wRC+) against lefties (yes, he hit righties better than lefties that year), plus he was generally a cool dude and really easy to root for. Letting him walk was tough but it was the right baseball move. Thames was a really bad defender and there was no reason to think he'd put up a 137 wRC+ against righties again. The Dodgers gave him $1M and he cratered in 2011 (60 wRC+). Andruw? Andruw was the man in 2011. More on him later.
January 11th, 2011: Yankees Pursuing Justin Duchscherer
The Yankees are 'stepping up' their pursuit of Justin Duchscherer, according to ESPN.com's Jerry Crasnick. It's not clear whether the Yankees are interested in the right-hander as a starter or as a reliever.
Justin Duchscherer! He had some nice years with the A's in the mid-2000s but had been battling injuries at the time of this rumor. In fact, Duchscherer threw only 28 innings total from 2009-10. He was one of those guys everyone wanted the Yankees to acquire every offseason and every trade deadline. Every year. Justin Duchscherer was the guy. Had to have him. He was the missing piece.
Duchscherer had success as both a starter and reliever in his career, so the Yankees could have signed him and slotted him in wherever he was needed. That was the idea. Instead, the Orioles signed him for a mere $700,000. There was much anger in Yankeeland over that. Can't believe they let him go to the division rival for peanuts! Then Duchscherer suffered a hip injury on day one of Spring Training and never pitched again. Sheesh. Dark ending.
January 12th, 2011: Andy Pettitte Will Not Start 2011 Season
8:13 PM: Andy Pettitte has informed the Yankees that if he does return for the 2011 season, he won't be ready by Opening Day, reports Stefan Bondy and Nathaniel Vinton of the New York Daily News.  Brian Cashman said Pettitte told him to "don't count on me" but the GM noted that if Pettitte wanted to pitch later in the season, the door would be open for a return.
I remember there being a question about Pettitte's offseason workouts that winter. Was he preparing for the season in case he did decide to return? We never did get an answer, but once Andy told the Yankees he wasn't going to start the season on time, the writing was on the wall. There had been others who came back at midseason (Roger Clemens with the 2007 Yankees, Pedro Martinez with the 2009 Phillies), but, for the most part, the older veteran guys who planned for midseason comeback never did come back.
January 13th, 2011: Yankees Sign Rafael Soriano (official announcement made Jan. 18th)
The Yankees have signed Rafael Soriano to a three-year contract, the team announced today. The deal is believed to be worth $35MM over three years, and will allow the player to opt out after either of the first two years.The Scott Boras client will make $11.5MM if he opts out after year one and $21.5MM if he opts out after year two. The contract does not include a no-trade clause.
And there it is. Boras convinced the Steinbrenners the Yankees needed Soriano — Boras' story went something like this: Rivera is getting old, you have all that Cliff Lee money you didn't spend, and the Red Sox won the offseason by adding Adrian Gonzalez and Carl Crawford; are you gonna let that happen? — and they gave him that hilarious contract.
The most unexpected thing about the Soriano signing was Cashman's candidness. He made it clear he was against the signing and said so at Soriano's introductory press conference.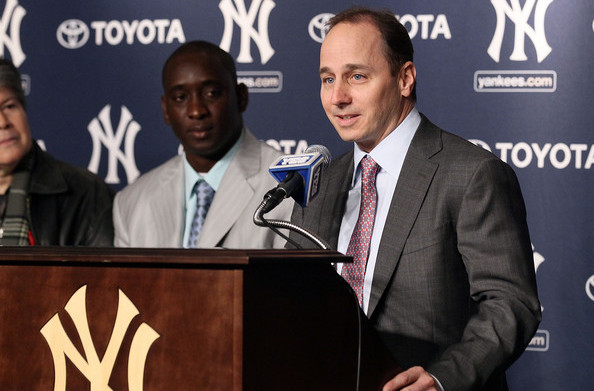 "I didn't want to sign him."
"Yeah, that guy right there."
"Him. Right there. The one standing right next to me."
"Is he looking at me? He's looking at me isn't he."
That whole press conference was something else. Ownership talked about how happy they were to have Soriano and how much he'd help the team win, then Cashman stepped in and told reporters he didn't want him. I think that was the first time we saw no effs given Cashman. He's been really candid about stuff in recent years and I think it's great. It's a lot more interesting than the usual boring GM quotes.
Anyway, Soriano was both mediocre (4.12 ERA and 3.97 FIP) and hurt (elbow) in 2011, so he didn't opt-out of his contract after the season. He was great in 2012 (2.26 ERA and 3.32 FIP) while filling in at closer after Rivera got hurt, then he opted out of his contract following the season. The Yankees made him the qualifying offer and the draft pick turned into Ian Clarkin, so it wasn't all bad. (Photo via Getty)
January 14th, 2011: Yankees Would Consider Joba-For-Starter Trade
The Yankees would consider swapping Joba Chamberlain, but "probably only" as part of a larger package for a "viable starter," tweets Jon Heyman of Sports Illustrated.  Chamberlain's name was connected to trade rumors last summer, as teams like the Diamondbacks and Blue Jays were trying to "buy low" on Chamberlain, but there was never an indication that the Yankees were seriously considering moving the right-hander.
See? The whole "we'll trade one of our good players for a starter" thing the Yankees are trying with Brett Gardner and Andrew Miller this offseason is nothing new. They've been spouting that line for years. The Yankees put Joba back in the bullpen in 2010 and he had one of those bad ERA (4.40)/good FIP (2.98) years, which started to frustrate everyone. The Yankees never did trade him, obviously, but I thought this was funny. Same story as this offseason, only with different names.
January 15th, 2011: Cashman Has "Full Backing" Of Steinbrenners
Not long after the Yankees agreed to sign Rafael Soriano, we heard that the deal was driven more by ownership and not by GM Brian Cashman and his baseball operations staff. SI.com's Jon Heyman reports today that Cashman still has the "full backing" of the Steinbrenner family, a report echoed by ESPN's Buster Olney (Twitter links). Heyman adds (via Twitter) that while Cashman preferred to keep the team's first round draft choice, he made no attempt to "body block" the deal with Soriano and relented because he's a "team man." 
Cashman's contract expired following the 2011 season and I remember there being a lot of speculation that he would leave because ownership had gone over his head to sign Soriano. (And as we learned later, they went over his head to finalize Jeter's new contract too.) There was talk during the 2011-12 offseason that the Mariners and Phillies wanted him, but Cashman opted to re-sign with the Yankees. They are literally the only employer he's had in his adult life. Love him or hate him, there's no denying Cashman is fiercely loyal to the Yankees.
January 19th, 2011: Yankees, Carl Pavano Considered Deal
11:58am: Pavano seriously considered returning to the Yankees, according to Ken Rosenthal of FOX Sports. The Yankees explored a one-year, high-salary deal with Pavano before the Twins offered a second year.
I do remember the great Pavano freak out of the 2010-11 offseason. The Yankees brought Javy Vazquez back in 2010 and it didn't go well, and the thought of following it up with a Pavano reunion was icky. Pavano was 35 at the time and he was coming off a strong 2010 season, throwing 221 innings with a 3.75 ERA (4.02 FIP) and lots of grounders (51.2%) for the Twins. The Yankees could have used an innings guy like that.
But still, it was Carl Pavano, man. Ewww. The bad taste of 2006-08 was still in everyone's mouth. Thankfully, the Twins swooped in and gave Pavano a two-year contract at $16.5M, making it easy for the Yankees to walk away. Pavano was okay at best in 2011 (4.30 ERA and 4.10 FIP in 222 innings) before falling apart in 2012 (6.00 ERA and 4.38 FIP in 63 innings). Thankfully Cashman's "let's bring back some former Yankees everyone hates!" phase didn't last long.
January 19th, 2011: Yankees Notes: Cashman, Pettitte, Damon
Johnny Damon is still drawing some interest from the Yankees, in part because the team thinks Damon could help getting A.J. Burnett back in form, tweets Jon Heyman of Sports Illustrated.  Heyman notes that the Yankees can't offer Damon the playing time that he could find with the Angels and Rays.
That seems … odd. Bring Damon back to help Burnett? I guess they were really close friends, but geez, that's a stretch. Then again, the Yankees were looking for any way to get Burnett back on track after his disappointing 2010 season. Larry Rothschild went to see him at his home in Arkansas and there was thought bringing in Lee (a fellow Arkansas guy who shares an agent with Burnett) would help him, so I guess Damon made as much sense as anything. The Yankees had no need for Damon though. Their outfield was full (Gardner, Curtis Granderson, Nick Swisher) and they had already signed Russell Martin so Jorge Posada could transition to DH full-time.
January 20th, 2011: Yankees To Sign Andruw Jones
The Yankees agreed to sign Andruw Jones to a one-year deal, according to Jon Heyman of SI.com (on Twitter). The Scott Boras client signed for $2MM and can make up to $1.2MM more by reaching incentives.
And here was the fourth outfielder. Jones gave the Yankees a righty complement to Gardner and Granderson, so he was a much better fit for the roster than Damon. Andruw mashed during his first season in New York too. He put up a .247/.356/.495 (132 wRC+) line overall and a .286/.384/.540 (152 wRC+) line against southpaws. Thames was pretty great in 2010 but Jones was an upgrade. He was awesome in 2011.
January 25th, 2011: AL East Links: Red Sox, Bautista, Wells, Jeter
Yankees GM Brian Cashman suggested this morning that Derek Jeter will likely shift to the outfield before his current deal expires, but he tells MLB.com's Bryan Hoch that it's "not an issue we have to deal with right now" (Twitter link).
Haha. I totally forgot about the Jeter to the outfield stuff. That was never ever ever ever going to happen. Jeter would still be the starting shortstop for the Yankees in 2016 had he decided to continue playing. The Yankees were never going to move Jeter off shortstop.
January 25th, 2011: Minor Transactions: Madrigal, Lane, Vasquez
The Yankees signed right-hander Warner Madrigal, who last pitched in the majors with Texas in 2009.  Madrigal originally broke into pro ball as an outfielder, but converted to pitching in 2006.  He posted a 3.73 ERA in 35 games with the Rangers' Double-A and Triple-A teams last year.
Madrigal was a busted prospect at the time. It looked like he had a chance to develop into a bullpen mainstay with the Rangers for a few years there, but it never worked out. Madrigal got hurt in Spring Training, appeared in two games for Double-A Trenton in late-May, then got hurt again and missed the rest of his season. His tenure in the organization lasted eight batters in Triple-A.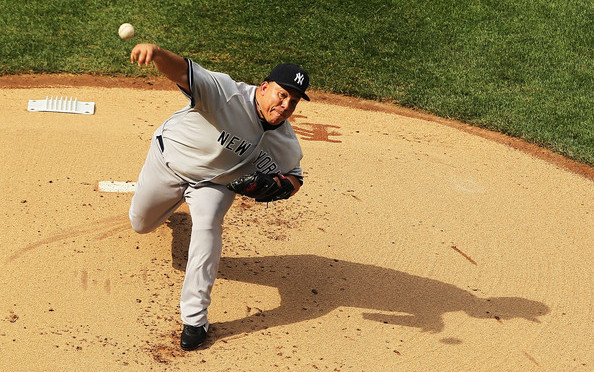 January 26th, 2011: Yankees Sign Bartolo Colon
Jon Paul Morosi of FOX Sports reports that the Yankees have signed Colon to a minor league deal (Twitter link). Joel Sherman of the New York Post reports that Colon will earn $900K in the majors and has the right to be released if he isn't on the team after Spring Training (Twitter links).

The Yankees were widely mocked for signing Colon, including by me in this very space. Shows what I know. Colon was excellent for the Yankees in the first half of 2011 before fading down the stretch and finishing the season with a 4.00 ERA (3.83 FIP) in 164.1 innings. That's after not pitching at all in 2010 and throwing only 257 innings from 2006-09.
We all laughed because the Yankees looked desperate after losing out on Lee, but what we didn't see was Colon firing mid-90s heaters in winter ball. Tony Pena was his winter ball manager and he recommended the Yankees give Colon a look. They liked what they saw enough to give him a low risk minor league deal that worked out beautifully. Colon is still pitching in 2016. He just signed a new one-year deal with the Mets after making 31 starts for the team that went to the damn World Series last year.
Thanks to Colon, I will never mock a minor league deal again. They're super low risk and there's so much we just don't know.
January 26th, 2011: Yankees To Offer Pettitte $12MM
4:44pm: The Yankees' offer to Andy Pettitte is or will be for $12MM, according to Jon Heyman of SI.com (Twitter links). That won't necessarily be enough to lure the free agent left-hander away from retirement, but some of Heyman's sources expect him to play. "Why would he be working out if he's not playing?" one asked.
A few days earlier Joe Girardi mentioned Pettitte was working out, which gave everyone hope he would decide to pitch in 2011. That $12M represented a slight raise — Andy made $11.75M in 2010. He was very good in 2010 (3.28 ERA and 3.85 FIP) but missed two months with a groin injury, and the rehab is what Pettitte would later say pushed him towards retirement. He was taking an uncomfortably long time — uncomfortable for fans, that is — to make his decision, though this report gave fans some hope.
January 31st, 2011: Yankees Reach Agreement With Freddy Garcia
The Yankees have agreed to sign Freddy Garcia to a minor league contract, reports ESPN.com's Jerry Crasnick (Twitter link).  The deal will pay Garcia $1.5MM if he makes the Major League roster, and the total value of the contract could be worth $5.1MM if Garcia reaches all his start-based incentive plateaus, up to 30 starts.  Garcia is represented by Peter Greenberg.
The Yankees were also mocked for signing Garcia, though not as much as they were for signing Colon. Garcia at least pitched in 2010, so it didn't seem like a total shot in the dark. Still, Sweaty Freddy was way past his prime, and arm injuries had made him a junkballer. There weren't many reasons to think he'd success in Yankee Stadium and the AL East.
Garcia, of course, went on to give the Yankees 146.2 innings of 3.62 ERA (4.12 FIP) ball in 2011. He was really solid. Garcia was in the postseason rotation and he ended up starting Game 2 of the ALDS against the Tigers after the rainout issue in Game One. Remember that? Game One was suspended due to rain in the middle of the second inning, so Game Two starters Ivan Nova and Doug Fister "came out of the bullpen" the next day to replace CC Sabathia and Justin Verlander. Garcia was then bumped up to start Game Two instead of pitching Game Three as scheduled.
That suspended game really screwed the Yankees. They ended up getting only one real start out of Sabathia in the five-game series instead of two. The Yankees were mocked for being so desperate that they had to sign Colon and Garcia, but they combined to give the team 311 innings of 3.82 ERA ball. Those two saved the Yankees' bacon and helped get them to October.