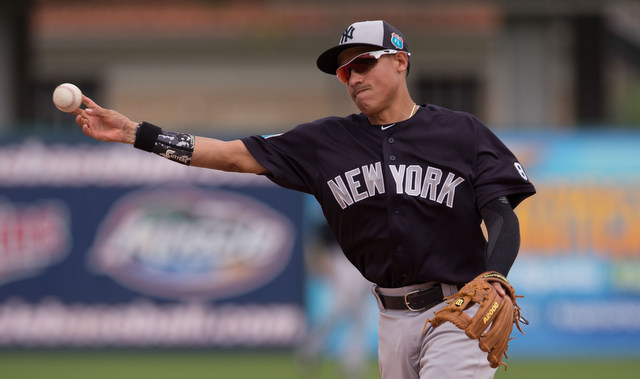 At long last, the competition for the final bench spot is over. The Yankees will open the season with Ronald Torreyes on the bench, Joe Girardi announced this morning according to all the reporters in Tampa. Torreyes beat out Rob Refsnyder, who was sent down a few days ago, and the veteran Pete Kozma for the job.
Torreyes, 23, came over from the Dodgers in a very minor trade over the winter. The Yankees actually designated him for assignment a few days later, lost him on waivers to the Angels, then re-claimed him on waivers a few days later after the Angels designated him for assignment. Got all that? The poor guy has been with five teams (Astros, Blue Jays, Dodgers, Yankees, Angels) in the last 12 months. Now he's a big leaguer. Good for him.
This spring Torreyes went 10-for-33 (.303) with two doubles while playing the three non-first base infield positions. He hit .262/.310/.348 (82 wRC+) in 464 plate appearances at Double-A and Triple-A last year and made his very brief MLB debut with Los Angeles is September. Torreyes did hit .298/.345/.376 (90 wRC+) in a full year at Triple-A in 2014, so he has shown offensive promise in the past.
Both the scouting reports and stats say Torreyes is a contact machine (6.5 K% from 2014-15) with little power (.082 ISO) and solid defense all around the infield. He's a tiny little guy — Torreyes is listed at 5-foot-10 and 150 lbs., but everyone who has seen him says that's generous — so small ball is the name of his game. He'll make contact, bunt, play defense, all that stuff. Get ready for Suzyn Waldman to call him a baseball player.
The Yankees are set on the infield, so Torreyes will strictly be a backup player. He's not going to platoon against lefties or anything like that. At least I don't think he will. Because Torreyes can play shortstop, the Yankees can keep Starlin Castro at second base full-time whenever Didi Gregorius needs a rest this year. That's a nice bonus. Castro is new to second base and still learning the nuances of the position.
As for Kozma, he'll head to Triple-A Scranton and join Refsnyder, Jonathan Diaz, and Donovan Solano on the infield. Kozma will probably be the starting shortstop for the RailRiders. Refsnyder is going to see a lot of time at third base, Girardi said as much, so Diaz and Solano will bounce around to fill-in.