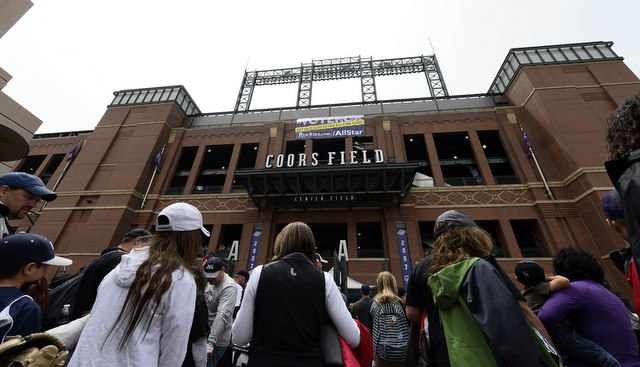 The Yankees are back out on the road for a six-game trip this week. Their first stop: Colorado for a pair of games with the Rockies. This is the team's first visit to Coors Field since 2013. They've played three road series against the Rockies since interleague play became a thing, winning two of three in 2002 and 2013, and getting swept in 2007.
What Have They Done Lately?
The Rockies are on a bit of a hot streak at the moment. They've won six of their last eight games and outscored their opponents 43-24 in the process. Colorado is 30-33 with a -7 run differential overall. That is annoyingly similar to the Yankees, who are 31-32 with a -20 run differential.
Offense & Defense
As you might expect from a team that calls Coors Field home, the Rockies have no trouble scoring runs. They average 5.00 runs per game with a team 93 wRC+ overall. Of course, their home-road splits are pretty substantial. The Rockies average 5.72 runs per game (99 wRC+) at home and only 4.38 runs per game (89 wRC+) on the road. Pretty huge difference there, eh?
Manager Walt Weiss, whose son Bo was drafted by the Yankees last week, has only one position player on the DL. Backup C Tony Wolters (51 wRC+) is out with a concussion. Otherwise everyone is healthy. Because Rockies players tend to have such extreme home-road splits — it's not their fault, most of them didn't get a chance to pick their home park — I'm going to present their offense a little differently this series preview. Here are the regulars:
| | Home | Road |
| --- | --- | --- |
| C Nick Hundley | .214/.353/.321 (58 wRC+) | .275/.370/.500 (131 wRC+) |
| 1B Mark Reynolds | .303/.386/.449 (97 wRC+) | .298/.341/.462 (117 wRC+) |
| 2B D.J. LeMahieu | .256/.445/.594 (145 wRC+) | .264/.306/.363 (80 wRC+) |
| SS Trevor Story | .263/.331/.544 (96 wRC+) | .254/.290/.529 (116 wRC+) |
| 3B Nolan Arenado | .309/.387/.682 (148 wRC+) | .263/.340/.489 (123 wRC+) |
| LF Gerardo Parra | .313/.328/.518 (89 wRC+) | .224/.230/.343 (48 wRC+) |
| CF Charlie Blackmon | .299/.357/.540 (105 wRC+) | .292/.364/.443 (121 wRC+) |
| RF Carlos Gonzalez | .310/.350/.637 (129 wRC+) | .281/.333/.438 (103 wRC+) |
I would hate to cover the Rockies full-time because Coors Field screws everything up. Even the road numbers seem skewed. Purple Row did an analysis a few years ago that showed either the Coors Field park factors are totally wrong, or going back and forth between high altitude and sea level throughout the season messes Rockies players up more than we realize.
Alright, so anyway, the Rockies have a true star in Arenado, who is easily a top ten player in the game today. Maybe even top five. He's not a product of Coors Field. The man would rake anywhere. Arenado usually hits third with Blackmon — Blackmon will open some eyes this series, he's a sneaky good ballplayer — and LeMahieu in front of him, and Gonzalez and Story behind him. The top five of the batting order is pretty set in stone. Weiss tends to mix the bottom of the lineup up on a daily basis.
The Rockies have UTIL Ryan Raburn (107 wRC+) on the bench, who will play against lefties, usually in place of Parra. C Dustin Garneau (62 wRC+) is the backup catcher and IF Daniel Descalso (156 wRC+) and IF Cristhian Adames (59 wRC+) are the backup infielders. The Rockies only carry four bench players despite being in the NL because they need to carry eight relievers. Their pitching staff is bad in general, and Coors Field exacerbates things.
Defensively, the Rockies have excellent glovemen in LeMahieu and Blackmon, and, of course, Arenado is on the very very very short list of the best defensive players in baseball, regardless of position. Watch this ridiculousness:
I saw No. 3 and No. 8 with my own eyes and I don't still don't believe they really happened. Crazy. Anyway, Story and CarGo are good enough defenders and Parra's glove has really slipped the last few years. Reynolds is adequate at first, and Hundley is nothing special behind the plate. Arenado, LeMahieu, and Blackmon make the Colorado defense above-average by themselves.
Pitching Matchups
Tuesday (8:40pm ET): RHP Nathan Eovaldi (vs. COL) vs. LHP Jorge De La Rosa (vs. NYY)
This is De La Rosa's ninth season with the Rockies and they should probably build a statue of the guy because he's managed to give them 1,039 innings of 4.34 ERA (106 ERA+) ball. He's third on the franchise's all-time innings (behind Aaron Cook and Jeff Francis) and WAR (behind Ubaldo Jimenez and Cook) lists. This year has been a big struggle though. De La Rosa, 35, had an 8.81 ERA (5.64 FIP) in 31.2 innings. He made six starts before getting demoted to the bullpen, where he made three long relief appearances. This will be his first start back in the rotation. De La Rosa's strikeout (25.3%) and grounder (45.4%) rates are fine, but he's walked too many (9.7%) and been extremely homer prone (2.27 HR/9). His platoon split is small because his low-80s splitter is so effective against righties. De La Rosa sets the split up with a low-90s heater. He also throws a little upper-80s cutter and an upper-70s curveball.
Wednesday (3:10pm ET): RHP Ivan Nova (vs. COL) vs. RHP Chad Bettis (vs. NYY)
I am an irrational Chad Bettis fan, so much so that I wrote a post about him as a possible trade target over the winter. He's not having a good year though, and will come into this start with a 5.85 ERA (4.76 FIP) in 13 starts and 72.1 innings. His strikeout (16.5%) and walk (5.9%) rates are down, and only one of those is a good thing. Bettis is homer prone (1.49 HR/9) despite a good ground ball rate (49.4%). Righties have hammered him this season, which is weirdly a career long trend. Huh. Bettis operates with three fastballs: low-90s sinkers and four-seamers, plus an upper-80s cutter. A mid-80s changeup and an upper-70s curveball are his two offspeed pitches.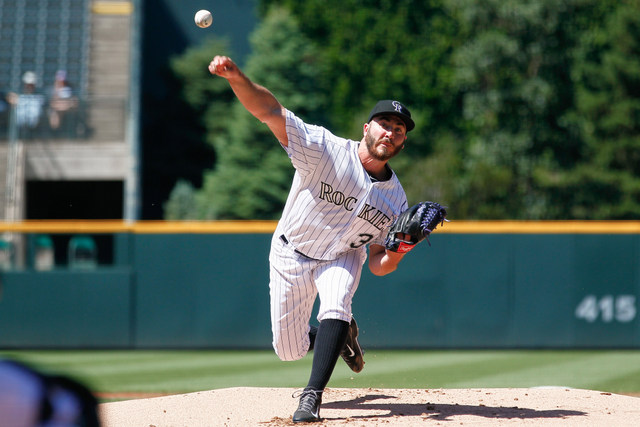 Bullpen Status
The Rockies have a history of signing veteran relievers as free agents, and they usually end up giving guys an extra year to get them to come to Coors Field. They've had trouble developing pitching since the first day the franchise existed, and that means both starters and relievers. Here is their current bullpen:
Closer: RHP Carlos Estevez (4.43 ERA/4.34 FIP)
Setup: LHP Boone Logan (1.59/1.82), RHP Jason Motte (2.57/4.54), RHP Chad Qualls (5.03/4.64)
Middle: RHP Gonzalez German (2.82/4.41), RHP Justin Miller (4.44/4.33)
Long: RHP Eddie Butler (5.48/4.78), LHP Chris Rusin (4.12/3.20)
Colorado has something weird going on with their rotation at the moment. Butler and Rusin have both been in the rotation for a few weeks now, and in fact they started games last Tuesday and Wednesday. They're not listed among the team's upcoming pitching probables though, so I assume they're available in relief this week. They're both stretched out and can go super long if necessary.
Former Rays closer LHP Jake McGee (4.98/4.50) just landed on the DL with knee inflammation, pushing Estevez into the closer's role. Logan and Qualls, a pair of ex-Yankees are among his setup crew. Weiss uses Logan as a lefty specialist these days and he's been pretty awesome at it. He's held left-handed batters to a .108/.158/.194 batting line with a 38.5% strikeout rate and a 71.4% ground ball rate. Logan will be a free agent after the season, and if he keeps dominating lefties like that, he's going to find himself in another uniform after the trade deadline.
Head on over to our Bullpen Workload page for the status of Joe Girardi's relief crew. Both the Yankees and Rockies had an off-day yesterday, their bullpens are as fresh as they're going to get in mid-June.