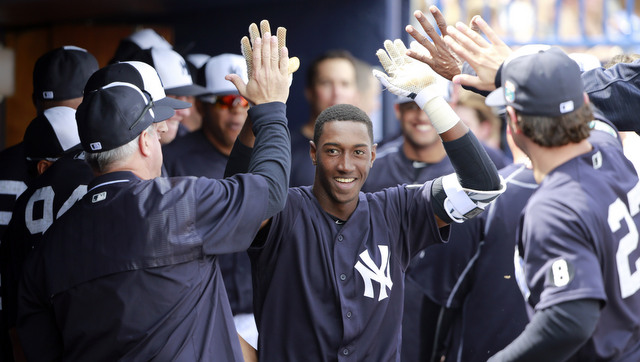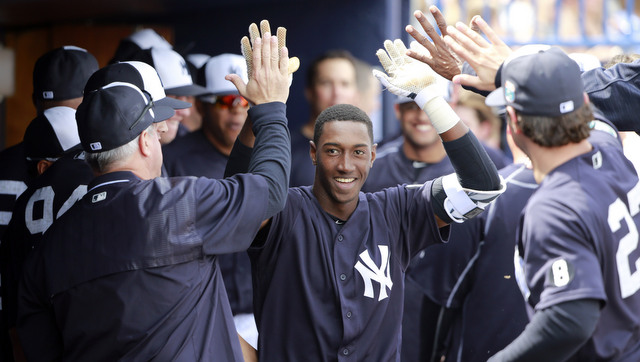 Friday was the deadline for teams to add eligible players to the 40-man roster, and given their deep farm system, the Yankees had to make a bevy of roster moves prior to the 8pm ET deadline. Here's a recap of all the moves, which involve 13 players:
Added 3B Miguel Andujar, LHP Dietrich Enns, RHP Gio Gallegos, RHP Ronald Herrera, SS Jorge Mateo, and RHP Yefrey Ramirez to the 40-man roster.
Released UTIL Dustin Ackley and designated RHP Nathan Eovaldi, LHP Joe Mantiply, and RHP Nick Rumbelow for assignment.
Traded LHP James Pazos to the Mariners for RHP Zack Littell.
Outrighted RHP Branden Pinder to Triple-A.
Phew. Got all that? Andujar, Enns, Gallegos, Herrera, Mateo, and Ramirez were all Rule 5 Draft eligible this offseason. Now they're not. Welcome to the 40-man roster, fellas. Andujar and Mateo were the only absolute locks to be added to the 40-man. The other four guys — as well as many others — were borderline.
The Yankees had one open 40-man spot thanks to yesterday's Brian McCann trade. They cleared the other five spots by releasing Ackley, trading Pazos, and designating Eovaldi, Mantiply, and Rumbelow for assignment. Rumbelow, like Pinder, is rehabbing from Tommy John surgery. He'll probably clear waivers, also like Pinder.
Ackley and Eovaldi both ended the season hurt and were expected to be non-tendered. There's no sense in waiting until the December 2nd deadline though. They need the 40-man space. The Yankees get the roster spots and Ackley and Eovaldi get a little extra time to find new teams. I wouldn't be surprised if the Yankees try to re-sign Eovaldi to a two-year deal. We'll see.
The 21-year-old Littell is the new addition to the organization. He was an 11th round pick in the 2013 draft out of a North Carolina high school, and this past season he had a 2.60 ERA (3.07 FIP) with 24.0% strikeouts and 5.0% walks in 173 innings split between Low-A and High-A. That's a ton of innings for Single-A. Geez. That's some 1980s pitcher development stuff right there.
Chris Crawford says Littell has "shown two plus pitches and throws three pitches for strikes," which is a pretty nice starting point. MLB.com ranked Littell as the 14th best prospect in Seattle's system before the trade. Here's a piece of their scouting report:
Littell's heater is his best offering, registering in the low 90s and topping out at 94 with late life. He fearlessly attacks hitters with the pitch, commanding it to both sides of the plate while working down in the zone so as to generate ground-ball outs. His curveball is his primary secondary offering and makes him particularly tough on same-side hitters, but he'll need to refine his changeup in order to neutralize lefties at higher levels … he receives rave reviews for his makeup, both on and off the mound.
I gotta say, Littell seems like a really excellent return for Pazos, who is a hard-throwing but erratic left-handed reliever. Littell's not a future ace, but he has starter stuff and there's a pretty good chance he'll pitch in Double-A at some point next season. And he's not Rule 5 Draft eligible yet. Nice little pickup by the Yankees.
Mateo, 21, is one of New York's top prospects, though he had a disappointing season in 2016. He hit .254/.306/.379 (99 wRC+) with eight homers in 113 games with High-A Tampa, and was suspended two weeks for violating team rules. Still, given his ability, Mateo would have been the very first player taken in the Rule 5 Draft.
The 21-year-old Andujar had a breakout season this year, hitting .270/.327/.407 (108 wRC+) with 12 homers in 137 total games with High-A Tampa and Double-A Trenton. He then played in the Arizona Fall League after the season. Neither Andujar nor Mateo is big league ready, but the Yankees couldn't risk losing either in the Rule 5 Draft.
Herrera, 21, came over from the Padres in last winter's Jose Pirela trade. He pitched to a 4.12 ERA (3.27 FIP) in 146.1 innings with mostly Double-A Trenton in 2016. Herrera's not a top prospect by any means, but apparently the Yankees think he can help them at some point, so on the 40-man roster he goes.
Gallegos, 25, broke out as a full-time reliever this season, putting up a 1.17 ERA (1.97 FIP) with 36.5% strikeouts and 5.7% walks in 84.2 innings at Double-A Trenton and Triple-A Scranton. Relievers with those numbers are prime Rule 5 Draft fodder. Gallegos was a goner had the Yankees left him exposed. No doubt about it.
The 25-year-old Enns has been off the charts since returning from Tommy John surgery last year. The finesse southpaw has a 1.37 ERA (2.99 FIP) in 197 innings with his new elbow, and he spent much of 2016 in Triple-A. Enns has three pitches and can start. That's a guy you don't leave available in the Rule 5 Draft. More than a few teams would be willing to take a look at him in camp.
Ramirez, 22, was a minor league Rule 5 Draft pick from the Diamondbacks last year. The ex-infielder had a 2.82 ERA (3.13 FIP) with 26.8% strikeouts and 6.5% walks in 124.1 innings at Low-A Charleston and High-A Tampa this year. Heck of a scouting job by the Yankees. They managed to fine a nice arm in the minor league Rule 5 Draft.
Among the notable players the Yankees are leaving exposed to the Rule 5 Draft are OF Jake Cave, RHP Cale Coshow, RHP Brady Lail, OF Tito Polo, LHP Stephen Tarpley, C Luis Torrens, and LHP Tyler Webb. RHP Domingo Acevedo is not Rule 5 Draft eligible this offseason. I know I said he was earlier, but I was mistaken. My bad, yo.
Cave was a Rule 5 Draft pick last year, so if he gets popped again and doesn't stick, he can elect free agency rather than return to the Yankees. Chances are his time with the organization is over, one way or the other. As a lefty who's had success at Triple-A, Webb is definitely getting picked in the Rule 5 Draft. Torrens is talented, but he's too young and too far away to stick in MLB in 2017. He's barely played above rookie ball.
As a reminder, players taken in the Rule 5 Draft must remain on their new team's active 25-man roster all season in 2017, or go through waivers and be offered back to their former team. The Rule 5 Draft success rate is pretty low, unsurprisingly. The draft itself is Thursday, December 8th.