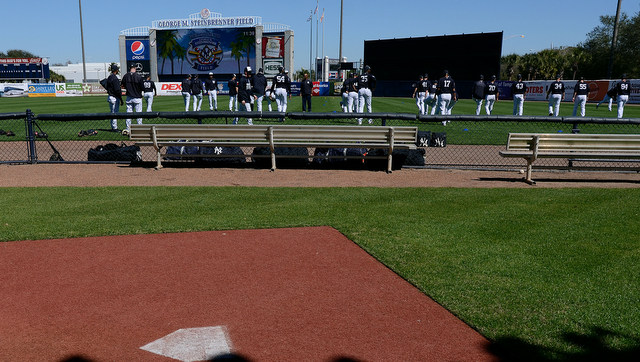 November 18th: For whatever reason, the Yankees have pushed back their reporting date for pitchers and catchers one day, the team announced. Pitchers and catchers will now report Tuesday, February 14th. The rest of the Spring Training schedule remains the same.
November 7th: Earlier today, the Yankees announced their 2017 Spring Training schedule. Pitchers and catchers are due to report to Tampa on Monday, February 13th. That's 98 days away. Position players will follow on Saturday, February 18th. The first full squad workout is scheduled for the next day.
The Yankees begin Grapefruit League play on Friday, February 24th, at home against the Phillies. They're also going to play an exhibition game against Team Canada on Wednesday, March 8th. That's a tune-up game prior to the World Baseball Classic. The Yankees close out Spring Training with an exhibition game against the Braves at brand new SunTrust Park on Friday, March 31st.
All told, the Yankees will play 35 exhibition games next spring, including 17 at the newly renovated George M. Steinbrenner Field in Tampa. The Yankees and every other team scaled back on their number of Spring Training broadcasts last year — I guess those mid-week afternoon split squad games don't draw many eyes — and I assume that will be true next spring as well.
Eventually the Spring Training schedule will make its way on to the official site. Perhaps even by time this post goes live. Spring season tickets are on sale right now. You can buy them here. Individual spring game tickets don't go on sale until Friday, January 13th. The Yankees open the 2016 regular season on Sunday, April 2nd, on the road against the Rays.