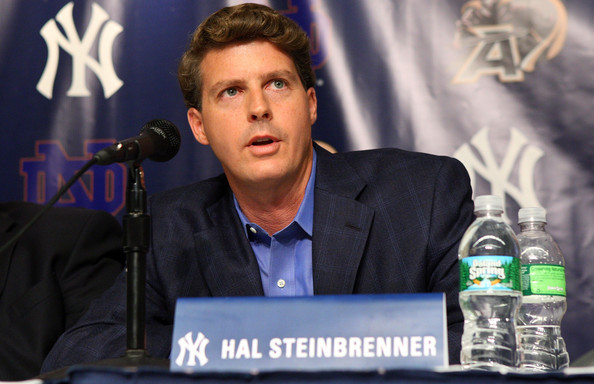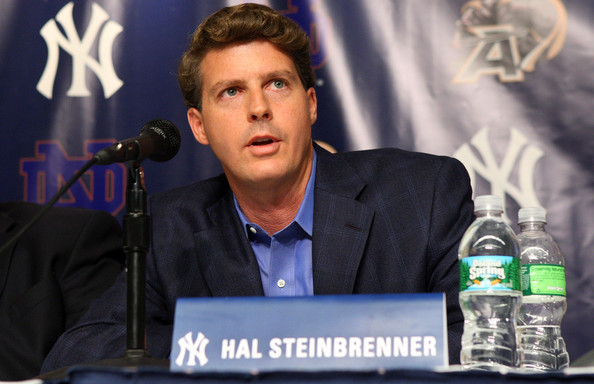 At some point soon very soon the Yankees will get under the luxury tax threshold. That's the plan. The new Collective Bargaining Agreement raised the threshold a bit, which gives the team more breathing room. Getting under the threshold resets New York's tax rate, and depending on the terms of the new CBA, it could entitle them to some revenue sharing rebates too. Those were included in the last CBA.
The Yankees shed some notable contracts following 2016, most notably Mark Teixeira's. Carlos Beltran's contract disappeared at the trade deadline, as did Andrew Miller's. Miller is signed for another two years. Beltran was an impending free agent who would have come off the books anyway. The recent Brian McCann trade freed up some cash too, and next year CC Sabathia and Alex Rodriguez will be gone as well.
Because the luxury tax threshold is such an important number now, let's look over the Yankees' current payroll situation to see exactly how far away they are from the $195M threshold in 2017. Is there a chance they could get under as soon as next season? Sure, it's possible, I guess. The numbers suggest it's very unlikely, however. Let's break it all down.
Guaranteed Contracts
Keep in mind the luxury tax payroll and actual payroll are different things. The actual payroll is what the Yankees truly owes these guys. The luxury tax payroll is based on the average annual value of contracts, which can be different than the player's actual salary in any given year. Teams can't manipulate the luxury tax payroll by front or back-loading contracts. Here are the luxury tax "hits" the Yankees have the books at the moment.
CC Sabathia: $25M
Masahiro Tanaka: $22.14M
Jacoby Ellsbury: $21.86M
Aroldis Chapman: $17.2M (pending physical)
Matt Holliday: $13M
Chase Headley: $13M
Brett Gardner: $11.72M
Starlin Castro: $9.5M
Tyler Clippard: $6.15M
That all works out to $139.57M against the luxury tax payroll for only nine players. Gardner and Headley have been mentioned in trade rumors this winter — interest in the two is said to be "relatively mild at the moment," though something could always come together quick — and trading either guy would clear up some cash, even if the Yankees eat money to facilitate a trade, as they did with McCann and Beltran.
So anyway, since Gardner and Headley are still on the roster, we have to count them against next year's projected payroll. We're at $139.57M for nine players. There is still more than 75% of the 40-man roster left to be filled, and the Yankees are already less than $56M away from the $195M luxury tax threshold for 2017.
Arbitration Projections
Right now, the only salary figures we have for arbitration-eligible players are projections. Those guys usually don't starting signing contracts until after the holidays. Matt Swartz at MLBTR has a really great projection model, but it's not 100% accurate, so there is some wiggle room here. Here's what Swartz's model spit out for the seven arbitration-eligible Yankees.
Michael Pineda: $7.8M
Didi Gregorius: $5.1M
Dellin Betances: $3.4M
Adam Warren: $2.3M
Aaron Hicks: $1.4M
Tommy Layne: $1.2M
Austin Romine: $900,000
I really do think Swartz's model is selling Betances short. Saves pay through arbitration and he doesn't have many of them, but he's been so insanely good at everything else these last three years that I think he'll get paid like a closer in arbitration. Perhaps something closer to $4M, which is what guys like Cody Allen and Jeurys Familia and Hector Rondon received in their first trip through arbitration last year, could be in the cards.
Let's stick with Swartz's projection for Betances though. The seven arbitration-eligible players come in at $22.1M, and since these are all one-year contracts, we don't have to worry about any fancy average annual value math. Between guaranteed contracts and arbitration-eligible players, we're at $161.67M for 16 roster spots. Roughly $33M away from the threshold with 24 40-man roster spots to go.
Miscellany
The guaranteed contracts and arbitration-eligible players are easy. Now we're getting into all the other smaller expenses that count against the luxury tax payroll, which always seem to cost more than people may realize. Here are the team's miscellaneous expenditures for next season:
Dead Money ($33M): Alex Rodriguez ($27.5M) and Brian McCann ($5.5M)
Remaining 25-Man Roster Spots ($4.815M): Nine at $535,000 league minimum.
Remaining 40-Man Roster Spots: Estimated at $2M total.
Benefits: Estimated at $12M.
A-Rod and McCann are gone but their impact on the luxury tax payroll is not. Rodriguez was released, and for payroll purposes, it's like he's still on the roster. The Yankees are still responsible for his $21M actual salary and $27.5M luxury tax hit in 2017. The team is also paying $5.5M of McCann's $17M salary the next two years.
The guaranteed contracts and arbitration-eligible players account for 16 of the 25 active roster spots. Assuming the Yankees fill the other nine with kids making the league minimum, it works out to another $4.815M. Here's the thing though: all those kids won't make the league minimum. The guys who picked up service time this past season, like Gary Sanchez and Aaron Judge and Luis Severino, will make a little more. Most teams, including the Yankees, have a sliding pay scale based on service time.
(Betances actually refused to sign his 2016 contract because he felt he deserved more than the team's sliding service time scale, so the Yankees renewed him at the league minimum. That rarely happens though, and if the Yankees renew all their players at the minimum to create more payroll flexibility, it would also create a lot of bad blood. The easiest way to turn players against you is by screwing with their salary.)
Anyway, we're going to stick with that $4.815M figure for the other nine roster spots for the time being. The other 15 40-man roster spots, the guys who are in the minors, also count against the payroll. They all have split contracts though — one salary in the big leagues, another in the minors. I've seen those other 15 spots estimated at anywhere from $2M to $5M over the years. I'll go with $2M for the time.
Okay, so after all of that, our hypothetical 40-man roster is full and accounted for. Add it all together and the Yankees are at $202.2M. Argh! Over the threshold! But wait! It gets worse. Each team's contribution to player benefits counts against the luxury payroll. Womp womp. That figure was $12M two years ago. I have no idea what it is now, but chances are it's gone up at least somewhat.
Even if the benefits package is still valued at $12M, the Yankees are over the luxury tax threshold at $214.2M. And that's assuming a) nine dudes on the 25-man roster are making exactly the league minimum, b) the other 15 guys on the 40-man are making only $2M total, and c) the Yankees make no in-season moves. Every call-up from Triple-A adds to the luxury tax payroll. In reality, the team's payroll for luxury tax purposes is higher than that $214.2M number.
* * *
Based on everything that's been reported this offseason, the Yankees are trying to unload Gardner and Headley in trades, which would free up cash. Dumping both would clear $24.72M in luxury tax hits, which gets them under the threshold with very little breathing room. Not enough to account for the fact players will be called up during the season and most of those nine league minimum guys will actually make something slightly more than the league minimum.
The chances of the Yankees getting under the luxury tax threshold next season were very small as it was. The Chapman deal effective ends any chance of it happening. Barring a Gardner trade, the Yankees are likely to open the 2017 season with a payroll in the $220M range, which is right where they've been the last two years. Next season, when Sabathia and A-Rod and Holliday and Clippard are gone, the Yankees should finally be able to get under the threshold, reset their tax rate, and create the payroll flexibility ownership so clearly desires.