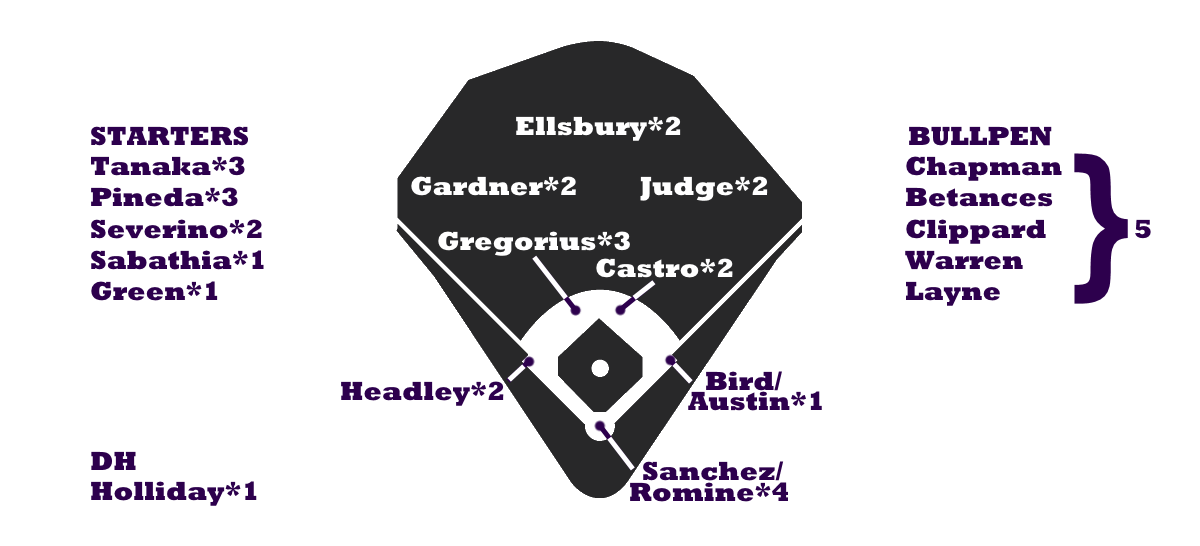 Earlier this week, Dan Szymborski and FanGraphs released ZiPS projections for the 2017 Yankees. There are a ton of projection systems out there these days, possibly too many at this point, and ZiPS is my personal favorite. It's been pretty accurate relative to the other systems, historically. ZiPS is my preference. You're welcome to feel differently.
As a reminder, projections are not predictions. They're not trying to tell you the future. Projections like ZiPS are an estimate of the player's current talent level. Robinson Cano hit .306 in 2007, .271 in 2008, and .320 in 2009. Did his talent level change? Nah. That's just baseball being baseball. It would be boring if it were predictable. Anyway, I have some thoughts on the ZiPS projections. They made for good talking points.
1. Sanchez is very unique. Last year Gary Sanchez came up in August and smashed 20 home runs in his final 52 games of the season. No one had ever done that before, especially not as a full-time catcher. Because of that, Sanchez is super unique as a player and projecting him is damn near impossible. That's why ZiPS spit out Chris Hoiles (Chris Hoiles!) as Sanchez's top statistical comp at age 24. Hoiles played six games in his age 24 season. He played 23 games in his age 25 season. It wasn't until his age 26 season that he broke into the show full-time. And yet, ZiPS determined Hoiles was the best statistical comp for Sanchez at this age because Hoiles could really hit. The guy retired as a career .262/.366/.467 (122 wRC+) hitter who averaged 24 homers per 140 games played. Point is, Sanchez's career path is incredibly unique. Few catchers show this much power this early. ZiPS spit out Hoiles because he had power too even though he didn't stick for good until age 26.
2. How about that youthful power? The Yankees' top six projected 2017 home run hitters according to ZiPS are Aaron Judge (30 dingers), Sanchez (27), Clint Frazier (22), Tyler Austin (18), Greg Bird (18), and Starlin Castro (18). Castro is the grizzled veteran of the group and he's still only 26. Again, ZiPS is not a prediction. The system is estimating the talent level of each player at that homer total. I'll take the under on Judge and the over on Bird, assuming his shoulder holds up, but the point is the Yankees have multiple young power bats on the roster for the first time in a long time. Last year they had three players age 26 or younger hit 18+ homers (Sanchez, Castro, Didi Gregorius). They had three total from 2002-15 (Alfonso Soriano, Cano twice). Prior to last season, the last time the Yankees had multiple players age 26 or younger hit 18+ homers was 1991, when Roberto Kelly and Kevin Maas did it. Sanchez, Judge, and Bird are all serious threats to do it in 2017. Maybe Austin too if he gets enough playing time. (Castro turns 27 in Spring Training.) That is pretty awesome and exciting. Hooray for not counting on the veterans to hit the ball out of the park.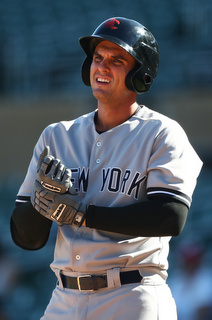 3. The Bird projection is a good reality check. I love Greg Bird. I love his plate discipline, I love his calm at the plate, and I love his ability to hit the ball in the air with authority. We also have to remember the kid is coming back from major surgery though, and there are other flaws in his game as well. He's not a good defender and lefties have given him trouble in the past. The ZiPS projection reflects those realities. It pegs Bird as a true talent .234/.307/.449 (108 OPS+) hitter right now, which is good in a vacuum but not great in the world of first basemen. (First basemen hit .259/.338/.453 in 2016. That's a 114 OPS+.) Add in the lack of defense — ZiPS has Bird saving zero runs in the field, which might be generous — and you get a +0.8 WAR player. That's disappointing to see for 2017. But you know what? ZiPS drops Mo Vaughn on Bird as the top statistical comp at age 24, and Vaughn was a monster from ages 25-30. Remember, this coming season will be Bird's first full season in the show. There will inevitably be bumps along the way, especially following surgery. Hopefully 2017 is a stepping stone to bigger and better things in the future.
4. ZiPS hasn't given up on Severino as a starter. More than a few folks would like to see the Yankees keep Luis Severino in the bullpen, where he was so dominant last year, and I get it. I do. Brian Cashman indicated they're going to stick with him as a starter for now, even if it means sending him to Triple-A in 2017, and that's the right move in my opinion. Severino is still only 22 and I'd hate to give up on him as a starter at that age, especially with the Yankees in need of long-term rotation help. Development isn't always linear. There are obstacles to overcome along the way. Anyway, ZiPS is still on the "Severino should start" bandwagon, projected him for a 4.20 ERA (3.94 FIP) in 152 innings this coming season. That's in 26 starts too. (And yeah, seven relief appearances.) His top statistical comp is Mike Witt, who also hot hammered as a starter and pitched well as a reliever at age 22. Witt went on to have a lot of success as a starter from age 23-28. Severino ain't alone. He's not the only guy who's gone through this.
5. The other young starters don't look so hot. Along with Severino, the Yankees figure to use some combination of Luis Cessa, Chad Green, and Bryan Mitchell at the back of the rotation in 2017. Chances are we'll see all three of those guys at some point this summer, plus others. ZiPS likes Green the most among those three guys, and the system only projects him as a +0.8 WAR player in 2017.
| | IP | ERA | FIP | WAR |
| --- | --- | --- | --- | --- |
| Cessa | 126.2 | 5.33 | 5.08 | -0.2 |
| Green | 128.2 | 4.67 | 4.47 | +0.8 |
| Mitchell | 80 | 5.74 | 5.36 | -0.6 |
Eek. I like Cessa more than most, but it wouldn't surprise me at all if he were replacement level with a 5.00+ ERA next season. Not if he doesn't do a better job keeping the ball in the park and/or start missing more bats. Other young arms like Jordan Montgomery (+0.5 WAR) and Chance Adams (-0.2 WAR) don't project a whole lot better in 2017. These guys might be pretty good down the line! But, for this coming season, they carry an awful lot of risk, and ZiPS reflects that.
6. The Yankees need to figure out the rest of the bullpen. The Yankees are set in the eighth and ninth innings with Dellin Betances and Aroldis Chapman, both of whom have been excellent in recent years and project to be excellent again next season. The rest of the bullpen is a little dicey. Veteran stalwarts Tyler Clippard and Adam Warren project to be average by reliever standards, which I don't think is unreasonable at this point of their careers. The best of the young relievers, per ZiPS, are Jonathan Holder and Gio Gallegos, who have basically zero combined time in the big leagues. (Holder threw 8.1 sporadic innings in September.) The minor leagues are littered with relievers who have great strikeout and walk rates, they're everywhere, and not too many of those relievers are able to carry their success over to the big leagues. ZiPS projects Holder and Gallegos for a combined +0.9 WAR in nearly 140 innings in 2017. Eh. No other young reliever projects to be even replacement level. There's some figuring out to be done in the bullpen.