Big mailbag this week. Eighteen questions and 17 answers. This might be our biggest mailbag ever. Lots and lots of people asked about the international bonus pool money trades and whether they mean the Yankees will go after Shohei Otani this offseason. I wrote about that earlier this week. Anyway, RABmailbag (at) gmail (dot) com is the mailbag email address.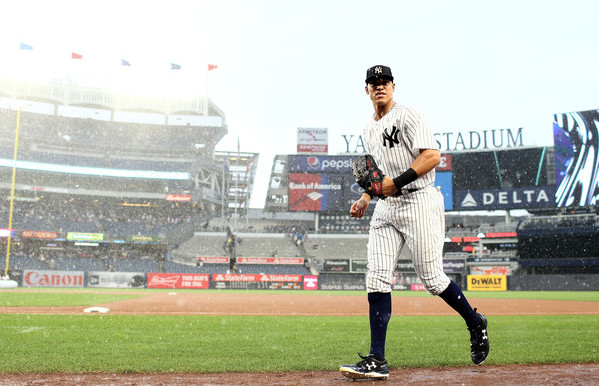 Dan asks: If Judge's slump persists, could he be in any danger of losing Rookie of the Year?
Nah. I don't think the slump will last much longer — that doesn't mean he'll go back to hitting .329/.448/.691 (198 wRC+) again like he did in the first half, but he'll be better than he's been the last few weeks — but even if it did, he's still done more than enough to win the award. Who is his primary competition anyway? The AL rookie fWAR leaderboard:
Aaron Judge: +5.8 WAR
Bradley Zimmer: +2.1 WAR
Ben Gamel: +2.1 WAR
Jordan Montgomery: +2.0 WAR
Trey Mancini: +1.5 WAR
Zimmer has the most realistic chance to knock off Judge as the AL Rookie of the Year and this is basically the reverse Michael Fulmer-Gary Sanchez argument. Zimmer has only done it for half the year while Judge has been up all season. Also, Judge this year has been better than Fulmer last year, and Sanchez last year was better than Zimmer this year, so yeah.
As ugly as the slump has been, Judge has been "only" a -0.1 WAR player in the second half. There's basically no way he can dip under +5 WAR for the season at this point, even if he continues to slump. His defense is too good. I'm sure some voters will find a reason not to vote for Judge — "He slumped when his team needed him the most in the second half," sounds like a thing someone will say, nevermind the role Judge played in getting the Yankees to where they are in the first place — but he should still win the AL Rookie of the Year unanimously.
Artie asks: If the Yanks send Frazier down and recall him in September when rosters expand, can he still be on the post-season roster (provided they get there)? And if so, who does he bump from the roster? Joe loves having more pitchers than he needs so I would think the last spot would come down to Ellsbury and Frazier.
Brian asks: Do you think Ellsbury is left off the postseason roster?
Might as well lump these two together. Clint Frazier and every other player in the organization before 11:59pm ET on August 31st is eligible for the postseason roster, even if they haven't played in the big leagues. Because Frazier has played in MLB, he can be added to the postseason roster nice and easy. A player who did not play in the big leagues prior to September 1st would have to be an injury replacement. The only stipulation there is that a position player has to replace a position player, and a pitcher has to replace a pitcher.
That last part is kinda tricky. The Yankees have Michael Pineda's spot to add a pitcher. So if, say, Domingo Acevedo comes up in September and throws fire in relief, and the Yankees want him on their postseason roster, they could use the Pineda injury to add him. The Yankees don't have any injured position players who are expected to miss the rest of the season. They're probably going to get a pinch-runner at some point, a Rico Noel/Eric Young Jr. type, but if that guy is not in MLB before September 1st, he can't be on the postseason roster. (Unless someone gets hurt between now and then.)
As for getting Frazier and/or Jacoby Ellsbury on the postseason roster, that won't be a problem. The pitching staff shrinks in the playoffs because you don't really need your fifth starter or seventh reliever. The Yankees figure to cut down to ten pitchers in the postseason, or maybe eleven. That leaves room for Frazier, Ellsbury, and Aaron Hicks on the roster. Maybe the Yankees don't need a Noel/EYJ type and will use Ellsbury as their pinch-runner?
Matt asks: If it were up to you, what four stats would you show when a player comes up to hit during a broadcast? As more advanced stats have pushed themselves to the mainstream, when could we see networks move on from the traditional AVG HR RBI OBP?
I am cool with keeping sabermetrics out of broadcast presentations. The Astros have things like WAR and wRC+ on their broadcast and that's neat, but the vast majority of the people watching don't care. I'd stick with the basics. Give me the full AVG/OBP/SLG slash line, homers, RBI, and steals. That works for me. At this point in time, I think less is more with sabermetrics on television. Let the announcers like David Cone talk about them once in a while, but I don't think baseball should be forcing this stuff down the throats of casual fans. Those who want to learn about sabermetrics will seek the information out.
Dustin asks: Who do you think is more likely to be re-signed next year, Sabathia or Tanaka?
CC Sabathia by a mile. If Masahiro Tanaka opts out — I'd say it's about 80/20 in favor of opting out at this point — I don't think the Yankees will re-sign him. I don't see them handing out any large $20M+ per year contracts this coming offseason because they want to get under the luxury tax threshold next year. The Yankees should be able to re-sign Sabathia to a one-year deal worth $12M or so. Tanaka is looking at what, five years and $100M? Maybe four years and $88M? I don't see the Yankees going there. The Sonny Gray addition makes it that much easier to walk away too. The Yankees know they're building around Gray and Luis Severino (and Montgomery) going forward.
Dan asks: What about Severino for Comeback Player of the Year? Maybe it's more "development" than a true comeback but he went from having an historically bad 2016 to being a legit Cy Young candidate. That has to count for something, no? So whereas Berrios and Judge went from a horrendous 2016 debut to really good in 2017, Severino at least had a bit of elite success prior to his down year. Thoughts?
Nah. This isn't a comeback. This is a young — Severino is only 23! — player breaking out. To me, the Comeback Player of the Year is someone who had a rough season either due to injury or poor performance, then bounced back to their previous level of production (or better). Severino made eleven starts in 2015. That's not enough to establish a baseline for Comeback Player of the Year for me. Severino is just a young dude breaking out. The best Comeback Player of the Year candidate on the Yankees is, uh, Adam Warren? They don't really have one. Michael Brantley stands out as the AL Comeback Player of the Year to me. He played only eleven games last year due to two shoulder surgeries, and is hitting .295/.357/.438 (110 wRC+) this year.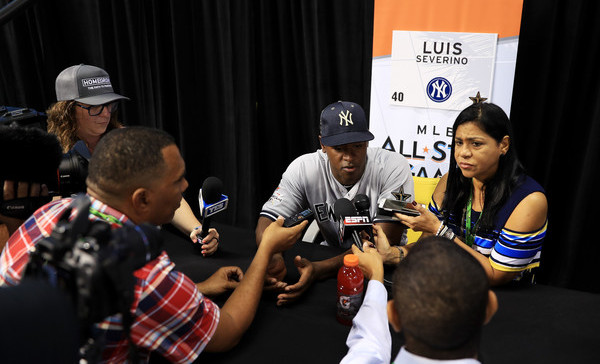 Bryon asks: If the team can't find a way to move Ellsbury, is it possible the Yankees don't sign someone to DH full time and start Judge, Gardner, Hicks and Frazier, among the 3 OF spots and DH with Ellsbury serving as the 4th OF?
Yeah I think it's possible. I don't think they'd sign another DH only player like Matt Holliday again. That's for sure. They might someone who can actually play the field, likely first base or the corner outfield, with the idea of giving them DH at-bats at times. But a full-time DH? Nah. Even if the Yankees manage to unload Ellsbury, they'd still have to figure out how to get Frazier, Judge, Hicks, and Brett Gardner regular at-bats. And don't forget Gleyber Torres and Miguel Andujar too. Those dudes are going to be a factor next year.
Gene asks: Rick Porcello has a legit shot at losing 20 games this year. Has a CY winner ever lost 20 games the year after winning the award? For that matter, has any CY winner ever lost 20 games in a season in his career, whether before or after winning the award?
Oh sure, plenty of Cy Young winners have lost 20 games at some point in their careers, especially back in the day when guys used to make 40-something starts a year. Steve Carlton went 27-10 and won the Cy Young in 1972, then went 13-20 in 1973. Porcello went 22-4 last year, and after last night's win, he is 5-14 this year with about about ten starts to go. Losing 20 games is possible, though I'd bet against it.
(If you're interested, here's a list of 20-game losers. The last was Mike Maroth with the 2003 Tigers. That had to be the worst team of my lifetime.)
John asks: As a team the yankees seem to be a bad baserunning team. But Is it just me or is Gardner the best Yankee baserunner by a mile? He always seems to take the extra base and have a knack to know when to steal. Additionally Gary really is scary but doesn't seem to be scary on the basepaths. I know he is slow but he seems lost on the bases at times. Do you have stats to show who are the best and worst yankee baserunners and how the yankees are compared to other teams?
Gardner is pretty easily the best baserunner on the Yankees and one of the best in baseball. I know he frustrates people because he doesn't run first pitch every time he's on the first base — that's not realistic at all — but he's a highly efficient basestealer (15-for-18 this year) and an extra-base taking monster. He's taken the extra base (first-to-third on a single, etc.) 54% of the time this year. That's actually down from 56% last year and 58% the year before. The league average is 40%. Since 2015, Gardner is seventh among all players with +14.4 runs on the bases, per FanGraphs.
The Yankees as a team are middle of the pack when it comes to running the bases, closer to the top than the bottom. Some quick ranks:
Steals: 64 (9th in MLB)
SB Success Rate: 79% (2nd)
FanGraphs Baserunning: +2.1 runs (12th)
Baseball Prospectus Baserunning: +5.8 runs (6th)
Is Sanchez really that bad running the bases? I hadn't noticed. He's slow because he's a catcher and pretty much every catcher is slow, but slow doesn't automatically equal bad. Starlin Castro is far and away the worst baserunner on the Yankees. He makes a lot of boneheaded mistakes. Didi Gregorius can be an adventure too.
Zach asks: If the offer was on the table, would you have rather offered Torres or Frazier straight up for Sonny Gray, rather than 3 other top 10 prospects?
Keep Torres and Frazier for sure. Keep the elite talent — Gleyber is unquestionably elite in my opinion, Frazier is arguable, though he's obviously very talented — and trade the merely very good talent. Especially when two of those three very good talents are recovering from major injuries. I know Torres is coming back from Tommy John surgery himself, though it's to his non-throwing arm, and that's not nearly as much of a long-term risk as a pitcher having Tommy John surgery or a center fielder have an open rupture of his patella tendon. Quality over quantity. Giving up Dustin Fowler, Jorge Mateo, and James Kaprielian hurts. Getting Gray was always going to hurt. But the Yankees managed to keep their very best prospects and that's a good thing.
Timothy asks: If you could take back one of the players from the Gray trade and send a similarly-ranked, similar position prospect in his place, who would you swap?
That's a tough question. Kaprielian's had to many injury issues the last two years to swap out, I think. I'd probably keep Fowler over Mateo despite the knee injury. Fowler has performed everywhere he's played and even if he slows down and has to move to a corner outfield spot full-time following the injury, I think he'll do enough things to help his team win. Mateo has loud tools, though he hasn't always performed, so I'm most skeptical of him going forward. I'd swap out Fowler for … I guess Tyler Wade? I've had them ranked similarly over the last year or so.
Pete asks: If the WC game was next week and the Yankees had their choice of pitcher to throw out there (ie rest/turn in the rotation isn't an issue), who would it be?
Severino for sure. I don't think going with any one of Severino, Gray, or Tanaka would be a bad move. They're all capable as far as I'm concerned. Severino has pitched the best up to this point though, so he's my choice. That said, the Yankees aren't thinking wildcard. The AL East is winnable. The postseason preference list is this:
Win the AL East with ease and set up your rotation for the ALDS.
Win the AL East on the last day and not be able to set up your rotation for the ALDS.
Win a wildcard spot with ease and line up your preferred pitcher for the Wild Card Game.
Win a wildcard spot on the last day and not be able to line up your preferred pitcher for the Wild Card Game.
Back in 2015, Tanaka was an easy call to start the Wild Card Game in my opinion. Severino pitched well in eleven starts that year but it was eleven starts, and Tanaka had been better for longer. This year it's a little more wide open and not because everyone stinks. Tanaka has turned things around and has been pitching much better. This Tanaka, this Severino, and Gray are all viable Wild Card Game options for me. I'd be happy starting any of them in the Wild Card Game or Game One of the ALDS.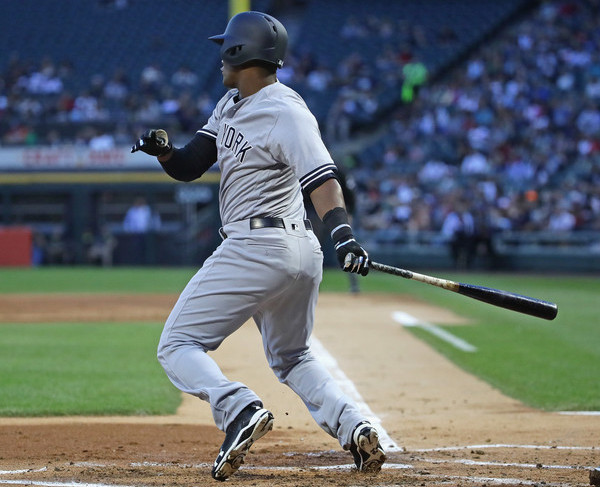 Michael asks: Cashman did a great job with trades. Still, Yanks need another bat. Assuming (dangerous word) Yanks don't pull a waiver deal, what about bringing up Andujar? Although not the preferred LH bat, he's already on 40-man, can DH and play 3B, and with Todd F and Chase (gives Girardi plenty of flexibility without increasing payroll.
For me, it's starting to get to that point. Holliday has been so bad these last few weeks. So, so bad. He's hitting .142/.208/.257 (19 wRC+) in 125 plate appearances since June 12th and that can't on forever. A DH who doesn't H isn't even a zero. He's a negative. Alex Rodriguez hit .190/.230/.267 (29 wRC+) in his final 126 plate appearances before being released last season. Alfonso Soriano hit .200/.209/.320 (39 wRC+) in his final 129 plate appearances before being released in 2014.
I'm not saying the Yankees should release Holliday. But they can't keep running him out there every single day and wait for things to turn around. Both A-Rod and Soriano were already well into the "losing at-bats" phase of their slumps by this point. Earlier this year I was totally cool with keeping Andujar in Triple-A to work on his defense. Now that we're later into the season and the postseason race is heating up, the Yankees have to put their best team on the field, and it wouldn't take much for Andujar to be an upgrade over this version of Holliday. In all likelihood, the Yankees won't call up Andujar and will wait for Hicks to return before taking at-bats away from Holliday.
Marc asks: You recently talked about Matt Holliday's slump and him seemingly turning into Travis Hafner. Can you talk about the Yankees success (or lack thereof) of their most recent 1-year off-season free-agent contracts for hitters, say over the last 7 years or so? Feels like there has been a lot of futility in this type of contract…
According to the MLBTR Transaction Tracker, the Yankees have signed 12 position players to guaranteed one-year Major League contracts since the start of the 2010-11 offseason. That doesn't include the one-year Derek Jeter extension in November 2013. Here are the results:
Chris Carter ($3.5M for 2017): -0.7 WAR and released at midseason.
Matt Holliday ($13M for 2017): +0.0 WAR and trending down at this point.
Stephen Drew ($5M for 2015): +0.4 WAR because he could field but not hit.
Chris Young ($2.5M for 2015): +1.2 WAR as arguably the best fourth outfielder in baseball.
Brian Roberts ($2M for 2014): +1.5 WAR and released at midseason.
Kelly Johnson ($3M for 2014): +0.7 WAR and traded for Drew at the deadline.
Travis Hafner ($2M for 2013): -0.1 WAR and hurt for much of the year.
Kevin Youkilis ($12M for 2013): -0.2 WAR and hurt pretty much all year.
Eric Chavez ($0.9M for 2012): +1.6 WAR as a great platoon bat in his second year in New York.
Andruw Jones ($2M for 2012): +0.3 WAR and especially bad in the second half.
Andruw Jones ($1.5M for 2011): +1.0 WAR as a really good platoon bat.
Russell Martin ($4M for 2011): +2.7 WAR after being non-tendered by the Dodgers.
Martin was kind of a weird case because he was still only 28 at the time, and the Dodgers non-tendered him over injury concerns, not production concerns. He remained under team control as an arbitration-eligible player in 2012, so it wasn't a true one-and-done contract. The only clear "yes we'd do it again in an instant" hits to me are Martin, 2011 Andruw, Chavez, and Young. Roberts' WAR was basically all defense and having seen him play, I didn't really agree with him being that good in the field.
Keep in mind the vast majority of these signings were small one-year deals for reclamation project types or role players. Many of these guys were damaged goods to start with. Holliday and Youkilis are the only big money deals. (The Yankees signed Youkilis because they had basically nowhere else to turn after A-Rod went down with hip surgery.) Andruw, Chavez, Hafner, and Roberts were all nearing the end of their careers and trying to hang on. Johnson, Drew, and Carter were stopgaps.
That track record is spotty at best, though I guess that's what you're going to get with these players. If they were better or lower risk, they wouldn't get one-year contract. The Yankees won't and shouldn't stop looking for depth players on one-year deals. Just have to hope they work out as well as guys like Chavez and Young did.
Update: I missed Raul Ibanez. He signed a $1.1M deal for 2012 and put up +0.5 WAR that year, though all those glorious clutch dingers made it worth it.
Nick asks: Do you think the trading of so much outfield depth means that Billy McKinney is a lock for the 40 man? And what about Rashad Crawford and Jake Cave?
Yes, no, maybe. Yes I think McKinney is getting added to the 40-man roster after the season. He's a former first rounder who just might be figuring things out right now, and even if you don't think he's going to help you in 2018 because he might need another 400 at-bats in Triple-A, he's worth keeping around to see what happens. Crawford has great tools and athleticism, but he's not hitting at all. I can't see him sticking as a Rule 5 Draft pick next year. Easy call to leave him exposed in my opinion.
Cave is the tough one because what's changed this year? I don't know. I know the stats, but is something fundamentally different about Cave as a player this year, or is he merely beating up on the competition his fourth year at Double-A and third year at Triple-A? Cave is going to be a minor league free agent after the season, and right now, my guess is the Yankees will add him to the 40-man roster and keep him around as their depth center fielder now that Fowler is gone and Mason Williams is likely to be gone after the season.
Mark asks: Pretend Headley was a first basemen all year. How does his offensive numbers compare to the rest of the leagues' first basemen?
Pretty terrible overall. Chase Headley went into last night's game hitting .272/.354/.393 (102 wRC+) with five home runs, which is basically league average overall. The problem is the average first baseman is hitting .260/.343/.480 (114 wRC+) this year and Headley is well below that. There are 27 first basemen with enough plate appearances to qualify for the batting title this year. Headley would be the 28th. Here are his hypothetical ranks among those 28 first basemen:
AVG: .272 (13th)
OBP: .354 (13th)
SLG: .393 (27th, ahead of only Joe Mauer and his .390 SLG)
wRC+: 102 (23rd)
HR: 5 (27th)
fWAR: +1.5 (15th)
Chase Headley: 102 wRC+. Miguel Cabrera: 101 wRC+. Yikes.
Anyway, remember that +1.5 fWAR includes the third base positional adjustment, which Headley would lose at first base. The difference between first base and third base is +15 runs (!) per FanGraphs. Swap out the positional adjustment and keep everything else the same, and Headley is roughly a +0.5 WAR first baseman. Nope.
Justin asks: The Yanks have almost no left handed pop in their lineup this year which is very unusual. Seems the Rays gave up very little to land Lucas Duda. 1st base was a trade deadline priority for the Yanks. Why didn't they offer a better package than the Rays to land him?
The Yankees tried. Joel Sherman says the Yankees made the Mets a comparable offer — I guess that means someone like Jonathan Holder or Ben Heller? — but the Mets didn't want to send him across town. "The Mets just wouldn't trade him to us," said someone with the Yankees to Jon Heyman. I guess you could argue the Yankees should have just blown them away with an offer. Offer them Holder and Heller instead of one or the other, something like that. That doesn't really make sense to me. There are comparable bats to Duda out there you won't have to overpay to get. Had Duda not hit two home runs against the Yankees last weekend, I don't think anyone would be sweating the non-trade. The Yankees tried, the Mets didn't want to send him to their crosstown rival, and that's that.
Stephen asks: Had Dustin Fowler not gotten hurt in Chicago when he was called up and he had been productive enough to keep Ells on the bench and in turn kept Frazier in AAA, do you think Frazier would have been included in Sonny Gray trade? Or do you think Fowler and Frazier would have been off limits?
I think both guys would have been off-limits. The Yankees said they were not going to trade their best close to MLB prospects and they didn't. The only guy who fits the bill is Fowler, and he's coming off a major injury. I don't think he would have been traded had he been healthy. In all likelihood, a healthy Fowler likes means Fowler and Frazier are with the Yankees and Estevan Florial is with the A's.