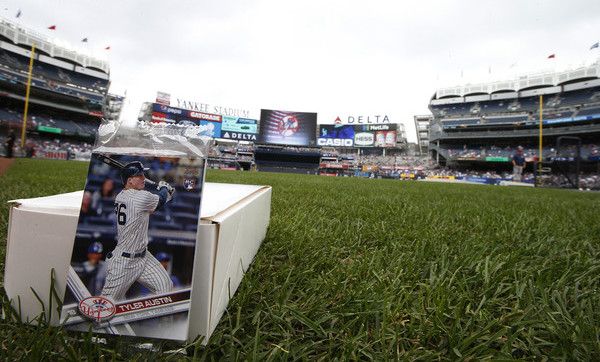 The Yankees and Red Sox will wrap up their three-game weekend series with the ESPN Sunday Night Game later today. The game should end sometime Monday morning. Anyway, here are some bits of news and notes to check out.
Yankees, Mets had Walker deal
More Yankees-Mets trade deadline drama. According to Mike Puma, the Yankees and Mets agreed to a Neil Walker trade prior to the trade deadline, but the Yankees backed out due to medical concerns. Puma says the Mets believe the Yankees used the medical concerns as an excuse to back out after finishing the Sonny Gray trade. Hmmm. Walker returned from a partially torn hamstring a few days before the trade deadline and had back surgery late last year.
Walker, 31, was traded to the Brewers last night and is hitting .264/.339/.442 (107 wRC+) with ten home runs in 299 plate appearances this season. Although he's primarily a second baseman, the Mets also used Walker at first and third bases. He's an impending free agent and the Yankees would have presumably used Walker at second base until Starlin Castro returned, then shifted him into a utility role. Eh, whatever. I don't know about you, but I'm getting a little sick of this Yankees-Mets drama.
Baseball America's best tools survey
One of my favorite features of the year is Baseball America's annual best tools survey. They poll managers and coaches and scouts about the best tools and players in their leagues, from MLB all the way down to Low-A. Here's where the various Yankees ranked:
Bell, the longtime big leaguer, is in his first season managing High-A Tampa after spending 2013 as the Pirates hitting coach and 2014-15 as the Reds bench coach. I'm curious to see what the Yankees do with him going forward. If Bell is a highly regarded managerial prospect as the survey suggests, either the Yankees are going to have to move him up the ladder, or they'll lose him to an organization that will move him up.
Also, must be a down year for relievers in the Sally League, huh? Lane, who has since been promoted to High-A Tampa, is a 23-year-old former tenth round pick, and a sinker/slider lefty with middling velocity and a low arm slot. A classic left-on-left matchup profile. He's got really good numbers this year, throwing 57 innings with a 1.26 ERA (2.26 FIP) and strong strikeout (27.1%) and walk (6.7%) rates. Not sure he's much of a prospect though.
Yankees top ZiPS bullpen projections
Not surprisingly, the Yankees sit atop the ZiPS bullpen projections for the rest of the season, so says Dan Szymborski. Projections don't really mean anything, of course. They're not predictions. They're more like an estimate of talent level. Anyway, here's what ZiPS has to say about New York's new-look bullpen:
Dellin Betances and Aroldis Chapman was already one of the best, if not THE best, one-two relief punch in baseball. Now you add in David Robertson and Tommy Kahnle, the latter possibly the most underappreciated player acquired this deadline. Even Adam Warren has been lights-out, with a 1.97 ERA/2.69 FIP. Not to mention the team's remaining big acquisition: Adding the complete absence of Tyler Clippard.
The bullpen before the Robertson/Kahnle trade: 3.39 ERA (3.33 FIP). The bullpen since the Robertson/Kahnle trade: 2.09 ERA (2.64 FIP). That 3.39 ERA (3.33 FIP) before the trade is a little deceiving too, because Jonathan Holder and especially Clippard had become wholly unreliable. They started the season well before crashing hard. The Yankees needed to fix their bullpen at the trade deadline, and they did exactly that. Too bad the starters are all getting hurt and the offense has since gone in the tank.
Yankees lagging in food safety rankings
Earlier this week Tanner Walters, using public inspection records, compiled ballpark food safety rankings. How clean are the facilities, is everything stored properly, so on and so forth. Yankee Stadium ranks 21st among the 28 parks in the rankings (data wasn't available for Progressive Field or Comerica Park), and ranking 21st among 28 teams seems not good? From Walters:
Yankee Stadium led the league with critical violations (62% of its stands), and an infestation of flies highlighted the inspections from late July in the Bronx. Inspectors handed out citations at over a dozen food entities around the ballpark for observation of flies and improper vermin-proofing. The city doesn't give detailed observations in its reports, but nearly a quarter of the stadium's violations came from improper maintenance for non-food surfaces. Last year, even without a fly problem, Yankee Stadium would have finished in the same spot in our rankings. The ballpark had fewer overall violations but more that were critical, mostly from the restaurants and suites.
Kinda gross! Even with recent improvements, the concessions at Yankee Stadium lag big time in quality and selection behind the rest of the league — the concessions at Citi Field are so much better it's not even funny, and it's not just Shake Shack — and apparently they're lacking in cleanliness and proper food safety too. Yuck.