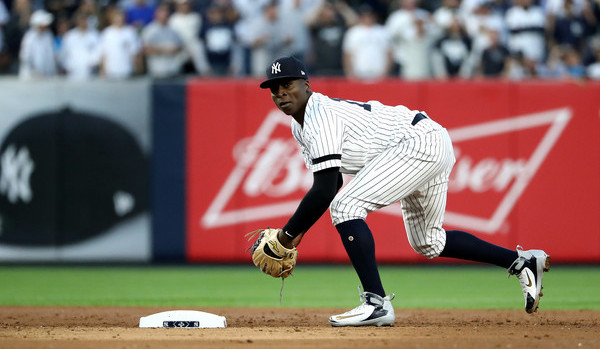 Over the next few weeks and months, the Yankees and every other team will tweak their roster in an effort to contend in 2018. Some teams are more serious about contention than others. The Yankees are ready to win, they showed it this year, and they'll try to do it next season while getting under the $197M luxury tax threshold.
A few weeks ago Matt Swartz at MLB Trade Rumors posted his annual arbitration salary projections, and because the Yankees have a large arbitration class — nine players total, including several key contributors — their salaries will be a big factor in getting under the luxury tax threshold. These players are a bargain relative to what they'd get on the open market, though their salaries add up. Here are the arbitration projections:
Didi Gregorius: $9.0M (third time eligible as Super Two)
Sonny Gray: $6.6M (second time)
Dellin Betances: $4.4M (second time)
Adam Warren: $3.1M (third time)
Aaron Hicks: $2.9M (second time)
Tommy Kahnle: $1.3M (first time)
Austin Romine: $1.2M (second time)
Chasen Shreve: $900,000 (first time as Super Two)
Erik Kratz: $600,000 (second time)
Swartz's model is pretty darn accurate overall. It has trouble with outlier players — Tim Lincecum damn near broke the thing when he went into his first arbitration year with two Cy Youngs — though it gets us in the ballpark and often much closer. Let's dive into the projections a bit.
1. It's time to consider a Gregorius extension. Didi has emerged as a true core player for the Yankees. He's an above-average hitter and an above-average defender, and he's a big part of the clubhouse culture. Gregorius can become a free agent following the 2019 season, and I think it's time the Yankees start thinking about signing him long-term. He's only 27 and quality in-their-prime shortstops are awfully hard to find.
The Jean Segura extension is a perfect benchmark for Gregorius. Segura signed his five-year, $70M deal earlier this year, two years prior to free agency at age 27, the exact same point of his career as Gregorius is right now. Look at the numbers:
Segura in year prior to extension: .319/.368/.499 (126 wRC+) and +5.0 WAR
Gregorius in year prior to extension: .287/.318/.478 (107 wRC+) and +3.9 WAR
Segura career: .280/.319/.396 (91 wRC+) and +8.6 WAR
Gregorius career: .266/.313/.413 (94 wRC+) and +11.5 WAR
Segura had the better platform year prior to signing his extension, though Gregorius has the better body of work overall. That five-year extension worth $70M is the benchmark for Didi. The market has been set.
The problem with an extension is the luxury tax. If Gregorius gets the $9M arbitration projection, he counts as $9M against the luxury tax threshold. Give him the Segura extension, and he counts as $14M (the average annual value of the contract) against the luxury tax threshold, and saving $5M is a big deal. Then again, signing Didi now could equal tens of millions in savings later. An extension has to be a serious consideration.
2. Betances and the Yankees might be in for a messy hearing again. Had Betances won his arbitration hearing last year, he could've been looking at a $6.5M to $7M projection this offseason, and we might have been talking about him as a non-tender candidate right now. Instead, the Yankees won, and you can see how arbitration savings add up.
Dellin wins last year: $5M in 2017 + $6.5M guesstimate in 2018 = $11.5M total
Yankees win last year: $3M in 2017 + $4.4M projected in 2018 = $7.4M total
That $2M in savings last year turns into $4.1M in savings from 2017-18. Arbitration uses the prior year's salary as a baseline for a raise, so any savings compound over the years. Last year's arbitration hearing win over Betances may end up saving the Yankees close to $10M from 2017-19. That's a big chunk of change.
Last year's arbitration hearing was reportedly ugly, uglier than these things usually are, and team president Randy Levine only made things worse when he ripped Dellin in a conference call afterward. I have no idea whether there is still any bad blood between the two sides, but I suppose another hearing is possible this year.
And here's the thing: Betances still has a really good case. All the walks this year won't hurt him much in arbitration because the system isn't built that way. Saves and strikeouts count. Dellin doesn't have many saves, but he struck out 100 batters yet again this season, he finished with a sub-3.00 ERA (2.87 to be exact), and he went to his fourth straight All-Star Game. Those are all points in his favor. I'm not sure how this will play out. Whatever happens, hopefully it's not as ugly as last year.
3. Shreve might stick around until Spring Training. The Yankees spent last offseason and pretty much the entire pre-deadline regular season looking for a reliable left-handed reliever, and they came up empty. I get the sense they're going to spend the winter looking for a lefty again. For now, Shreve is the in-house option, and his $900,000 projected salary is nothing.
Keep in mind arbitration-eligible players are on non-guaranteed contracts. They can be released in Spring Training and only be paid 30 days or 45 days termination pay, depending when they get cut. The Yankees could sign Shreve, keep him around, see if they come up with a better lefty, and if they do, they could drop him for a fraction of his salary in camp. Harsh, but it happens every year around the league. It's easy to think Shreve, who is out of minor league options, will be a 40-man roster casualty this winter. Don't be surprised if he sticks around though.
4. Kratz is a goner. Obvious statement is obvious. The Yankees acquired Kratz to be the third catcher in September only because Kyle Higashioka was injured at the time. He'll be the very first player dropped from the 40-man roster once space is needed, which will be later this month when the roster has to be set for the Rule 5 Draft. Kratz won't even make it to the non-tender deadline. Such is the life of a journeyman. Hey, at least he got to hang around with the team during the postseason. He traveled with the club all through the ALDS and ALCS.
5. My estimates were pretty good, actually. A few weeks back I looked at the 2018 payroll situation with regards to the luxury tax. I estimated $25M to $30M for the arbitration eligible players, not including Kratz or Shreve, and Swartz's model projects this group at $28.5M. Hey, I'm getting kinda good at this.
Add that $28.5M projection to the other contract commitments as per my post a few weeks ago, and we get $163.5M already on the books for next season. It'll drop to $141.4M should Masahiro Tanaka opt out, which most RAB readers expect to happen. Point is, the Yankees will have about $35M under the $197M luxury tax threshold to play with this winter, assuming Tanaka sticks around. If he doesn't, it's closer to $60M. Having that much wiggle, to me, means the Yankees should get serious about signing Didi long-term.