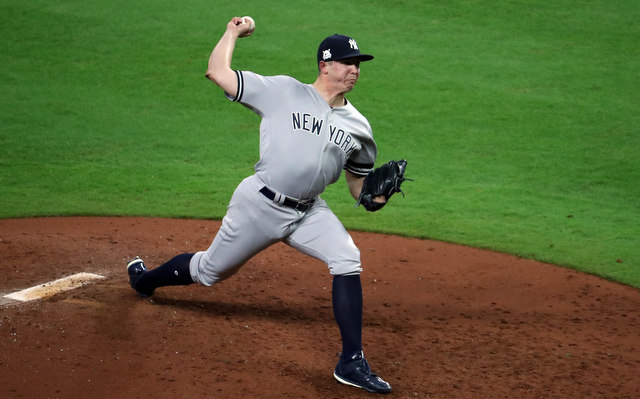 Fans and analysts have a very natural tendency to declare winners and losers immediately after a trade. In all sports. A deal gets made and wow it's great for this team and terrible for that team. There is definitely something to be said for evaluating a trade using only the information available at the time it is made. Most deals take years to fully evaluate, however.
Two offseasons ago the Yankees traded Justin Wilson, one of their top bullpen arms, to the Tigers for two prospects most people didn't know. Never heard of 'em. Luis Cessa went from the Mets to the Tigers in the Yoenis Cespedes trade a few weeks earlier, so maybe people had heard of him, but that's it. The instant reaction to the trade: what the hell are the Yankees doing? It was pretty universal.
Now, two years later, the trade looks borderline genius for the Yankees. Wilson was very good for the Tigers the last two years — he stopped throwing strikes after getting traded to the Cubs for whatever reason (19 walks in 17.2 innings) — so it's not like he flamed out immediately. The trade looks great because Chad Green, the real "who the heck is that guy?" piece of the trade, broke out as one of the best relievers in baseball this year.
Starting The Season In The Minors
Green started the 2017 season in High Class-A. True story. Jordan Montgomery won the fifth starter's job, but the Yankees were planning to use April off-days to skip the fifth starter's spot the first two times through the rotation, so Montgomery went to the minors. They had Montgomery and Green pitch on the same schedule just to have two fifth starter options available in case someone got hurt. The Triple-A Scranton and Double-A Trenton schedules didn't line up, so to High-A went Green.
Green made one start with High-A Tampa, allowing one run on two hits and no walks in four innings while on a pitch count. The Yankees brought Montgomery to the big leagues sooner than expected to give their top four starters extra rest, at which point Green was bumped up to Triple-A Scranton. He made five starts with the RailRiders, pitching to a 4.73 ERA (2.59 FIP) in 26.2 innings. Ugh, the Yankees lost the trade!
It wasn't until May 8th, when the Yankees needed a fresh long reliever following that 18-inning marathon at Wrigley Field, that Green was called up this season. It was expected to be a short-term thing. Soak up some innings until the other relievers were back at full strength, then go back down. Green threw a scoreless inning against the Reds the day after being called up, and five days later, he threw 3.2 nearly perfect innings against the Astros, allowing the Yankees to come back from a 3-1 deficit to earn an 11-6 win.
The Yankees eliminated the bullpen shuttle this season. After shuttling fresh arms up and down as necessary the last few years, they stopped doing it this year, so Green stuck around. Jonathan Holder and Chasen Shreve threw three innings apiece in that 18-inning game against the Cubs. In the past, they would've been on a plane to Scranton the next day. Instead, the Yankees kept them around the same way they kept Green around following his relief outing against Houston.
Four days after that hero relief outing against the 'Stros, Green tossed three shutout innings against the Royals. Three days after that it was 1.2 scoreless innings against the Rays, and that was his first real taste of important innings. Joe Girardi brought Green into the sixth inning with a one-run lead and let him pitch the sixth and seventh. It was impossible not to notice Green's strong work.
A little bump in the road came next. Green gave up two runs in 1.1 innings against the Athletics on May 28th, then one run in 2.2 innings against the Blue Jays  on June 1st. It was the first time he looked human out of the bullpen. Green rebounded by going ten up, ten down with five strikeouts against the Red Sox on June 6th. In his first month after being called up, Green had a 1.62 ERA (3.22 FIP) in seven appearances and 16.2 innings. He wasn't going back down.
That Weird Spot Start
The Yankees made it all the way to June 11th, the 60th game of the season, before they needed to use a sixth starter. And they didn't even need to use a sixth starter that game. They voluntarily used a sixth starter in order to push the struggling Masahiro Tanaka back one day, allowing him to face the Mike Trout-less Angels in Anaheim rather than the home run happy Orioles at Yankee Stadium.
Initial reports indicated Domingo German would get called up for the spot start. He lined up perfectly and he'd been pitching well in Triple-A, so it seemed like the obvious move. The Yankees changed course at the last moment, and decided to give Green the spot start instead. But! They still called up German anyway to serve as the just in case long man. It was … weird.
Green made the start, needed 53 pitches to allow two runs in two innings, then German came out of the bullpen to throw 2.2 scoreless mop-up innings in his MLB debut. They were good mop-up innings. The Yankees won that game 14-3. Aaron Judge hit a 495 foot homer. In the end, it all worked out. It was just a weird decision. Green was not fully stretched out, German was, yet they started Green and used German in relief. It was the last start Green would make this season. Possibly ever.
The Multi-Inning Dominance
It wasn't until July that Girardi started to use Green in high-leverage spots regularly. His numbers were ridiculous — Green from June 25th to July 23rd: 16.2 IP, 4 H, 1 R, 1 ER, 4 BB, 26 K — but Girardi loves defined roles, and Green didn't really have one. Aroldis Chapman was the closer and Dellin Betances and David Robertson were the setup men. Green pitched whenever those guys weren't available, basically.
From June 12th (the day after the spot start) through the end of the season Green threw 50.1 innings across 32 appearances with a 1.61 ERA (1.27 FIP). He struck out 80 batters (42.8 K%) in those 50.1 innings and held opposing hitters to a .152/.211/.234 batting line against. On August 30th, Green became the first pitcher in history to strike out seven while facing no more than eight batters in an appearance. Hey, obscure history is still history!
Green finished the regular season with a 1.83 ERA (1.75 FIP) and 103 strikeouts in 69 nice innings. If we remove that one kinda pointless spot start, here's where Green ranked in various categories among the 150 relievers who threw 50+ innings this season:
ERA: 1.61 (5th)
FIP: 1.75 (4th)
ERA-: 37 (5th)
FIP-: 38 (3rd)
K: 100 (5th)
K%: 41.0% (3rd)
BB%: 6.6% (30th)
fWAR: +2.3 (6th)
bWAR: +2.7 (10th)
In terms of total value, Green was a top ten reliever in baseball this season despite not being called up until May 8th, 30 games into the season. On a rate basis, he was a top five reliever in baseball. Maybe top three. He was that good. He was basically the second coming of 2014 Betances. Betances had a 1.40 ERA (1.64 FIP) in 2014. Green had a 1.61 ERA (1.75 FIP) as a reliever this year. Ridiculous.
Dellin's walk problems, Adam Warren's poorly timed back injury, and Girardi's general indifference to Tommy Kahnle meant Green went into the postseason as the No. 3 reliever. And Girardi needed him right away. One out into the Wild Card Game. The Twins jumped on Luis Severino early and Green came out of the bullpen to get maybe the two biggest outs of the season. Minnesota was up 3-0 and had runners on second and third with one out in the first inning. Green struck out Byron Buxton and Jason Castro to stop the bleeding.
Falling behind 3-0 in the first inning of a winner-take-all game really stinks, but an early 3-0 deficit is manageable. Falling behind 4-0 or 5-0 though? That's when things start to get scary. Once you're no longer able to take the lead with a grand slam, you're in trouble. Green got two enormous outs to strand those runners at second and third, giving the Yankees a chance to make the comeback they ultimately made.
Green had a notable hiccup in Game Two of the ALDS, retiring only one of the four batters he faced and allowing that crushing grand slam to Francisco Lindor, following Girardi's non-challenge. He did not pitch again in the series, though in the ALCS, he got right back up on the horse and allowed one unearned run in 6.1 innings while striking out seven Astros. The ALDS Game Two blip was pretty bad. Everything else about Green's postseason was great.
The Best Fastball In Baseball, Maybe
Green was incredible this season. What made him incredible is pretty … incredible. Green is not quite a one-pitch pitcher, but he is close. He threw his fastball 76.5% of the time this season, one of the highest rates in baseball. This year 222 pitchers threw at least 200 fastballs. Here is the fastball whiffs-per-swing leaderboard:
Chad Green: 39.8%
Craig Kimbrel: 39.1%
Josh Hader: 38.8%
Corey Knebel: 34.0%
Jacob deGrom: 32.5%
(MLB average: 20.1%)
No pitcher got more empty swings with his fastball this season than Green. His whiffs-per-swing rate was nearly double the league average. Furthermore, consider what happened when batters did actually make contact and put Green's fastball in play (minimum 50 fastballs in play):
AVG: .120 (3rd lowest behind Ryan Madson and Darren O'Day)
ISO: .083 (17th lowest)
wOBA: .136 (3rd lowest behind Madson and O'Day)
xwOBA: .184 (3rd lowest behind O'Day and Madson)
When hitters swung at Green's fastball, they missed more than they did against any other fastball in baseball. And when they did did make contact with Green's fastball, they did basically no damage. That's how you dominate with one pitch. Miss bats and get weak contact. Do one of those things and you're in good shape. Do both and you're one of the most effective pitchers in the game.
Now what, exactly, makes Green's fastball so great? Velocity? Sure, though averaging 96.1 mph and topping out at 99.8 mph like Green did this year is hardly unheard of these days. Turn on any random game on a given night and you'll probably see one or two guys come out of the bullpen throwing that hard. Spin rate? Yeah, probably. Green's average fastball spin rate of 2,487 rpm was 13th highest among those 222 pitchers who threw 200+ fastballs in 2017.
Deception? Almost certainly, and this factor interests me most. The average perceived velocity of Green's fastball, which tells us how fast the pitch looks to the batter when accounting for spin and extension and all that, was 96.1 mph. Identical to his actual average velocity. And yet, that whiffs-per-swing rate and xwOBA, man. There's something going on here. I think it might be right here …
… when Green's arm disappears behind his back during his delivery, that gives hitters problems. The ball disappears behind Green's back then bam, he explodes forward and the fastball is right on you with all that velocity and spin. I could be completely and totally wrong, and probably am. I'm just looking for possible explanations here. Something about Green makes his fastball even more effective than the high-end velocity and elite spin would lead you to believe. Whatever it is, it helped Green emerge as a dominant reliever and a bullpen fixture for the Yankees in 2017.
2018 Outlook
The Yankees, as they always do when a starter-turned-reliever has success, will have Green come to Spring Training as a starting pitcher next year. I don't think it'll work for reasons I've detailed several times already (no changeup, only an okay slider, lack of grounders, etc.) but there's no harm in trying it in camp. That's exactly when you should experiment. Get Green stretched out to four or five innings and see what happens.
More than likely Green will wind up back in the bullpen at some point, where he'll again be a key setup man alongside Robertson and a hopefully fixed Betances. His ability to go multiple innings — Green recorded at least four outs in 29 of his 39 relief appearances this year, and at least six outs 16 times — is incredibly valuable, especially with starters throwing fewer and fewer innings with each passing season, and I hope the next manager recognizes that and uses Green accordingly.