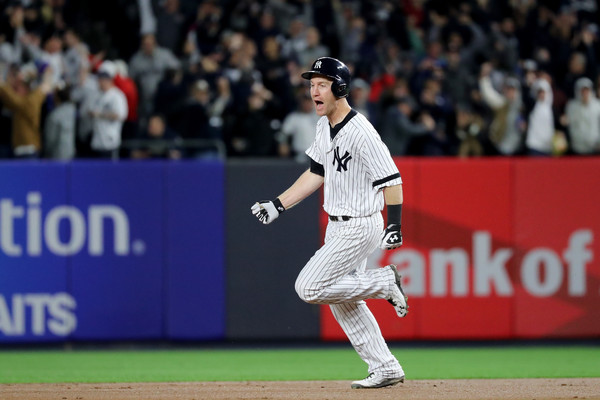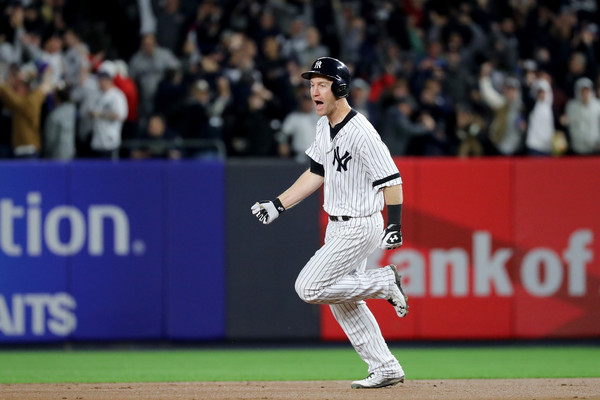 The Yankees acquisition of Todd Frazier served as a reminder of just how quickly Brian Cashman works. Jon Heyman reported that the team was interested in Frazier (and David Robertson) on July 16, and Frazier (and Robertson and Tommy Kahnle) were acquired less than forty-eight hours later. In the grand scheme of things, it was the move that signaled that the Yankees would be buyers this year, filling the gaping void at first base and doubling-down on a dominant bullpen – and it worked out quite well.
Who Said Anything About First Base?
A revolving door at first and a seemingly endless stream of rumors demonstrated just how unsettled the Yankees infield was well into July, and Frazier's name had popped-up in that respect more than a few times. Most every outlet viewed his acquisition as a move made to stabilize first base, but it only did so in a roundabout way, as Frazier did not play a single inning there for the Yankees. Instead, he took over as the starting third baseman, with Chase Headley and his questionable-at-best defense moving across the diamond.
It shouldn't have come as a shock that Frazier manned third base, though. Headley had been a poor defender at the position more often than not as a Yankee, and this organization has prided itself on strong glovework in recent years. Frazier, on the other hand, has been a strong (albeit occasionally error-prone) third baseman for the better part of his career; to wit, he has a 6.0 UZR/150 and 6.5 DRS/150 in 6900 innings at the position. And he played the part following the trade, saving 6 runs in 539.2 innings by DRS' reckoning.
He Was Who We Thought He'd Be At The Plate
Frazier was batting .207/.328/.432 (104 wRC+) with 16 HR in 335 PA prior to the trade. That's not too far off of his 2016 season, wherein he hit .225/.302/.464 (104 wRC+) with 40 HR in 666 PA. He was a useful thumper, to be sure, but not the middle of the order threat that all of those home runs would suggest. It was worth noting, though, that his walk rate had jumped rather dramatically, from 9.6% in 2016 to 14.3% with the White Sox this year, which helped make up for his dip in batting average. Luckily for the Yankees, they didn't need him to be a big-time run producer – they just needed stability. And he gave them a bit more.
He started out slow following the trade, slashing a powerless .216/.356/.297 (87 wRC+) to close out July. Frazier had just one extra base hit in his first two weeks with the team, and it almost felt like more of the same. His bat was better in August, but still a bit disappointing – he hit .221/.352/.395 (104 wRC+) with 4 HR. The power was coming back, but it was still a tick under what we expected.
And then the calendar flipped to September, and Frazier's bat came alive. He slashed .225/.385/.521 (139 wRC+) with 6 HR and nearly as many walks (15) as strikeouts (17) in the season's last month, as he helped the Yankees wrap-up home field advantage in the Wild Card game. He was also the standard-bearer for the team's love of the thumb's down celebration, and the de facto cheerleader from the bench down the stretch and throughout the playoffs.
All told, Frazier hit .222/.365/.423 (114 wRC+) with 11 HR in 241 PA in pinstripes.
2018 Outlook
Todd Frazier is a free agent as of this writing, but he has made his interest in returning to the Yankees fairly clear; whether or not the Yankees have room on the roster (and/or payroll) to retain his services is another issue entirely. I would be surprised if Frazier ended up back in pinstripes next year, as the team preps its full-court press for Shohei Otani, and likely hopes to have room on the roster for Gleyber Torres and Miguel Andujar if and when they are ready for a shot. Stranger things have happened, but I just don't think Cashman and Co. see it as a fit.