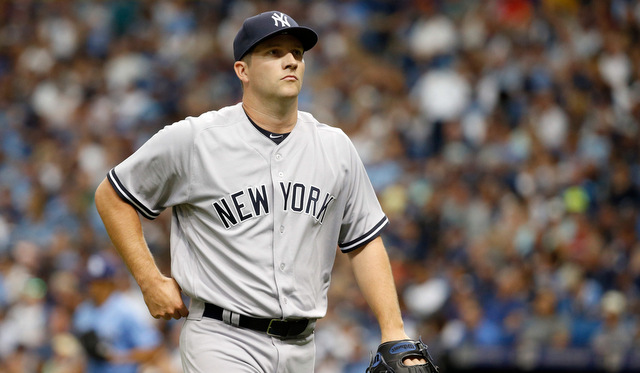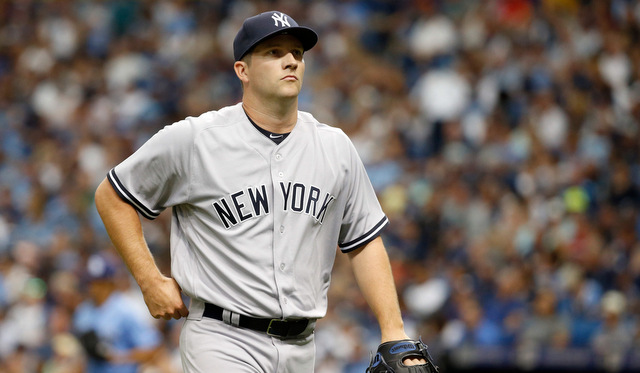 To date, the 2017-18 offseason has been dominated by free agent relievers and the luxury tax threshold. More relievers have signed Major League contracts (20) than all other positions combined (16), and both the Yankees and Dodgers have made moves to get under the $197M luxury tax threshold. So have the Giants to a lesser degree. They unloaded Matt Moore over the weekend.
The Yankees haven't dipped their toe into the free agent reliever pool because there's no need. They have Aroldis Chapman and David Robertson for the late innings, Chad Green as a multi-inning setup guy, Tommy Kahnle and Adam Warren in the middle innings, and Dellin Betances as a high-end reclamation project. That's six of the seven bullpen spots, with plenty of young arms (Domingo German, Ben Heller, Jonathan Holder, etc.) for the final spot.
That doesn't mean the free agent bullpen market doesn't effect the Yankees. Free agent relievers are getting paid pretty well this winter, which I'm sure you noticed. It wasn't long ago that statheads (like me) were saying you shouldn't pay big for relievers because they're so volatile, and while that volatility still exists, teams are no longer shy about paying relievers well. Starters are throwing fewer innings each year, making bullpens that much more important.
Here are some sample free agent reliever contracts handed out this offseason:
Bryan Shaw, Rockies: Three years at $9M per season.
Tommy Hunter, Phillies: Two years at $9M per season.
Juan Nicasio, Mariners: Two years at $8.5M per season.
Anthony Swarzak, Mets: Two years at $7M per season.
Could you imagine paying Swarzak $7M annually? Good gravy. I know he was great this past season — he had a 2.33 ERA (2.74 FIP) in 77.1 innings for the White Sox and Brewers — but he's already 32 and he had a 4.70 ERA (4.26 FIP) in 130.1 innings from 2014-16, which sent him searching for work in Korea. One good year and bam, Swarzak signed for $14M total. What a world.
There are still several quality free agent relievers on the market — neither Wade Davis nor Greg Holland has signed, plus others like Seung-Hwan Oh, Matt Albers, Tony Watson, and Addison Reed are available — but most of the mid-range guys like Shaw and Hunter and Nicasio and Swarzak have already put pen to paper. Those guys have cashed in big and that's awesome. Good for them. At least some MLBPA members are getting paid this winter.
The free agent reliever market could benefit the Yankees by making their bullpen pieces more attractive in trades. Would you rather give, say, Albers or Oh multiple years at $7M a pop, or trade something for Warren and his $3.1M projected salary, or Betances and his $4.4M projected salary? I suppose the Yankees shouldn't rule out trading Robertson and his $13M salary either. How good will Robertson at $13M look when Davis gets Chapman money ($17M per season)?
There would be two goals here. One, add talent to the organization via trades. I know Betances had his walk problems this year, but given his track record and potential for excellence, would it be wrong to ask for an upper level arm and a lower level lottery ticket in a trade, plus maybe more? What about Warren? Could the Yankees get a Justin Wilson package for him, meaning two upper level arms they could plug into MLB roster as soon as 2018?
Secondly, trading a reliever would allow the Yankees to subtract payroll and get further under the $197M luxury tax threshold. Replacing Warren or Betances (or Robertson?) with a league minimum reliever like German or Heller or Holder would make it easier to upgrade the infield. It also might make the bullpen less effective, of course. The Yankees had such a hard time replacing Warren two years ago they had to trade to get Warren back, remember.
Brian Cashman and his staff are known to explore basically everything, and I'm sure they're at least open to the idea of trading a reliever to help get under the luxury tax threshold. It doesn't have to be now. It could happen in late-January or February, after all the viable free agent relievers are off the board and there are still plenty of teams looking for bullpen help. The Yankees would be in position to demand a lot in the trade. It's simple supply and demand.
The Yankees are built around their offense and their bullpen. They're going to hit a ton of dingers (dingers!) and score a lot of runs, and they'll hand leads over to their deep bullpen. That's the formula. And subtracting from the bullpen hurts the formula, which leads me to believe a reliever trade won't happen unless the Yankees get an offer that's just too good to pass up. Trading a reliever is an idea worth considering though, especially with the luxury tax plan in place and limited funds for another starter and infield help.