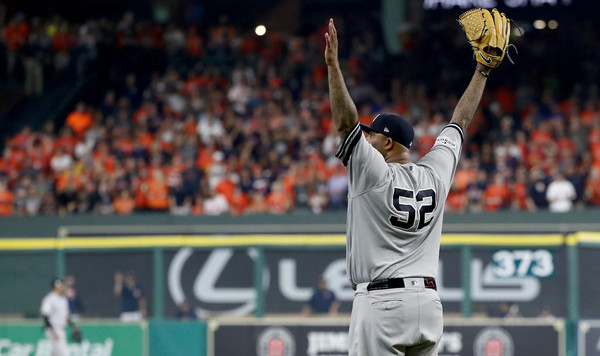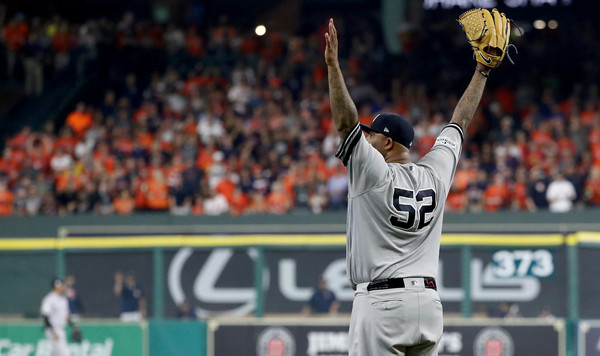 The Yankees found out they will not land Japanese ace-slash-slugger Shohei Ohtani last weekend. He prefers the West Coast, and informed the Yankees he will not sign with them. Bummer. Ohtani is a lot of fun. He also has a chance to be insanely good. He'd have fit into the youth movement nicely. Alas.
With Ohtani out of the picture, the Yankees have circled back and reached out to CC Sabathia's people about a reunion, reports Jon Heyman. I thought the Yankees would've been smart to bring Sabathia back even if they had landed Ohtani, but without him, getting another starter is a must, and Sabathia is an obvious target.
"We know CC and he's a tremendous asset for us," said Brian Cashman to George King. "We know everything about him, what a competitor he is and that he can perform on the biggest stage. Does that guarantee that everything is going well in this process? No. Nothing is guaranteed."
Typical Cashman, downplaying the odds. Sabathia has been very open about wanting to stay with the Yankees — "This is my home. I want to see this thing through. I want to come back here and finish things off. This is where I want to be," he said after ALCS Game Seven — and I have no reason to doubt him. A few things about this.
1. Sabathia is still effective, which is pretty important. It's kinda hard to believe we're talking about re-signing Sabathia for 2018 given how poorly he pitched from 2013-15. He had a 4.81 ERA (4.40 FIP) in 424.1 innings those years, and has a 3.81 ERA (4.38 FIP) in 328.1 innings in two years since. Pretty amazing late career turnaround.
That turnaround has been fueled by Sabathia's relatively new cutter, which has turned him into one of the best soft contact pitchers in baseball. Soft contact can turn into hard contact real quick as a pitcher ages, that's the risk here, but Sabathia has succeeded with this new approach for two years now. It's not a fluke. No, he doesn't pitch deep into games anymore, but there's something to be said for his knowing you'll get five good innings each time out.
2. The price may be too good to pass up. Sabathia turned 37 in July, and over the last five years only two starting pitchers age 37 or older signed a multi-year contract: John Lackey and Bartolo Colon. The Cubs gave Lackey two years and $32M two offseasons ago, and the Mets gave Colon two years and $20M four years ago. Both of them were coming off much better years than Sabathia, however.
| | Contract Year | IP | ERA | ERA+ | FIP | fWAR | bWAR |
| --- | --- | --- | --- | --- | --- | --- | --- |
| Colon | 2013 OAK | 190.1 | 2.65 | 147 | 3.23 | +3.8 | +5.0 |
| Lackey | 2015 STL | 218 | 2.77 | 142 | 3.57 | +3.6 | +5.7 |
| Sabathia | 2017 NYY | 148.2 | 3.67 | 122 | 4.49 | +1.9 | +2.8 |
Perhaps Sabathia can lean on his track record and inflation to demand two years from the Yankees, but yeah, the list of pitchers his age getting multi-year contracts is very short. Colon and Lackey needed outrageously good seasons — their best seasons in several years, in fact — to get their contracts.
The market indicates Sabathia is looking at one year and $12M or so, which is in line with what Colon and R.A. Dickey received last year. Maybe Sabathia succeeds and gets two years. It could happen. Point is, Sabathia is going to come affordably and on a short-term deal. That's good for the luxury tax plan and good for flexibility moving forward.
3. You know what you're getting off the field. Any time you sign a free agent or trade for a new player, how he'll fit into the clubhouse is always a bit of an unknown. Teams do plenty of homework — players (and coaches) change teams so often these days that chances are someone on the roster has played with the guy before — but in the end, you just don't know how someone will react to a new environment until he gets there. That's especially true in New York.
With Sabathia, there are no such concerns because he's been here for so long already. He's beloved in the clubhouse — if Brett Gardner is the unofficial captain of the position players, Sabathia has been the unofficial captain of the pitching staff all these years — and has taken on a leadership role, and he knows all about playing in Yankee Stadium and in New York in general. Those are adjustments he won't have to make. Plug him into the roster and go.
4. There are reasons not to sign Sabathia. As much as I love Sabathia — I think everyone loves Sabathia, right? he's the man — we have to acknowledge the reasons not to re-sign him. One, he's 37 and will turn 38 in July. Sabathia is firmly in the "this can fall apart in a hurry" age range. In the past five seasons, only eight different pitchers age 37 or older finished a season at +1 WAR. Recent history is not really on Sabathia's side.
Secondly, Sabathia's right knee is a wreck. It's bone-on-bone at this point, hence the regular lubrication injections, and Sabathia has admitted he'll likely need a knee replacement once his career is over. Remember when he left that game in Toronto and everyone thought his career is over? It wasn't, thankfully, but that's pretty much the risk you're running here. The knee could give out at any moment. Between his age and the knee, we probably wouldn't be talking about Sabathia as a free agent target at all had he not spent the last nine years with the Yankees.
* * *
Coming into the offseason I thought it was inevitable the Yankees would re-sign Sabathia, with or without Ohtani. It makes too much sense. He's not going to cost a ton, you know what you're getting on and off the field, and there's no such thing as too much pitching depth. Now that Ohtani has spurned the Yankees, adding another pitcher is a must, and in a weak free agent class, bringing Sabathia back on a short-term deal sure seems like an obvious move right now. The Yankees have been contact with Sabathia's camp lately and I get the sense something could happen soon.