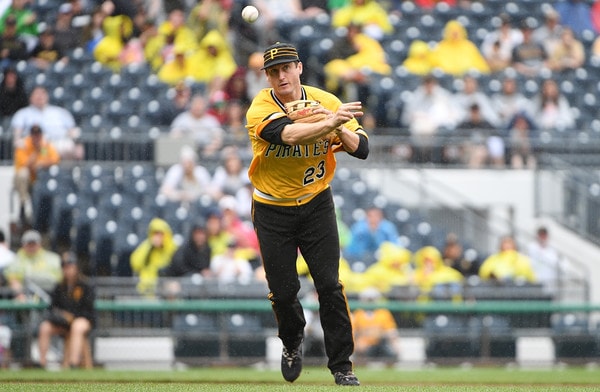 With less than six weeks remaining until the start of Spring Training, the Yankees are (allegedly) content to kick-off the season with second and third manned by some combination of Gleyber Torres, Miguel Andujar, Tyler Wade, Ronald Torreyes, and Thairo Estrada. I am more than a bit skeptical, largely for the reasons that Mike laid out here, and will continue to operate under the assumption that acquiring a veteran infielder is on the team's to-do list. And David Freese – who has been involved in trade rumors since last year's trade deadline – checks an awful lot of boxes for the Yankees.
Offensive Performance
Freese's offense has been shockingly consistent (if not downright metronomic) over the last half-decade. Take a look:

There are certainly some fluctuations in walks, strikeouts, and his performance against lefties, but the bottom line has been eerily similar in each of the last five seasons. That level of consistency extends through most everything else, including his batted ball profile. However, he did stop pulling the ball last season, posting a career-low pull percentage of 25.8%, after settling between 33.4% and 38.1% in the five prior seasons. And that 25.8% mark was the third-lowest among the 144 players that qualified for the batting title last year.
What, if anything, does this mean? Here's the discrepancy visualized: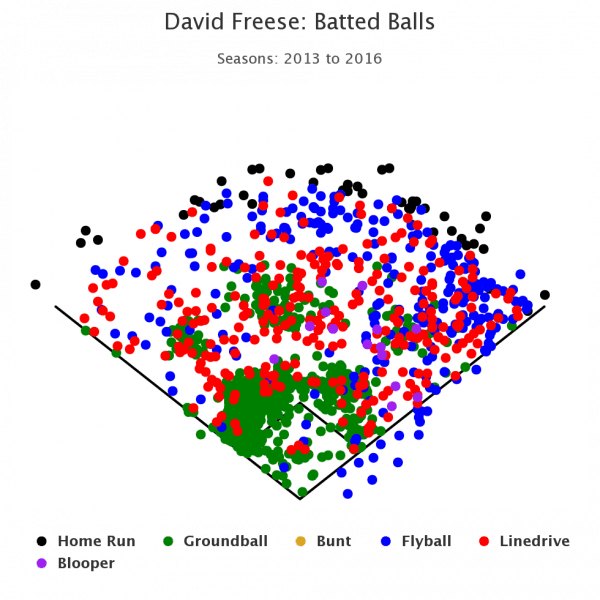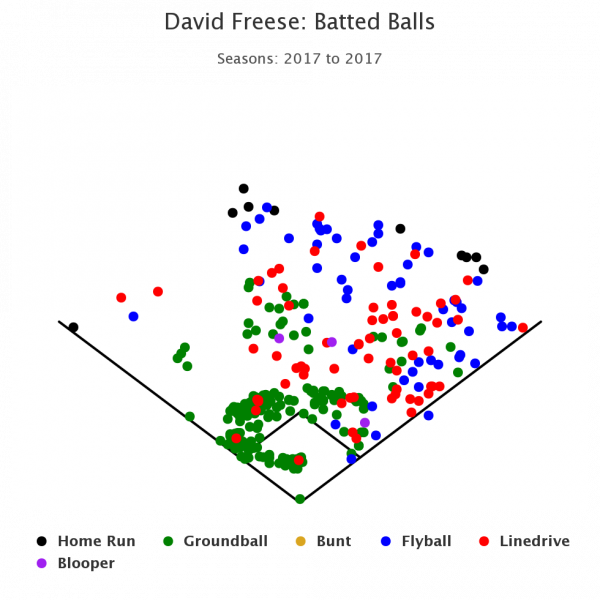 Freese has always hit most of his home runs either to center or the opposite field, and last year was actually a minor exception, as half of his home runs were to left or left-center (depending upon the categorization). And, perhaps more importantly, his exit velocity has been fairly steady, checking in at 89.1 MPH in 2015, 91.1 in 2016, and 88.9 last year. Last year's dip tied into the lack of pulled balls could be a sign of something for a player that'll be 35 on April 28 – but he was the same player as always in 2017.
Defensive Performance
Freese's defensive metrics have been all over the place these last five years (using the same sample as his offensive profile), but they have been surprisingly stout at the hot corner over the last two years:
2013: -14 DRS, -16.5 UZR
2014: -9 DRS, 0.6 UZR
2015: -2 DRS, 0.3 UZR
2016: +5 DRS, 2.7 UZR
2017: +8 DRS, 3.1 UZR
The numbers paint a picture of a player that is improving every year, which is strange for a player in his mid-30s, but the most interesting aspect of this may be how he's improved. From 2013 through 2015, the range portion of UZR painted him as a statue, whereas the error portion saw him as sure-handed; that has flipped over the last two years, and he now looks like a range-y fielder with a propensity for making errors (though, his fielding percentages are remarkably consistent). Regardless, Freese has been an average-ish or better fielder by both metrics in each of the last three years.
Freese also offers a tiny bit of versatility, having played 377.1 innings at first base. 341.1 of those innings came in 2016, when he graded out at -1 DRS and 0.0 UZR. That's not much to go by, but some positional flexibility is better than none.
Injury History
Unfortunately, getting hurt is another aspect of Freese's consistency. He missed at least three consecutive weeks with various injuries in 2013, 2014, and 2015, and just under three weeks with a hamstring injury last year. There might be a slight silver lining, in that all of his injuries have been to different body parts – but he's had some form of surgery on both of his legs and broken bones in both hands … and he'll be 35 in April.
Contract Status
Freese is in the second year of a 2-year, $11 MM deal, and is owed $4.25 MM in 2018; he also a team option for $6 MM in 2019 (with a $500,000 buyout). His luxury tax hit would be $5.5 MM.
What Would it Take?
Freese is a soon-to-be 35-year-old rental, so the price shouldn't be all that high. He's a perfectly adequate big league third baseman, to be sure – but that sort of player doesn't generally fetch a high return. There are plenty of comparable trade scenarios from the last twelve months:
The Tigers dealt Ian Kinsler to the Angels for their 20th and 24th ranked prospects (per MLB.com).
Brandon Phillips was dealt twice last year (once in February and again at the August waiver deadline), and both times for similarly uninspiring returns.
Howie Kendrick was dealt to the Nationals for their 18th-best prospect and pool money.
Eduardo Nunez was dealt to the Red Sox for their 18th-best prospect and a lottery ticket.
Neil Walker was traded to the Brewers for a PTBNL that turned into a middling relief prospect, and he stands out as the best player of the bunch (you can make a joke about the Mets here).
If any of this is indicative of what the Pirates can expect for Freese, then it seems as though the Yankees wouldn't have to give up much of anything. Yes, some of those trades were for half-season rentals, but (1) teams often pay a premium at the deadline, and (2) the Yankees system is better than the systems involved in these deals. For the sake of comparison, MLB.com currently has Hoy Jun Park as the team's 18th best prospect, with Domingo German, Dermis Garcia, Ben Heller, Billy McKinney, and Donny Sands comprising the next five.
Does He Make Sense for the Yankees?
Definitely. Freese adequately fills a position of need, has a low luxury tax number, adds a pinch of versatility, and shouldn't cost all that much in talent. The expiring contract means that he doesn't hurt the cap going forward, and the reasonably priced team option means that he could have value to the team beyond 2018 (both as a potential bench player and a trade chip). Freese's injury history is disconcerting, but he's been healthy enough to appear in 120-plus games in each of the last six years – and that should be good enough for the Yankees.