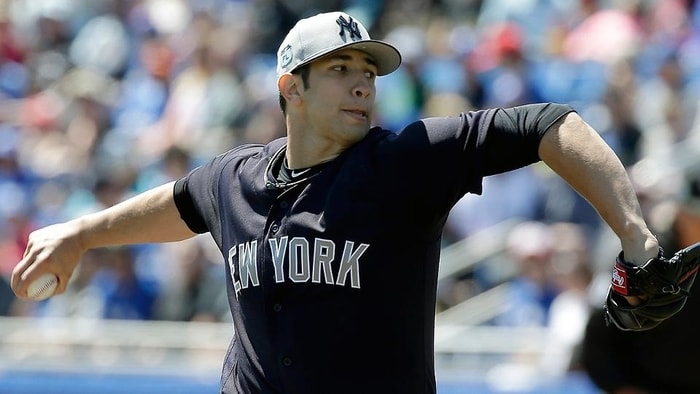 The Yankees have managed to maintain a stable of major league-ready pitchers on the Scranton/Wilkes-Barre roster for the last several years, and this season is no exception. By the time the official Opening Day roster is announced, it is likely that the team will have at least five pitchers with experience at the highest level heading to or already at Triple-A, where they will bide their time until the need for a fresh arm inevitably arrives. And, while most teams would be satisfied with a bunch of competent arms awaiting the call, the Yankees have more than a bit of upside in their first line of defense.
Luis Cessa
This is Cessa's third year in the organization and it stands to be his third time as an up-and-down arm, as he was optioned to Triple-A on Friday afternoon. The soon-to-be 26-year-old was less than stellar in four Spring Training starts, pitching to a 6.75 ERA in 9.1 IP, but I suspect that the Yankees were always more comfortable with him staying stretched out in the minors regardless of how he performed in the Grapefruit League. After all, Cessa has a 4.54 ERA in 14 major league starts, and he's probably the de facto sixth starter … for now.
That being said, Cessa is almost certainly best-suited for the bullpen. While he technically throws four pitches, his fastball and slider are several steps above his curveball and change-up, with the latter two largely profiling as show-me pitches. That's not a great look for a starter. However, his fastball has averaged just over 95 MPH in his time in the big leagues, and his plus slider has a ridiculous 42.05% whiffs per swing rate (compare that to Chris Sale, whose slider had a 40.32% whiff rate last year). That formula could work wonders in one or two inning bursts.
The real issue with shifting Cessa to the bullpen full-time is the simple fact that the team's bullpen is already ridiculously deep, and this group of Triple-A arms includes two or three pitchers that are exclusively relievers. Shifting Cessa to the bullpen may be the right move to maximize his value in an individual sense, but keeping him stretched out to provide insurance for the rotation makes a bit more sense for the team as-is. This could all change, however, depending on the performance of Domingo Acevedo, Chance Adams, and Justus Sheffield – so this bears watching.
Giovanny Gallegos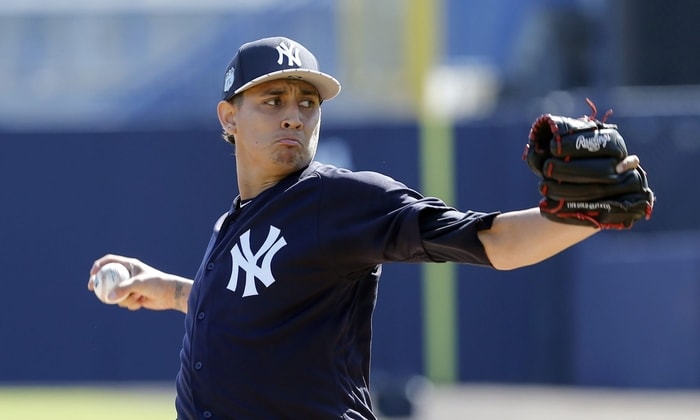 Gallegos built a reputation for stingy walk rates and surprising strikeout rates through five-plus seasons in the Yankees organization, and seemed destined to ride the shuttle in 2017 as a result. And he did just that, bouncing between Triple-A and the majors seven times last year. He was dominant at Triple-A (43.1 IP, 2.08 ERA, 2.3 BB/9, 14.3 K/9), but pedestrian at-best in the bigs, pitching to a 4.87 ERA (94 ERA+) in 20.1 IP across 16 appearances. The peripherals were there in many ways, as racked up 22 strikeouts against just 5 walks, but his paltry 35.6% groundball rate was not conducive to keeping the ball in the park.
One of the interesting things about Gallegos's time with the Yankees is that he was almost exclusively shelled when being caught by Austin Romine. He pitched to a 9.95 ERA and allowed all 3 of his home runs in the 6.1 innings caught by Romine, and a 2.57 ERA in the 14 innings thrown to Gary Sanchez and Erik Kratz. That almost certainly means a whole lot of nothing, but it caught my attention nevertheless.
Gallegos doesn't have the upside to be much more than a solid middle reliever, and he's likely to be used in that capacity if and when he is called up. His demonstrated ability to pitch more than an inning per appearance doesn't hurt, either.
Domingo German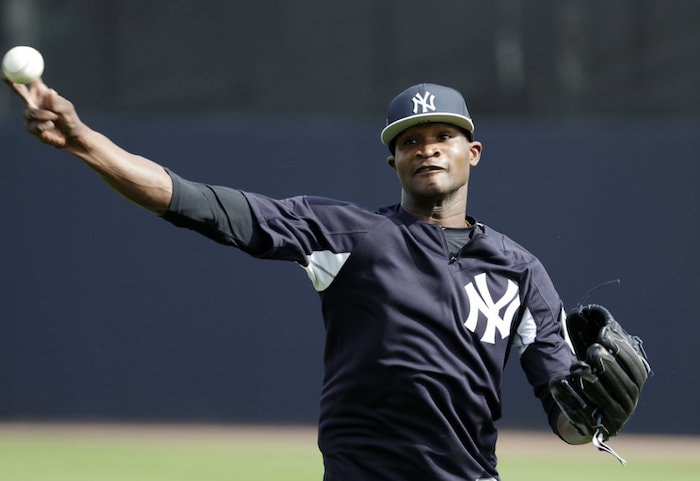 If Cessa isn't the sixth starter right now, it's because the 25-year-old German is simply too darn good to overlook. German missed all of 2015 due to Tommy John surgery, and tossed just 49.2 IP between Charleston and Tampa upon returning in 2016. They were excellent innings, though (3.08 ERA/3.44 FIP), and the Yankees took the training wheels off in 2017, allowing him to throw 109.1 IP between Trenton and Scranton, and another 14.1 in the majors. And, once again, German excelled, pitching to a 2.88 ERA, 9.8 K/9, and 2.6 BB/9 in the minors, and a 3.14 ERA (147 ERA+) and 11.3 K/9 for the Yankees. To cap it off, he had a 2.30 ERA in 15.2 spring IP before being sent down on Saturday.
Well, saying that he excelled in the majors might be a bit misleading. The run prevention, strikeouts, and groundball rate (54.5%) were all great; the 5.7 BB/9, not so much. It's not too shocking that a pitcher with German's stuff would struggle to find the zone at times, and 14.1 IP is a small sample size – but it was the lone blemish on an otherwise brilliant overall season. It's something to keep an eye on going forward, though his 2.7 BB/9 mark in the minors for his career suggests that there's better control to come.
As is the case with Cessa, German has mostly been a starter in the minors. 19 of his 20 minor league appearances last year were starts, as were all of his games in 2016. And the Yankees kept him stretched out in the majors last year, as those 14.1 IP were spread across 7 games. German has more upside than Cessa as a starter, though, as he has three pitches that profile as at least fringe-average offerings, in his 95-plus MPH fastball, upper-80s change-up, and low-80s curveball. And that curveball had a 53.57% whiff rate last year, so he may well have more upside as a reliever, too.
If I were the Yankees, German would be my sixth starter. And I suspect they'll allow him to earn that opportunity when the need arises.
Ben Heller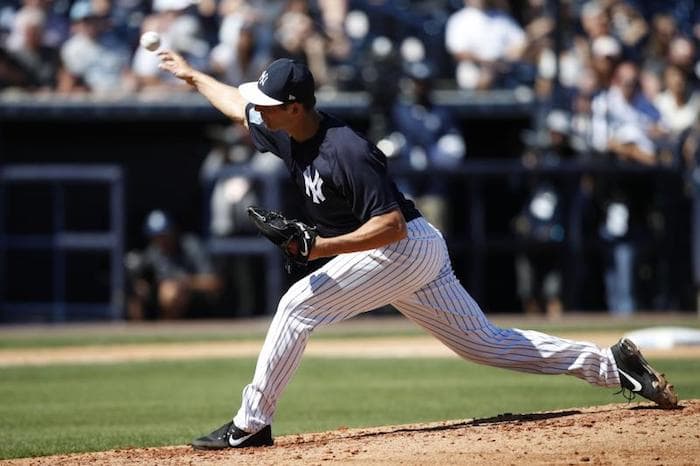 If you were to create a player that was the statistical norm for a right-handed relief pitcher, you may well wind up with Heller. The 26-year-old checks in at 6'3″ and 205 pounds, and sports a mid-to-upper 90s fastball and a low-to-mid 80s slider that is nearly unhittable when it's right. In fact, his slider has a 54.28% whiff rate in his 18 IP at the highest level. And that sort of one-two punch is what dozens of relievers have made a successful career of.
Heller is back by his control, though. He has walked 10 batters in those 18 innings, and he's walked 3.6 per 9 in his minor league career. Control has never been his strong suit, but his stuff could bail him out in the minors – that won't work so well against big league hitters. Spring training stats may not mean much, but seeing him walk just 3 batters in 11.1 IP thus far is a good sign – particularly when it's still coupled with a healthy 16 strikeouts.
Heller's premium stuff might have him a tick above Gallegos on the depth chart, but the Yankees aren't too likely to trust him as anything more than an up-and-down guy until he shows that he can throw strikes with consistency. If he does do that, though, he could be Tommy Kahnle 2.0 – and I don't think that's terribly farfetched.
Jonathan Holder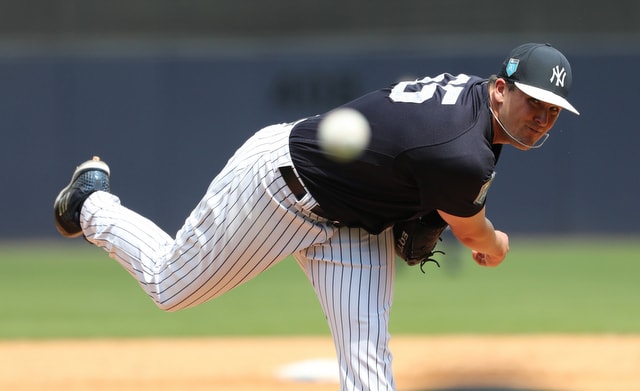 Holder was named to the Yankees Opening Day roster on Saturday, and it's not too difficult to see why. He pitched to a 3.89 ERA (117 ERA+) with 1.8 BB/9 and 9.2 K/9 in 39.1 IP for the Yankees last year, and he was excellent in Spring Training. Holder might not have the most upside on this list, but he may well be the safest bet to be the placeholder for the shuttle to open the season. And, make no mistake, he's a placeholder for the time being, profiling as the eighth reliever in lieu of a true back-up outfielder until Jacoby Ellsbury comes off of the disabled list.
That doesn't mean that Holder's anything less than competent, though. He lacks high-end stuff, but he has three solid offerings in his low-90s fastball, high-80s cutter, and mid-70s curveball, and he commands everything well. And, unlike the other arms at Triple-A, he's demonstrated that he can ply his craft in the majors for a fairly long period of time. That may not be exciting, but it's important.
Holder's upside, however, may be limited by his struggles against LHH. Lefties hit .351/.439/.528 against him last year, which is terrifying. That's not in-line with his cup of coffee in 2016 or his time in the minors, but it's disconcerting nonetheless – especially in Yankee Stadium. And he uses his cutter in place of a change-up, and it's not a swing-and-miss pitch. So while Holder may be the safest bet here to hold down the middle innings, his upside is something of a question.