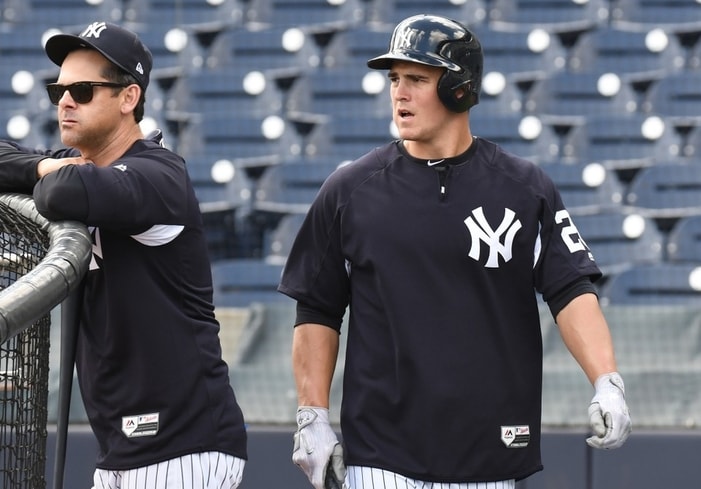 The Yankees have a great deal of depth throughout their organization at this point, and that includes the 25-man roster, MLB-ready players (be it those that are no longer rookie-eligible, or those that aren't considered top prospects), and top prospects that are expected to knock on the door in short order. The middle tier of that group has shifted considerably over the off-season, as the team made trades (Giancarlo Stanton and Brandon Drury) and signed free agents (Neil Walker, specifically), but it has come into focus as we rapidly approach Opening Day. And it is those players that I'll dig into a bit today.
Tyler Austin
A month ago, it seemed as though Austin had a spot on the Yankees roster locked-up; or, alternatively, that he had an incredibly strong inside track to a spot on the major-league roster. His ability to play first base and right-handed power made him an ideal back-up for and/or complement to Greg Bird, and the team didn't have another player of that ilk sitting around. As long as he stayed healthy throughout the Spring (never a given with Austin), he had a good shot at making the cut.
And then they traded for Brandon Drury. It was a move that would give the Yankees depth at second and third, and therefore not necessarily a move that would impede Austin's path to the roster – but Drury is almost a year younger than Austin, offers a similar (and more proven) offensive skill-set, and has experience at all four corners, second base, and shortstop. In the event that Miguel Andujar or Gleyber Torres made the team, it was clear that Austin would end up the odd-man out. That didn't happen, as Andujar and Torres were not long for the team, so the chance was still there.
And then they signed the aforementioned Walker. And with that their starters at second and third could both fill-in at first base, and Austin's lack of versatility within the infield spelled the end of his opportunity – for now, at least.
Austin, despite never having an extended run with the Yankees, is a known commodity at this point. He has raked at Triple-A in back-to-back seasons (.323/.415/.637, 201 wRC+ in 234 PA in 2016, .275/.342/.544, 143 wRC+ in 190 PA in 2017), but that hasn't translated all that well to the majors yet (.236/.294/.447, 94 wRC+ in 136 PA). And, despite his ability to stand in outfield, he only play out there in an emergency.
If Austin ends up playing a significant role for the team this year, it will almost certainly be due to something happening to Bird, be it an injury or an extended stretch of awful performance. (Sure enough, Bird is hurt already.) And if Andujar and/or Torres end up forcing the issue, his place on the depth chart could become even more tenuous due to his lack of versatility.
Clint Frazier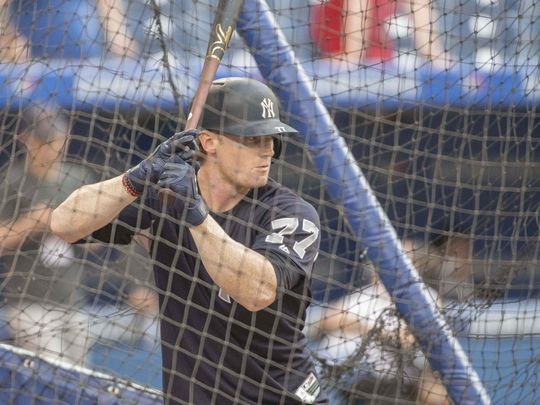 The last few months have not been terribly kind to Frazier. His place within the organization was thrown into question with the acquisition of Stanton, and he subsequently spent the rest of the Winter being involved in whatever trade rumors were floated for the litany of starting pitchers that are/were/could have been on the market. And then he cut off his luscious locks to curb any potential issues with the team's grooming policy, which is a throwback to the stupidity of last off-season's news cycle – which is a non-issue, really, but I'd be remiss if I didn't mention it.
And if that wasn't bad enough, Frazier was concussed as a result of crashing into the outfield wall in Spring Training. He hasn't played since February 24 as a result, and he may well open the season on the disabled list. The the first few weeks his recovery were downright frightening (a concussion is a brain injury, after all), and his progress is best-described as slow and steady.
With the possible exception of his injuries – an oblique injury shortly after his call-up last year and the concussion – Frazier's stock remains largely unchanged. He was a consensus top-forty prospect heading into last season, he hit well at Triple-A (.256/.344/.473, 123 wRC+ – a notable improvement over his 88 wRC+ there in 2016), and flashed his potential in 39 games with the Yankees. The ridiculous bat speed, prodigious raw power, and 80-grade hustle were on display every step of the way, too. And he'll spend most of the season as a 23-year-old, too, so there's no reason to think that his stock is slipping. If and when he recovers from his concussion, it'll be a matter of opportunity (or lack thereof) more than anything else.
Frazier's role with the team is going to be up in the air for some time, but I think he's much closer to the starting lineup than one might expect. A healthy Jacoby Ellsbury would have an edge on a bench spot, but if an opportunity arose for a starting role (meaning an injury, or maybe regression from Aaron Hicks) I think Frazier would leapfrog him for the regular playing time. Regardless of Frazier's future with the team, I think it would behoove the Yankees to keep him playing regularly at some level, rather than sitting on a bench.
Kyle Higashioka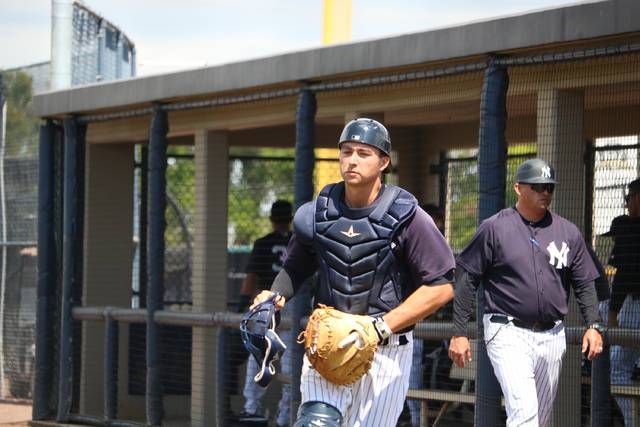 This is Higashioka's eleventh year in the Yankees organization, and that does not quite capture how long his road to the show has been. His defense has long been considered at least solid-average, and there was always some hope that his bat would develop. He flashed a strong hit tool and a strong approach throughout his minor league career, and there were rumblings of above-average raw power, too. Unfortunately, assorted injuries and a Tommy John surgery sidelined Higashioka for most of 2012 and nearly all of 2013 and 2014, and he looked like a non-prospect when he returned in 2015.
And then he went out and hit .276/.337/.511 in 416 PA between Double-A and Triple-A in 2016. And when Gary Sanchez went down with an injury in the first week of the 2017 season, some felt that he should be the Yankees starting catcher. That didn't happen, though, and his .000/.100/.000 slash line in 20 PA as Romine's back-up didn't give us any reason to continue to argue otherwise.
Higashioka went back down to the minors when Sanchez returned, and promptly suffered a back injury. He ended up playing in just 30 games between the minors and majors last season, and his durability is once again at the forefront of his profile. If there's any silver lining, it might be that he hit .338/.390/.797 in the minors … but that was in all of 82 PA.
The soon-to-be 28-year-old Higashioka is healthy and hitting in Spring Training, which is a good sign. I believe that he'll be the first catcher up should the need arise, but that's predicated upon him staying healthy – which is far from a guarantee.
Erik Kratz
Do you feel the excitement in your bones? Kratz is included here largely because of the injury issues that have plagued Higashioka. He earned the call over a healthy Higashioka when the rosters expanded in September, as well, so maybe there's even something more to it.
Beyond that, Kratz is a prototypical journeyman catcher. He can't hit (his 1.000/1.000/1.500 line in 2 PA with the Yankees notwithstanding), but he's a good defensive catcher that grades out well in framing, blocking, and controlling the running game. Seeing him on the roster before September wouldn't be a good sign, but he's a competent hand.
Billy McKinney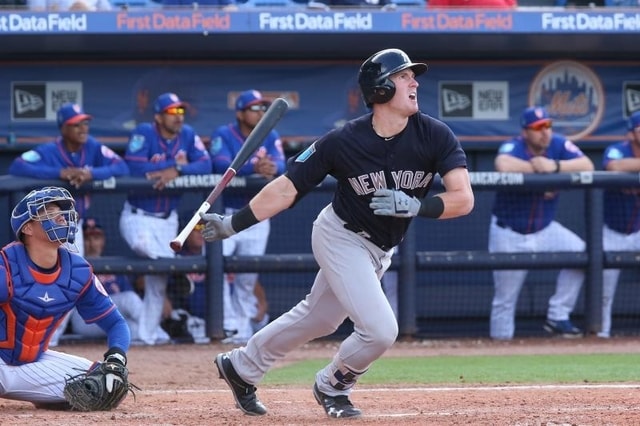 The injuries to Ellsbury and Frazier may well make McKinney an Opening Day bench piece by the time that you read this, but he fits here as this is being written.
McKinney was regarded something of a throw-in in the Aroldis Chapman trade that netted Gleyber Torres, but he was always a bit more than that. He was a consensus top-100 prospect heading into 2015 and 2016, and he had a first-round pick pedigree. He struggled mightily in 2016, though, slashing just .246/.342/.338 in Double-A and, as a bat-first (or bat-only) prospect, that wasn't a good sign. He was nevertheless worth the flier, as someone that had been lauded for above-average grades in his hit tool, power, and approach.
His inclusion in the trade paid dividends in 2017, as McKinney performed decently at Double-A (.250/.339/.431, 110 wRC+ in 276 PA), and brilliantly at Triple-A (.306/.336/.541, 140 wRC+ in 224 PA), before closing out the season with a solid effort in the Arizona Fall League. There were some less than enthusing underlying numbers, such as a 4.0% walk rate in Triple-A – but a "throw-in" prospect hitting that well on the whole is a boon. And he was added to the 40-man roster in November as a result.
McKinney played the outfield exclusively prior to playing first base in the Arizona Fall League, and was generally regarded as passable as a corner outfielder. He has continued to play first in Spring Training, and the reviews are generally okay. He's still a work in progress, but he's far from a disaster there. And, given his relative inexperience there, that's a good sign. His strange but productive .179/.410/.607 line in Spring Training isn't bad, either.
Were it not for injuries to Ellsbury and Frazier, I'd expect McKinney to spend the vast majority of the year in Triple-A (or in another organization). There's a real opportunity for him now, though, and I wouldn't be shocked if he ended up on the big league roster until those two were deemed healthy; and, in Ellsbury's case, I'm sure the Yankees will take their time with those evaluations. Whether or not that turns into a genuine opportunity is unlikely for the time being, but it's not entirely out of the question.
Jace Peterson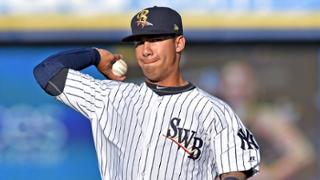 Peterson was signed in back in January, and there hasn't been all that much discussion about him since. He was picked-up to be a depth piece behind or alongside Tyler Wade and Ronald Torreyes, but there was never a chance that he would be anything more than a bench player. And with the trade for Drury and the signing of Walker, the odds of Peterson playing a role with the big club this year are dependent upon several things going wrong.
It's worth noting, I suppose, that Peterson has spent time at all four infield and all three outfield spots in his big league career (even though he grades out poorly at most of them), so he could be the emergency option in plenty of ways should that opportunity arise. That's essentially the role that Wade will play this year, though, and the versatility of Drury and Walker further abrogates the need for that sort of player anyway. He's basically the Donovan Solano replacement, albeit with way more hurdles in his path.