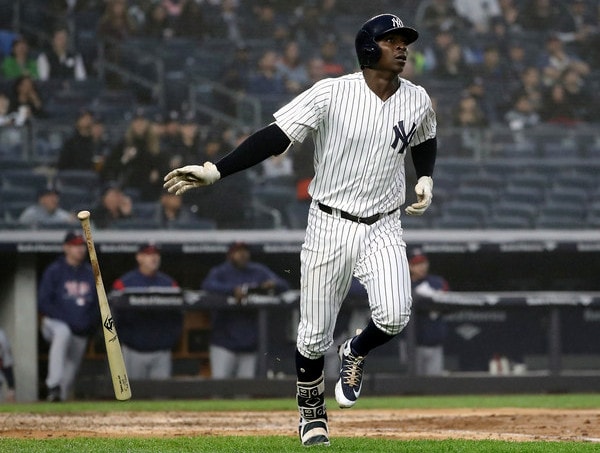 Later tonight the Yankees and Angels will continue their three-game series in Anaheim. West Coast night games stink. West Coast night games on a Saturday stink even more. Oh well. What can you do? Here are some links and notes to check out while you're waiting for tonight's game.
Still no contract talks with Didi
According to Jon Heyman, there have still been no contract extension talks between the Yankees and Didi Gregorius. Gregorius said he is open to a long-term deal earlier this month, though signing him now would complicate the luxury tax plan. This is something the Yankees will have to revisit in the offseason. "Didi wants to be a Yankee," said one Yankees source to Heyman, for what it's worth.
The luxury tax plan means an extension won't happen during the season — because the regular season has started, signing Didi now would result in his 2018 salary being recalculated for luxury tax purposes, which means it'll increase — and, frankly, this isn't the best time to discuss an extension. Gregorius has had a monster start to the season and he has all the leverage. After season, once his numbers inevitably come back to Earth a bit, the Yankees will be in better position to negotiate a deal that is sensible for both sides.
Yankees pursued Gleyber as an amateur
Way back in the day the Yankees pursued Gleyber Torres as an international free agent out of Venezuela, reports Ken Rosenthal (subs. req'd), but he wound up signing with the Cubs. Chicago beat the Yankees to the punch, secured a commitment, and hid Torres at their complex until the signing period opened. Standard procedure in Latin America. Gleyber received a $1.7M bonus. The Yankees' top signing that signing period was outfielder Leonardo Molina at $1.4M.
"Players you want in the draft who you don't get, players you want internationally who you don't get, it's hard to let them go. They're always in the back of your mind," said Brian Cashman. The Yankees continued to have Gleyber on their radar after he started his pro career, and when it came time to talk Aroldis Chapman trade with the Cubs, Cashman "locked in" on Torres, according to Rosenthal. It took a little longer than they'd hoped, but the Yankees did eventually get their man.
Yankees have their eye on Corbin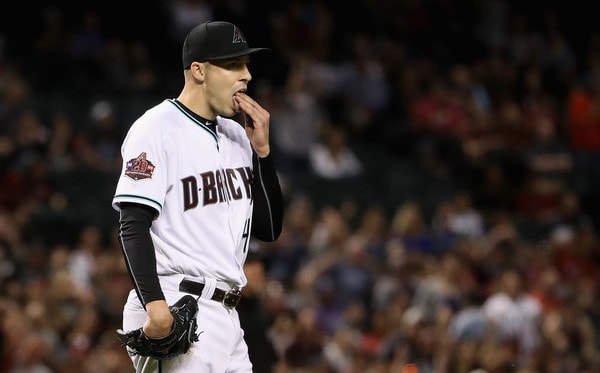 Earlier this week Diamondbacks southpaw and impending free agent Patrick Corbin made some headlines with his effusive praise for the Yankees, and according to Heyman, the feeling is mutual. The Yankees have their eye on the southpaw leading up to free agency. The D'Backs are in the first place and figure to stay in the race all summer, so a trade deadline deal is presumably a non-option. The Corbin pursuit will have to wait for the winter.
"His fastball is back, his slider is better than ever and he's an uber-athletic and competitive guy, which is the kind of guy to bet on," said one scout to Heyman. The Yankees reportedly pursued Corbin this past offseason, so it's no surprise they have their eye on him for free agency. Manny Machado and Bryce Harper are the big free agent names, understandably, but the Yankees will probably need pitching more than another bat. We'll see what happens after the season. I suspect we're in for many more Yankees/Corbin rumors in the coming weeks and months.
Lind's contract details
The Yankees re-signed Adam Lind to a new minor league contract last week, and now we know the terms. According to Bob Nightengale, Lind will make $2M at the big league level, and he can opt-out of his deal on May 1st, June 1st, and July 1st if he's not on the MLB roster. That first opt-out is only four days away. Lind has played a handful of games with High-A Tampa since signing. I imagine he'll move up Triple-A Scranton soon.
Despite Greg Bird's injury, first base has been a strength this season, mostly because Tyler Austin is hitting .290/.362/.629 (167 wRC+) in the early going. Couldn't have asking him for more. Hopefully he keeps it up. Bird is on the rehab trail following ankle surgery and is expected back within a few weeks. It seems like Lind is first base insurance in case Bird suffers a setback or Austin gets hurt. Otherwise I'm not sure there's a path to playing time. Replacing Neil Walker with a first base only guy is really going to limit the bench and roster flexibility.
MLB researched 154-game season
According to Jayson Stark (subs. req'd), MLB performed "extensive background research" on shortening the season to 154 games in advance of the most recent Collective Bargaining Agreement talks. The MLBPA didn't push for a shorter season as hard as expected, however. "Basically, eight teams wouldn't do it. They said, 'We can't make up all those lost gates or all the TV revenue. So you need to make us whole,'" said one MLB source to Stark.
Trimming the season from 162 games to 154 games would help the league avoid some nasty weather in April and November, but it would also mean each team loses four revenue-generating home games. I assume the Yankees and other big market clubs like the Dodgers, Cubs, and Red Sox are among the eight teams that objected to a shorter schedule. Four games is only 5% of the home schedule, but it does equal millions of dollars. Perhaps the solution is tweaking the revenue sharing formula and making the revenue up that way? Not sure. The MLBPA is expected to push hard for a return to a 154-game schedule in the future.