Can't beat good pitching, they said. Yeah, whatever. The Yankees beat the excellent Jacob deGrom and the lowly Mets in the 2018 Subway Series opener Friday night. The final score was 4-1 good guys. The Yankees are 23 games over .500 on June 8th. Love this team, you guys.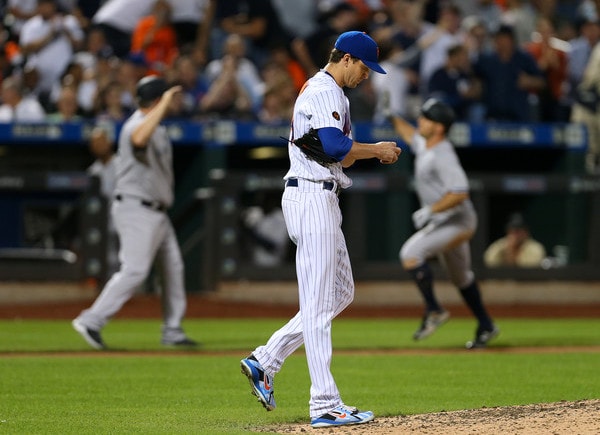 Gardy Goes Yardy
Some team needs to save Jacob deGrom. If the Mets won't trade him to the Yankees, fine, send him somewhere else. (Preferably an NL team.) That dude deserves so much better than what he's stuck with right now. deGrom was ruthlessly efficient Friday night, holding the Yankees to one unearned run — Adrian Gonzalez muffed a fairly routine grounder, which opened the door for the Yankees to score their first run of the game in the sixth — in the first seven innings. His pitch count by inning in the first seven innings: 12, 10, 10, 9, 16, 21, 6. Masterful.
The Yankees were finally able to break through against deGrom in the eighth inning and it was a quick two runs. Gleyber Torres pulled a ground ball single through the left side and Brett Gardner jumped on an elevated 87.3 mph changeup for a two-run Yankee Stadium cheapie in Citi Field. Probably the worst pitch deGrom threw all night, and Gardner made him pay.
Remember how crummy Gardner was in April? Of course you go. That slow start is long gone. Brett went 2-for-3 with a homer and a walk Friday night to raise his season batting line to .268/.363/.407 (113 wRC+), which is as Brett Gardner as it gets. He's had so many big hits since the start of last season. Just this year he's hit this homer, the game-tying ninth inning home against the Astros, and the game-tying ninth inning pinch-hit sacrifice fly against the Angels. Brett Gardner forever.
The homer gave the Yankees a 3-1 lead in the eighth inning. Giancarlo Stanton added a ninth inning solo home against Paul Sewald to stretch the lead to 4-1. It was Stanton's fourth homer in his last six games — all four have came against right-handed pitchers too — and, in one of the two homer-less games, he doubled off the very top of the wall. Giancarlo's starting to feel it. Dinger binge forthcoming.
As for deGrom, he finished with three runs (two earned) allowed on four hits and two walks in eight innings. He struck out eight. In his last nine starts, he has a 0.81 ERA with a .189/.258/.230 opponent's batting line and a 35.0% strikeout rate in 55.1 innings. Spectacular. And the stupid Mets are 2-7 in those nine starts. Just trade him to the Yankees and get it over with already. Take any four players not on MLB roster and call it a deal.
Masahiro's Hammies
A bad start, a bad finish, and a great middle for Masahiro Tanaka. He got the #obligatoryhomer out of the way early. Brandon Nimmo socked his second pitch of the game into the right field second deck for a leadoff homer. Tanaka put a 91.0 mph fastball on a tee:
A crummy start, that was. But, after that leadoff homer, Tanaka retired 14 of the final 15 batters he faced, and the one baserunner (Jay Bruce walked) was immediately erased on a ground ball double play. He struck out eight of those 15 batters. Tanaka's final line: 5 IP, 1 H, 1 R, 1 ER, 1 BB, 8 K, 1 HR on 75 pitches. A very good outing, that is.
Of course, Tanaka did not exit the game under good terms. He was removed with tightness in both hamstrings after running the bases and scoring on a sacrifice fly in a fifth inning. Tanaka reached on Gonzalez's error, moved to second on Gleyber Torres' single to second, then moved to third on Gardner's walk. He scored on Aaron Judge's fly ball to right field and barely beat the throw home.
Replays showed Tanaka stumbling a bit as he ran home, and he walked gingerly off the field and immediately went to the clubhouse. After the game he admitted his hamstring started to tighten up around the third inning, and running the bases exacerbated things. He'll go for tests Saturday and it's entirely possible Tanaka won't miss a start. (The Yankees have an off-day Monday and can push his next start to next Saturday.) That'd be cool. The Yankees can't really afford to lose another starter.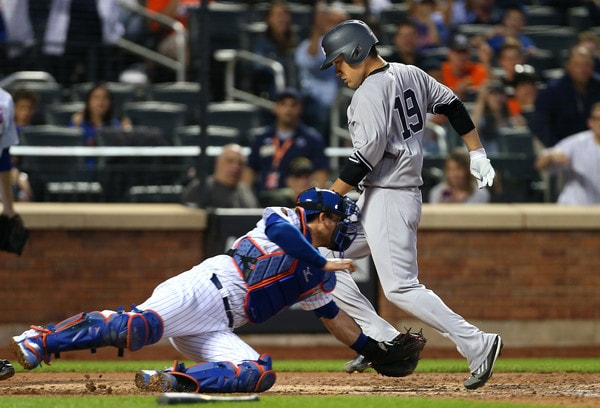 Bullpen Dominance
After Tanaka's early exit, the bullpen was very good in the final four innings. Jonathan Holder went three up, three down in the sixth inning and Dellin Betances did the same in the eighth. Chad Green did allow two singles in the seventh, but escaped the jam with a strikeout. Everyone had done their job. Tanaka pitched well until his hamstrings acted up, the offense gave the bullpen a lead, and the setup crew turned it over to Aroldis Chapman.
Chapman had a bit of an adventurous ninth, though the Mets didn't exactly smack him around. He grazed Nimmo with a pitch to begin the inning, then Asdrubal Cabrera beat out an infield single to bring the tying run to the plate. A fly out (Michael Conforto), a great diving grab by Miguel Andujar to get the force out at second (Todd Frazier), and a fly out (Bruce) later, the inning was over. Save No. 16 on the season for Chapman.
Now, in that ninth inning, replays showed Chapman limping and grimacing while running to cover third base on Conforto's fly ball. Trainer Steve Donohue came out to talk to him and Aroldis stayed in the game. Afterward, he admitted he's been pitching with left knee tendinitis for 2-3 weeks now. He's been receiving treatment and remains available. The injury doesn't warrant a trip to the disabled list.
Honestly, I'd be totally cool with the Yankees giving Chapman a quick 10-day DL stint to knock this out. It's his left knee, his push off knee, and you don't want him to change his mechanics to compensate for the knee — that can happen subconsciously — and hurt his arm, you know? I'd rather Chapman miss a few games now than a lot of games later. Eh, whatever. The Yankees know what they're doing.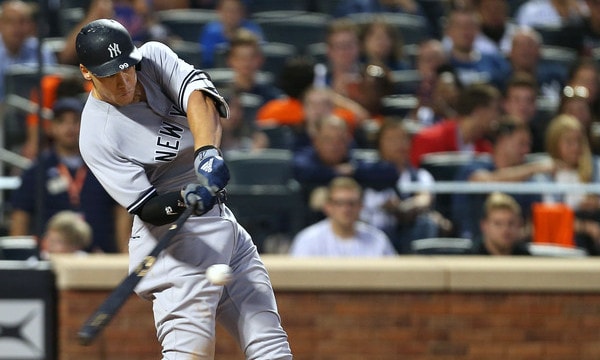 Leftovers
Tanaka and Chapman were not the only injured Yankees! Judge jammed his left thumb sliding in the very first inning. He stayed in and had it wrapped the rest of the game. After the game Judge played it off like it's no big deal, it's just a bit sore, but the Yankees are going to send their franchise player for tests Saturday just to be sure. So Tanaka (hamstring) and Judge (thumb) are going for tests and Chapman (knee) is receiving treatment. Cool cool.
Only five hits for the offense. deGrom'll do that. Gardner had a single and a homer, Stanton had his homer, and Torres had two singles. Gardner and Judge drew walks. A dude like deGrom isn't going to give an offense many opportunities. The Yankees got a run in when they loaded the bases in the sixth and Gardner took advantage of the hanging changeup in the eighth. That's how you beat an ace. Capitalize on those mistakes. (And get good pitching.)
Box Score, WPA Graph & Standings
Head on over to ESPN for the box score and updated standings, and MLB for the video highlights. Here's our Bullpen Workload page and here's the win probability graph:

Source: FanGraphs
Up Next
The Yankees and Mets will continue this three-game weekend series with the middle game Saturday night. That's a 7:15pm ET start. Groan. Domingo German and Steven Matz are the scheduled starting pitchers for that one.