Lynn FTW
The Yankees snapped out of their offensive funk and bounced back from their worst loss of the season with a drama-free 7-0 blanking of the White Sox in the series opener. It was their ninth shutout of the season, two more than they had all of last year. The last time the Yankees compiled at least nine shutouts, including two by individual pitchers, at this point in the season (111th game)? 1998, of course.
The offense was powered by some timely hitting in the early innings and a couple late homers from Gleyber Torres and Neil Walker. For Torres it was his 18th dinger of the season, tied for the third-most by an American League rookie second baseman all-time.
Most HR by AL Rookie 2nd Baseman

| | Year | HR |
| --- | --- | --- |
| Joe Gordon | 1938 | 25 |
| Alexei Ramirez | 2008 | 21 |
| Gleyber Torres | 2018 | 18 |
| Alfonso Soriano | 2001 | 18 |
| Tony Lazzeri | 1926 | 18 |
Yes, four of the five on that list wore Yankee pinstripes in their rookie campaigns.
Lance Lynn helped to stop the bleeding as he produced a historic outing in his first career start for the Bombers, allowing zero runs over 7 1/3 innings. Lynn is the third Yankee in the last 25 seasons to throw at least seven scoreless innings in his starting debut for the team, joining Jose Contreras (2003) and Mike Mussina (2001).
But Lynn was even more dominant, giving up just two hits and one, and earns our #FunFact of the game: He is the only pitcher in franchise history to pitch at least seven innings, allow zero earned runs and no more than three baserunners in his first start as a Yankee.
Plus, combined with his clean 4 1/3 inning relief appearance last week, he is the second pitcher in the last 100 years to start his Yankee career with consecutive games of four-or-more scoreless innings pitched. The other was Allie Reynolds, who threw back-to-back shutouts in his first two games as a Yankee in April 1947.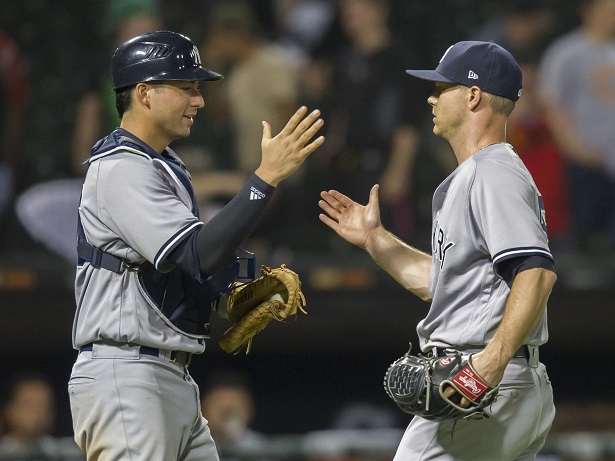 Miggy, Sonny to the rescue
The Yankees avoided what would have been their second demoralizing and disastrous loss in three nights by surviving a 13-inning, crazy 4-3 win on Tuesday. They improved to 18-12 in games decided by one run this season, matching their win total from all of last year (18-26).
The game started as an unlikely pitchers duel between CC Sabathia and Reynaldo Lopez, and ended with an even more unlikely pitching hero on the mound, relief ace Sonny Gray.
Sabathia was in vintage form, using his changeup/slider/cutter mix to get a whopping 22 whiffs, his most in any start since June 7, 2012. Thirteen of those 22 came via his signature cutter, easily the most swings-and-misses he's ever gotten with that pitch in a game since he added it to his arsenal a couple years ago. He was pulled at a season-high-tying 103 pitches after striking out 12 batters in 5 2/3 innings pitched:
Most Strikeouts in AL History:

Roger Clemens 4,167
Walter Johnson 3,509
Nolan Ryan 3,355
Bert Blyleven 3,179
CC Sabathia 2,817
Mike Mussina 2,813

— Katie Sharp (@ktsharp) August 8, 2018
And let's celebrate Sabathia's tremendous outing with some #FunFacts:
Second-oldest Yankee (38 years, 17 days) to strike out at least 12 guys in a game, behind only Roger Clemens, who had two 13-K games at the age of 39 in 2002.
Last lefty as old Sabathia on any team to have 12 strikeouts in a game was a 44-year-old Randy Johnson for the Diamondbacks in 2008.
Last southpaw age 38 or older with a 12-plus-strikeout game in the American League was Thornton Lee, who had 13 strikeouts for the White Sox on June 12, 1945 against the Indians.
The offensive hero of the game was Miguel Andujar who made sure the fans got free baseball when he crushed a game-tying solo home run in the seventh inning. Andujar (15) and Gleyber Torres (18 homers) are the first set of Yankee rookie teammates ever to hit at least 15 homers in the same season.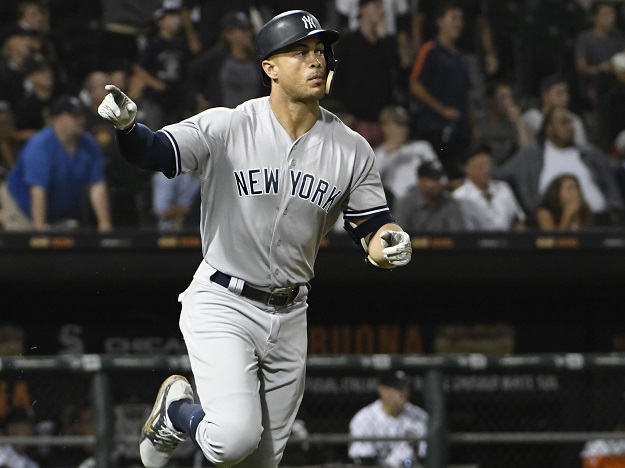 Giancarlo Stanton gave the Yankees a brief 3-1 lead with a two-run homer in the top of the 10th. But that advantage soon vanished in the bottom of the frame when Zach Britton picked the absolute worst time to give up his first career extra-inning home run, a game-tying two-out, two-run shot by Jose Abreu (who enjoyed rounding the bases after his first career extra-inning blast).
Britton's meltdown earns him our Obscure Yankeemetric of the Series: he is the first Yankee to cough up a game-tying home run in extra innings since Bud Daley on June 10, 1964 against the Red Sox.
Andujar rescued Britton from being the goat with his go-ahead RBI single in the top of the 13th, his first career RBI and fourth hit in extra innings. His four extra-inning hits are the most in a season by a Yankee age 23 or younger since Derek Jeter (5) in 1997. Following Tuesday's game, Andujar was hitting .406/.429/.563 in high-leverage plate appearances per Fangraphs, compared to the league-average line of .242/.323/.385.
Finally, the unlikely pitching savior was Gray, who took over in the 11th and threw three scoreless innings with one walk and one hit for the win. And one more #FunFact to praise Mr. Gray: the last Yankee pitcher to earn a win on the road by getting at least nine outs in extras while allowing no more than two baserunners was Mariano Rivera on May 20, 2006 in Detroit.
Return of Sevy Strong
Thanks to a solid, bounceback effort from Luis Severino and a game-changing bases-loaded bomb from Giancarlo Stanton, the Yankees finished off the three-game sweep with an easy 7-3 victory. They are now 19-5 (.792) vs the AL Central this season, the best record by any AL team against an AL division and any NL team against an NL division.
Severino — who entered with the worst ERA in the majors over the last 30 days (9.00) among players with at least 20 innings pitched — had a rocky first inning, allowing two runs on three hits. That followed a concerning trend for Sevy over the past month:
Luis Severino 1st Inning This Season:

Last 5 starts – 8 runs, 13 Hits, 28 batters faced
First 19 starts – 3 runs, 8 Hits, 73 batters faced

— Katie Sharp (@ktsharp) August 9, 2018
But he locked in and flipped the script after the rough opening frame, retiring 11 in a row at one point. He finished with three runs allowed, eight strikeouts and no walks in seven innings, his his best outing since July 1. Severino's slider was filthy, falling off the table and out of the zone, generating a bunch of silly swings:
Luis Severino, Filthy 87mph Slider. ? pic.twitter.com/wybuubq0oX

— Rob Friedman (@PitchingNinja) August 9, 2018
He threw 45 sliders and matched a season-best with 11 whiffs via the pitch, one more than he had in his previous two starts combined.
Giancarlo delivered the big blow in the second inning, snapping a 2-2 tie with his first grand slam as a Yankee. Before Wednesday, his last homer with bases loaded was April 18, 2014, a walk-off slam against the Mariners. He's the first Yankee with a tie-breaking grand slam against the White Sox since Tino Martinez on July 16, 1997. Hooray.