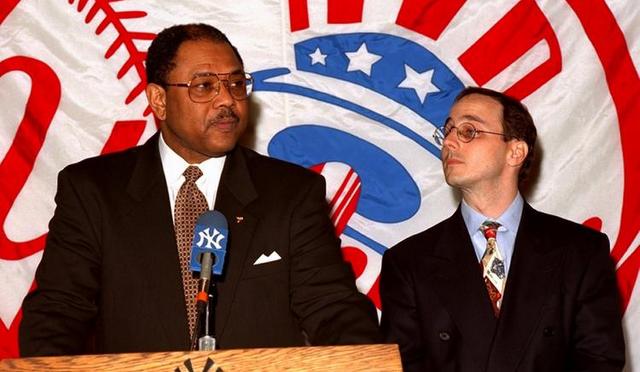 Less than a month before the start of Spring Training, the Yankees suddenly found themselves without a general manager in 1998.
Bob Watson, who became the first African-American general manager in baseball history with the Astros in 1993, resigned from his post with the Yankees in early February because he felt his role had been diminished within the organization. He joined the Yankees in October 1995 and was at the helm for the 1996 World Series title.
"Everybody knows Mr. Steinbrenner is a hands-on guy," said Watson to reporters after his resignation was announced. "I know that. It's his club and it's his prerogative. We'll just leave it at that."
Watson, like most people who worked for Steinbrenner, had a difficult relationship with The Boss — a few weeks before resigning, Watson joked "little people that run around (George's) head are his baseball people" — but those close to him felt Watson was simply burnt out. He didn't want to be a general manager anymore.
"He knows and I know I'm not an easy guy to work for," said Steinbrenner to Buster Olney. "If he doesn't want to work for me, he shouldn't have to do that. I want to know that Bob is happy. I'm all for him, and I hope he has a great career in television. I don't think this is as big a story as anybody is making it out to be."
There were rumblings Watson would join ESPN to do broadcast work, though he instead landed in MLB's executive offices as vice president in charge of discipline, rules, and on-field operations. Either way, Watson was gone, and the Yankees were without an experienced general manager.
* * *
"I want to introduce you to Brian Cashman … Someday you'll all be fired and he'll be the general manager of the Yankees," said Steinbrenner, according to S.L. Price, when he first hired Cashman in 1989 and introduced him to his baseball operations brain trust, which included Gene Michael, Dallas Green, Syd Thrift, and others. The room laughed.
For a long time — a very long time — people tried to diminish Cashman's role in the Yankees' success by saying he inherited a great team from Watson and Michael. He inherited the (groan) Core Four. He inherited Bernie Williams. He inherited Paul O'Neill and Tino Martinez and David Cone and lots of others who were key members of the late-1990s dynasty.
And you know what? It's true. Cashman did inherit that team as general manager. He couldn't have walked into a better situation. What gets overlooked (or ignored) is Cashman's role in building the team he inherited. Cashman did not join the Yankees from outside the organization. He'd been with the team for a decade prior to becoming general manager.
Cashman started with the Yankees working in the scouting department during the day and security at night. He climbed the player development ladder under then farm system head Brian Sabean, when all those core players were minor leaguers, and he spent four years as an assistant general manager under Michael and Watson. To pretend he didn't have a hand in building the roster he'd inherited as general manager is folly.
* * *
At the time he was hired, the 30-year-old Cashman was the second youngest general manager in baseball history. And he was about to walk into a situation that drove Watson, a grizzled old school baseball lifer, away from the Yankees and into a cushy job with MLB. Cashman knew what he was getting into though, because he'd worked for Steinbrenner for a decade.
"I'm working on it. We're in talks and we have a lot of things going on. I'm not going to guarantee it's going to happen," said Steinbrenner to Buster Olney when asked about the Chuck Knoblauch trade talks. That was the day Watson's resignation was announced and Cashman took over. George made it clear who was running the show.
The Knoblauch trade was completed three days after Cashman officially took over as general manager. A month later Cashman helped push the Orlando Hernandez signing to the finish line. And that was pretty much it as far as big moves for the 1998 Yankees. The team Cashman inherited — the team he helped build under Sabean, Michael, and Watson — was incredible and they didn't need help. Cashman passed on Randy Johnson at the trade deadline and the Yankees won the World Series anyway, with him watching from the stands in San Diego.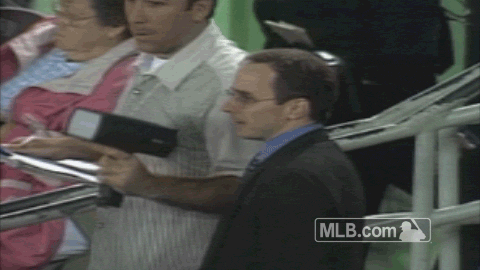 In a weird way, Cashman's first season as general manager was pretty uneventful. There were no roster crises, no rumblings of a managerial change, and the team won so much that Steinbrenner had nothing to get angry about. Couldn't have asked for a better situation. Things could've gone haywire though. The general manager resigned right before Spring Training and a 30-year-old rookie replaced him? Steinbrenner took a chance, and that chance continues to reward the Yankees to this day.
"The Boss said to me, 'I have talked to enough people that tell me you can do this. I can go outside the franchise and recycle somebody who's done this job before, bring them in and plug and play. But I have talked to enough people that I respect and they said you can do this,'" Cashman said last month, after introducing Aaron Boone as the next Yankees manager. "He took a chance on me in 1998."