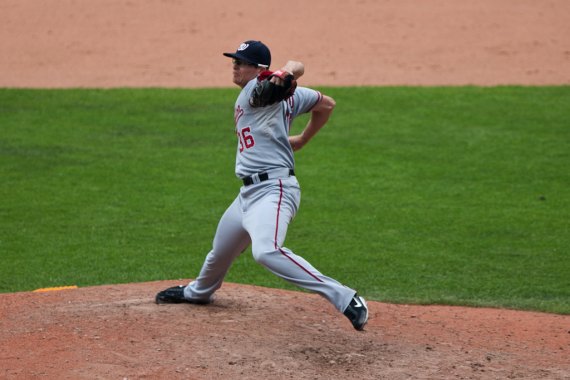 Last year, as he continued his ascension as one of the league's better setup men, Tyler Clippard earned a reputation. He cruised through the first half of the season with a remarkably low ERA, but he had a knack for allowing inherited runners to score. The Nationals' offense also had a knack for scoring runs just after Clippard had blown a lead. That led to an 11-win season for a guy who pitched just 91 innings, all in relief and mostly in late relief. It begat the term, clipping a win, in which a reliever blows a lead but the offense gives him the win anyway. Last night he was at it again, facing one batter in the All-Star game and allowing a single, but benefitting when Hunter Pence gunned down Jose Bautista at the plate to end the inning. Prince Fielder homered in the bottom half of the inning, and so Clippard was awarded the W.
Only the youngest of fans doesn't remember Clippard's time with the Yankees. He was a 9th round draftee in 2003, and he quickly established himself by striking out a batter per inning or more through his first four seasons in the minors. His stuff wasn't overpowering, but he mixed pitched and employed enough deception to fool minor league hitters. In 2006 he even tossed a no-hitter, which elicited this juvenile response from some amateur hack. Baseball America rated him the Yanks No. 7 prospect before 2007, right behind Joba Chamberlain and Ian Kennedy. It was during the 2007 that he got his first taste of the show.
The Yankees had plenty of pitching problems that year, and by mid-May they absolutely needed a starter. Clippard was struggling in the upper minors — he had a 4.50 ERA between AA and AAA that year — but a need is a need. Clippard came up to start a Sunday night game against the Mets, and he got through it as well as anyone could have hoped: six innings of one-run ball, including six strikeouts. That earned him a longer look, though his next few starts didn't go as well. After a failure in his repeat performance against the Mets — 3.1 IP, 5 R — the Yankees sent him back down to the minors. About six months later, he was no longer on the team.
That September the Nationals put on display one of their lesser regarded pitching prospects, Jonathan Albaladejo. He made a quick impression, striking out three in 1.2 innings in his debut appearance. He pitched very well that month, allowing just three runs while striking out 12 and walking just two in 14.1 innings. This came after he tore through AAA in a mid-season promotion. The Yankees, wanting to cash in while they could on Clippard, thought they could get a quality major league reliever in Albaladejo, and so made the swap that December.
Albaladejo definitely impressed the Yankees brass, as he broke camp with the team in both 2008 and 2009. There were circumstances involved in both instances, and he was soon after optioned to the minors. But they still liked his stuff, especially his sinking fastball. But with the results not coming, they had little choice but to stash him in the minors. Even in 2010, as he dominated as Scranton Wilkes-Barre's closer, they hesitated to call him up. When they finally did they saw more of the same: not enough strikeouts, too many walks. After the season they released him and allowed him to sign with a Japanese team. His final tally as a Yankee: 59.1 IP, 4.70 ERA, 5.21 FIP, -0.2 WAR.
After the trade Clippard had his own set of struggles. He returned to AAA for the Nationals in 2008, and in 26 starts he produced a 4.66 ERA, which was in part because he walked far too many batters. This was a problem he faced in 2007 as well, making it seem like a longer-term issue. It didn't help that he walked seven in 10.1 innings (two starts) during a brief call-up. He still had some promise, but things didn't look optimistic. He was a guy with average, at best, stuff, and he couldn't control it.
After the season the Nationals shifted him to the bullpen, and that's where he began to shine. He pitched 39 innings in AAA in 2009, allowing just four earned runs while striking out 42 and walking 15. Something had apparently clicked. In late June they called him up to the big league club, and he never looked back. He continued to walk a ton of batters, but he compensated by striking out more than a batter per inning. A .197 BABIP helped get him through 2009, but in 2010 that went up to .284 and he was still reasonably effective: 3.07 ERA and 3.18 FIP in 91 innings. This year he's been even better, lowering his walk rate by nearly a batter per nine while maintaining an 11 per nine strikeout rate. His 1.75 ERA is aided by his .184 BABIP and an astounding 99.4 percent strand rate, but by all means he has gotten the job done.
In the excellent interview with NoMaas, Yankees VP of Baseball Ops Mark Newman said of Clippard, "The mistake we made was not seeing what [he] looked like in the pen." It's an understandable mistake, but it's one that the Yankees probably won't make again. Even the Nationals continued to view him as a starter for another year following the trade. It wasn't until he had completely disappointed everyone in that role that they tried him as a reliever. Sometimes, that type of move sticks. The Yankees absolutely lost out on this trade, even though it seemed like a minor one at the time.