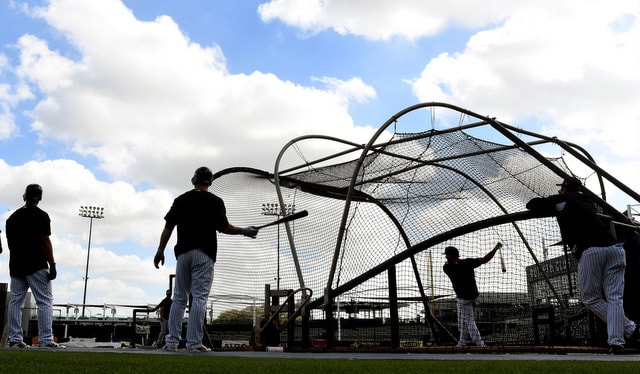 In the surest sign Spring Training is fast approaching, the Yankees announced their list of non-roster invitees earlier today. The farm system has thinned out — most of the prospect star power is in the lower minors — and, as a result, the non-roster list is largely devoid of big name youngsters. Lot of journeyman and minor league depth guys. So it goes.
As a reminder, all players on the 40-man roster will be in big league camp automatically. That includes notable prospects like Albert Abreu and Domingo Acevedo. Here are the 21 non-roster invitees:
PITCHERS (10)
LHP Rex Brothers
LHP Nestor Cortes
RHP Cale Coshow
LHP Danny Coulombe
RHP Raynel Espinal
RHP Danny Farquhar
RHP David Hale
RHP Drew Hutchison
RHP Mike King
RHP Brady Lail
CATCHERS (4)
Francisco Diaz
Kellin Deglan
Ryan Lavarnway
Jorge Saez
INFIELDERS (3)
1B Mike Ford
SS Kyle Holder
3B Gio Urshela
OUTFIELDERS (4)
Trey Amburgey
Billy Burns
Estevan Florial
Matt Lipka
The Farquhar, Hale, Lavarnway, Saez, and Urshela minor league contracts are now official. The Brothers, Coulombe, Hutchison, Burns, and Lipka deals had been previously announced. Also, Lail and Deglan are back on minor league contracts. Both became minor league free agents after last season and have rejoined the team.
Florial and King are the two headliners among the non-roster invitees. Florial is the top prospect in the organization (at least in my opinion) and King was last year's breakout pitcher, climbing three levels to reach Triple-A and put himself on the cusp of a big league call-up. I don't think King has much of a chance to make the Opening Day roster but he could put himself in position to be the first starter called up when a need arises.
Last week I predicted 22 non-roster invitees. I didn't have Deglan, Hale, or Saez on my list because they were not in the organization at the time, and I had Coshow and Ford on the outside looking in. Righties Nick Nelson and Clarke Schmidt are the two notable prospects who I thought would get a non-roster invite but didn't. Schmidt is understandable because he's just back from Tommy John surgery. Nelson? Dunno. Guess the Yankees don't think the big stuff/poor command righty is ready for big league camp.
The Yankees currently have two bullpen spots and one bench spot up for grabs. I think Tommy Kahnle and Luis Cessa are the front-runners for the two bullpen spots. Not sure about the bench spot. Could be Greg Bird, Clint Frazier, Tyler Wade, one of the non-roster guys, or a player yet to be acquired.