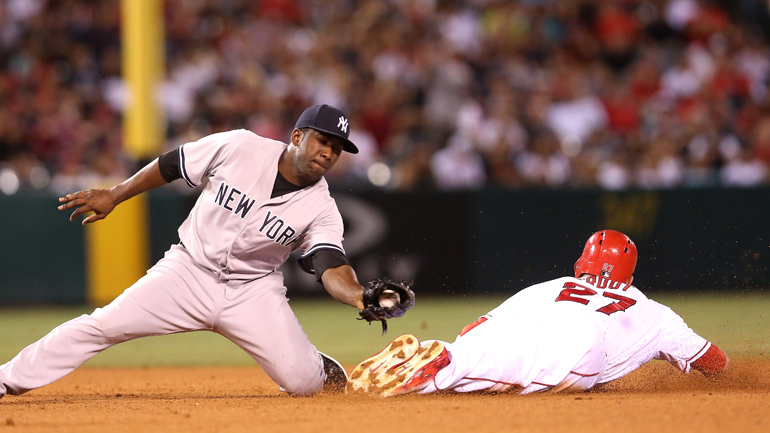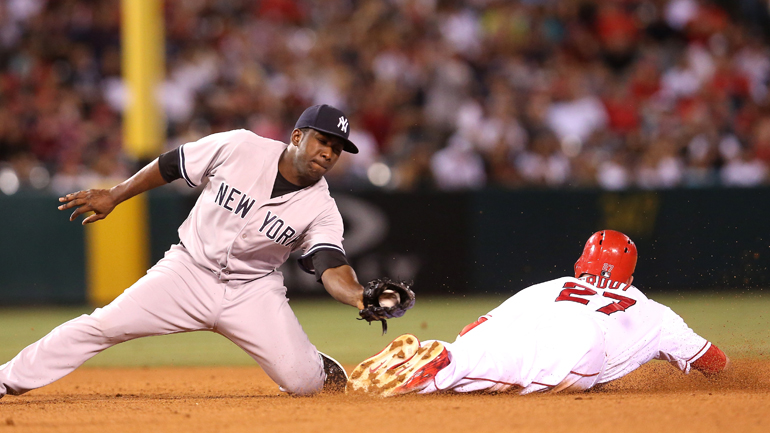 Gone fishin'
It's rare when you can say you were beaten by one guy in a baseball game — but that wasn't too far from the truth for the Yankees in Monday's loss to the Angels.
Mike Trout not only drove in the game-winning run for the Angels, but his defense also saved at least three extra-base hits, which potentially could have resulted in three-or-more runs scored by the Yankees. After his 1-for-3 night with a homer, Trout raised his career OPS against the Yankees to 1.078. Since 1914, the only players with a higher OPS and at least 100 plate appearances vs. the Yankees are Ted Williams (1.103) and Babe Ruth (1.100).
CC Sabathia pitched okay (7 1/3 IP, 4 R) and took the loss, falling to 3-8 with a 5.59 ERA for the year. With roughly two weeks until the All-Star break, there is a very good chance he'll become the first Yankee to finish the first half of the season with at least eight losses and an ERA above 5.00 since Tim Leary (4-8, 6.30 ERA) in 1991.
The Angels managed to figure out how to get Brett Gardner out — twice — but he still continued his hot streak with another three-hit night that included two doubles, giving him these ridiculous numbers in 25 June games: 38 hits, five homers, 11 doubles, two triples. He's the first Yankee to reach each of those totals in a single calendar month since Joe DiMaggio in August 1946.
Dead bats society
This road trip has not been kind to the Yankee bats, which once again fell silent in Tuesday's 2-1 loss. For the second time in three games, they were held to just two hits — the first time that's happened to the (not) Bronx Bombers since June 6-7, 1990.
It is the first time the Angels have given up no more than two hits to the Yankees since May 23, 1995 when Chuck Finley threw a 15-strikeout, 2-hit shutout in California. Oh, and that also was the major-league debut of a 25-year-old pitcher named Mariano Rivera.
Mark Teixeira drove in the only run of the game with his 19th homer of the season. In the three other years he had at least that many homers before July 1, he ended up with home run totals of 39 (2011), 39 (2009) and 43 (2005).
Nasty Nate on a roll
With their 3-1 win over the Angels in the series finale, the Yankees not only avoided being swept in Anaheim for the first time since 2009, but they also escaped becoming the first Yankees team since 1926 to lose four straight games while scoring no more than one run in each game. Phew.
Despite winning just one of the three games in this series, the Yankees actually out-hit the Angels with runners in scoring position. Somehow the Angels went 0-for-23 while the Yankees barely edged them by going 4-for-21 in those situations.
We have a developing story, folks: Nathan Eovaldi is now 3-0 with a 2.08 ERA in his last three starts after pitching 5 1/3 scoreless innings on Wednesday night. He is the first Yankee to throw at least five shutout innings and get a win at Angel Stadium in more than a decade. The last guy to do it was Roger Clemens on July 30, 2003. Yup, Clemens and Eovaldi, that's why we love baseball.