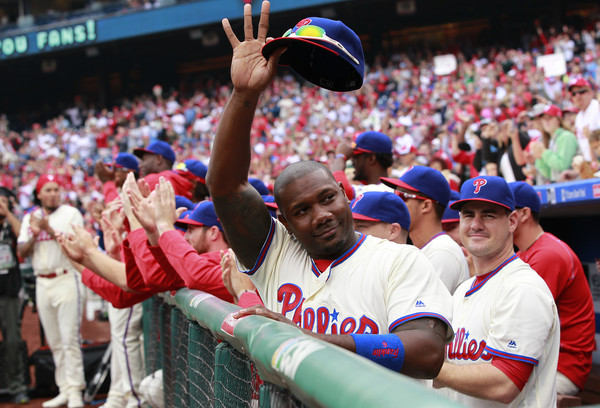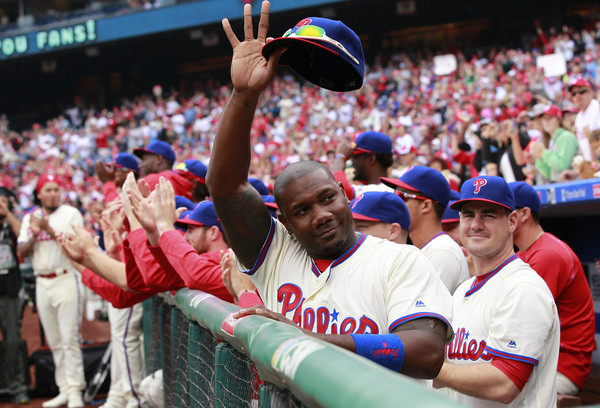 Hi everyone. Just to introduce myself, I'm a 23-year-old Penn grad from New Jersey. As Mike mentioned on Wednesday, I interned at The Players' Tribune a couple summers ago. I've been following RiverAveBlues since 2008 and have been a Yankees fan for much longer. I also write at CSN Philly, so fittingly my first post here is about a former Phillie.
In under three weeks, the Yankees will be reporting to Spring Training. Based on comments from Brian Cashman and the general Yankees vibe of the last couple years, it's unlikely they'll make another major addition prior to camp, particularly with the team's mandate to get under the luxury tax line in the next couple seasons.
However, there's always room for guys who would come in on minor league deals with camp invites. One of the biggest names who is likely amenable to this arrangement is former NL MVP Ryan Howard. The 37-year-old first baseman is a far cry from that MVP season and he received a farewell from the Phillies at the end of last season, but he is not retired. Ken Rosenthal profiled him as he's working to prove himself and stay in the game, hoping to find a part-time 1B/DH job in the American League. Could the Yankees use him? Time to examine that question further.
Offensive Performance
You're not getting 2006-2011 Ryan Howard. For that six-year stretch, he averaged 33 home runs and 133 RBI with a 139 OPS+. During that stretch, Howard was a cornerstone for the Phillies' playoff runs and 2008 World Series title. He was the NLCS MVP in 2009, although it's hard to forget Damaso Marte's dominance of him in the 2009 World Series.
So what is Howard now? He is no longer a full-time player, in large part because he can no longer hit left-handed pitching. He always had a platoon split, but it has become more dramatic as he's aged. In 2016, he had -4 OPS+ against lefties in just 35 plate appearances, hitting an unseemly .121/.143/.212 (-14 wRC+). Simply put, if Howard is playing for the 2017 Yankees and getting significant playing time against lefties, something has likely gone seriously wrong.
And there's a lot from his 2016 season to dislike. Specifically, the first two months. They were dreadful. Howard looked like a beaten down version of himself and it seemed like last season was the end of the road. In April and May, he struck out in over a third of his 158 plate appearances. May 2016 was probably the worst month of his career, sporting a .421 OPS and a 6 wRC+.
After the Phillies called up their first baseman of the future, Tommy Joseph, Howard was demoted into a part-time role and began to thrive when the calendar flipped to June and July. He still struck out a fair amount in the second half (30.3 K%) but his .262/.324/.608 (142 wRC+) performance in that time was a throwback to the Howard of old. During that period, his hard contact and line drive percentages perked up. He finished the season with 25 home runs, his third straight season with at least 23.
Statcast gives more reason to believe that Howard's second half is real. On 207 batted-ball events, Howard had 33 barrels, or highly well-struck balls essentially, good for 9.1 percent of his plate appearances. That is 10th in all of baseball last year, one spot behind Giancarlo Stanton (Gary Sanchez is third). His exit velocity was 92.5 mph, tied for 3rd in the majors. Power is Howard's calling card and even with his struggles, that's one thing he is sure to provide.
Here's his spray chart heat map from last season via Baseball Savant. He pulls the ball on the ground a lot and a little less in the air, but he'd still benefit from the short porch. As with many lefty power hitters, he deals with the shift a fair amount.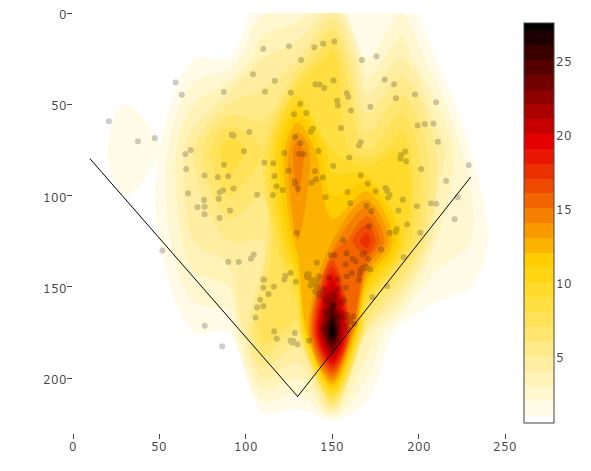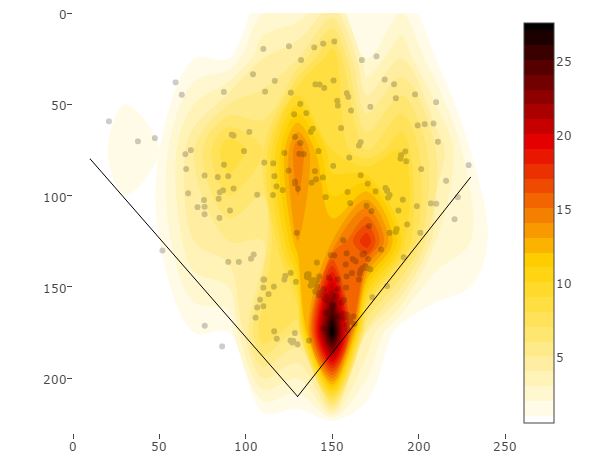 As you may have guessed, his base running is well below average, even for a first baseman. His age doesn't help, nor does the Achilles' injury he suffered in 2011 (more on that below). He hasn't stolen a base since 2011. Even before his injury, he was consistently a net negative on the base paths and that would certainly continue in 2017.
Defensive Performance
Just like on the bases, Howard's speed, or lack thereof, hurts him in the field as well. Looking at FanGraphs' Inside Edge Fielding for the last four seasons, Howard makes almost none of the plays rated unlikely to impossible and gets just 42.3 percent of the plays rated about even. Bird had similar numbers in his 2015 stint, but in a 10th of the sample size.
For first basemen with at least 1000 innings over the last four seasons, Howard is 39th out of 43 players in UZR/150 innings. Howard's arm is rated poorly and he had a below average season in 2016 at coming up with scoops. He's certainly no Mark Teixeira. Ultimately, playing him in the field is not a desired outcome. He'd ideally be a DH for any team, but his bat could make up for his first base deficiencies.
Injury History
Howard has spent parts of four seasons – 2007, '10, '12 and '13 – on the disabled list. The most famous and significant injury was his Achilles tear in the final at-bat of the Phillies 2011 NLDS Game 5 loss to the Cardinals. He didn't return until July the next season.
After the Achilles injury, he clearly lost a step, evidenced by his lack of stolen bases, not that he was fleet of foot to begin with. He's actually been pretty healthy in recent seasons, partly thanks to a reduced role. If he is in a platoon role at first base and DH, his health shouldn't be too much of a worry.
Miscellaneous
I feel I'd be holding out on you if I didn't show you 
Howard's workout video
from this offseason. His personal trainer begins it by saying his goal was "not to create a better baseball player, but to create a superhuman who also happens to play baseball" with an amused Howard looking on. Despite the hilarious quote, the video is actually a good peek into Howard's workout routine and his viewpoint on his 'breakup' with the Phillies. Take a look.
Contract Estimates
The Phillies declined their $23 million team option for 2017, buying Howard out for $10 million. Overall, Howard received $135 million over the last five seasons. Not bad.
As mentioned at the outset, Howard's likely looking for a MiLB deal with a camp invite. Likely one including an opt-out date towards the end of the spring.
Does He Fit The Yankees?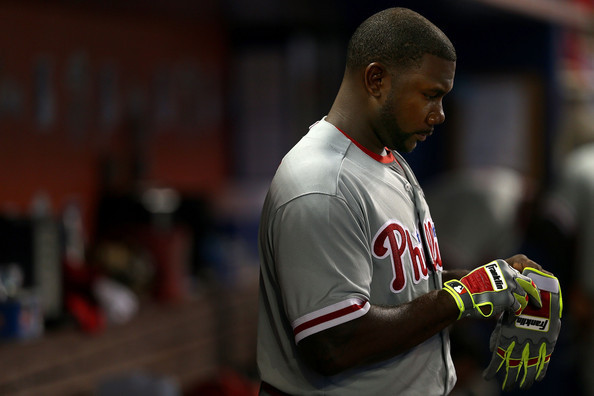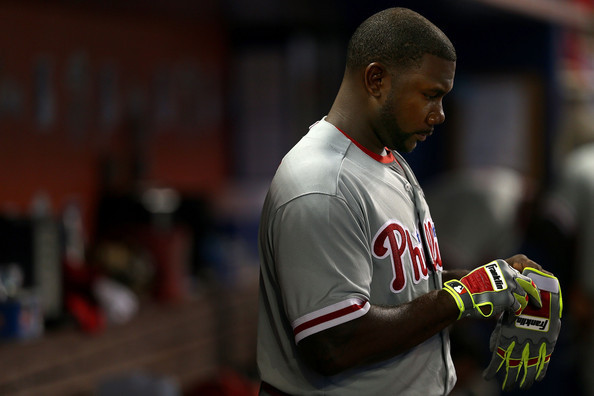 At first glance, the answer is no. If Greg Bird is hitting in spring training and looks like he did prior to his shoulder surgery, the answer is almost definitely no. But if Bird isn't quite himself or the team determines he needs more time in AAA, well, then it gets a bit tricky. Tyler Austin could certainly take the first base job, but the Yankees very well may decide in that scenario to platoon him with … you guessed it, a veteran like Howard.
A DH platoon with Matt Holliday doesn't make sense in terms of roster flexibility. Two players that can essentially only DH and pinch hit? Not optimal. Then there's the fact that Holliday has almost no noticeable split and, in fact, has had years with reverse splits.
Howard, in theory, could accept AAA assignment and get brought in if the Yankees dealt with injuries at first, but it's doubtful "The Big Piece" would take that demotion, even if it means returning to where he career took off (Scranton was the Phillies' AAA affiliate when Howard rose through their system). The Yankees also signed 1B Ji-Man Choi to an MiLB deal that'll likely mean Choi will be Scranton's first baseman.
So Howard would have to earn his spot in the spring and Bird would likely have to lose it. With Howard, you want to catch lightning in a bottle, hoping that he can be like another Phillie position player turned Yankees DH. Howard's 2016 second half may have just been a mirage, but a camp invite is probably worth the chance to determine whether that's true.