When someone — a blogger, a mainstream pundit, a random schmuck in a forum — suggests immediate moves for a team following a harsh string of losses, it seems like a knee jerk reaction. This is especially true in New York, where panic sets in at the first sign of trouble. Those among the outraged may embrace these change-driven thoughts. Those who consider themselves "level-headed" and "reasonable" might write off these ideas as unreasonable reactions from emotionally-driven people.
To the latter group, I say: what about this Yankees season has gone well? Very little (I answer my own rhetorical). So what makes you think that just standing still will magically make things better?
Ben touched on these problems earlier. I'm going to expand upon them. With the day off today, I have to think that Cashman is going to do something. Then again, I thought he'd do something weeks ago.
Problem: The outfield
Coming into the year, we thought we had a solid tandem. While not the most powerful outfield in the world, we expected plenty of production from Matsui, Damon, and Abreu. There was little reason, other than their age, not to.
What we've ended up with is one of the worst outfields in the league. Abreu's 5-week slump was a big factor in the team's May slide. Matsui has been good, but far from consistent. And we all know the story with Damon (at risk of sounding like a broken record: DL HIM NOW). We also thought we had one of, if not the best fourth outfielders in the league, but Melky took over a month to settle in, and still hasn't been able to nearly match last year.
And people wonder why we want Milton Bradley. Yes, we understand the injury risk. Yes, we understand his attitude. But we also understand that our outfield could use an upgrade in the worst way, and Bradley is a quality bat with good range in the field. No, he's not going to sock you 30 homers, but he'll keep his OBP at a reasonable level and his his share of homers and doubles. He's also low risk: he won't take much in a trade (this guy got the job done for KC before the trade was nixed), and he's a free agent after this year. However, we also understand that Billy Beane isn't an idiot, and probably won't trade Bradley to the Yanks.
What to do, then? Playing Kevin Thompson more isn't the answer. I like him and all, but not enough to hand him an everyday job. Brady Clark is a free agent, though his agent claims that he's looking for a steady role (i.e., starter or platoon). The only problem is that after just two years of above-average baseball (at ages 31 and 32), Clark really fell off at age 33, and stated off terribly at age 34 (which led to his release, though he only managed 58 AB). He's probably not the answer, but he's at least worth a look.
Other than that, we're pretty stuck. Calling up Bronson Sardinha doesn't seem as attractive as it did during Spring Training (he's currently hitting .217/.315/.372 at Scranton). However, calling up Shelley Duncan and his .972 OPS is still an option, especially if Damon rightfully hits the DL. If nothing else, that would give them a decent option at DH.
A reasonable proposal: DL Damon, call up Shelley. Nothing else seems like it would work.
Bullpen
We've long been saying that the bullpen needs a serious makeover. That notion was quelled a bit during the Yanks run a few weeks ago, but the problem has resurfaced now that they've come back to earth. The starters simply aren't going to give you seven or eight innings every time out, so you have to shore up the bullpen so that you can actually keep leads — or at least minimize additional damage.
The problem right now with jettisoning bullpen parts is once they're gone, they're gone for good. By that, I mean that they'll either be traded or placed on waivers. There isn't one member of the current bullpen, I believe, that can be demoted to the minors (it looks like Bruney has been optioned thrice, but I remember rumblings that he could have started the season with Scranton, so he might be eligible for demotion to Scranton). Considering how poorly the bullpen has pitched this season, this is precisely why we haven't seen any major moves. You don't want to panic and sell early when the replacements are far from guarantees.
Luis Vizcaino used to be No.1 on our shit list, but his June has made us think that he just might a serviceable part. Maybe not the 8th inning guy, but someone who can step in in the 6th or 7th and get a few outs. After starting off the month with a 7.27 ERA (and an atrocious 9.00 ERA in the month of May), he's brought it down to 5.35 with a 0.82 ERA in June. The only problem, as we see it, is that he's walked seven to nine strikeouts this month, revealing that he may be getting as lucky in June as he was unlucky in May.
Ron Villone, however, is just plain bad. He has completely lost any ability to strike out hitters (he has three on the year, all coming in one game — 2.2 innings — against the Angels on May 25). He doesn't throw strikes consistently, and it's difficult to trust him for even a full inning. He's not destroying the 'pen, but that's merely because he's so rarely used. He needs to go. Now.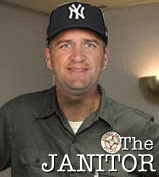 Mike Myers is a strange case. He's a lefty specialist who has a .793 OPS against vs. lefties and a .547 OPS against vs. righties. This isn't really new, though: he posted a .730 OPS against vs. lefties last season. His .631 OPS against vs. righties would suggest that he's getting a bit lucky against them this year. He does a decent job in mop up duty, but if the Yanks are going to do anything this year, they won't be needing a mop up man. This is a strict recommendation to DFA him now and bring up someone more versatile.
A reasonable proposal: DFA Myers and Villone, immediately. I'd give Farnsworth and Vizcaino a stay of execution, mainly because they've been valuable in the past. Of course, I'd start shopping them, but wouldn't pull the trigger unless I was sure. How would I be sure? By the performance of the replacements for Myers and Villone: Edwar Ramirez and Chris Britton. Yes, that leaves the pen lefty-less, and the likely Yankees solution would be one of the above plus Sean Henn. Either way, they can't be as bad as the other two. If those guys pitch well, then you pull the trigger on a Farnsworth and/pr Vizcaino deal and give the other Scranton relievers a shot. Jim Brower is among them; he may be 34, but he's allowed just six runs over 24.1 innings in Scranton, and four of them came in his only lousy appearance for them. Chant it with me, people: Aa-ron Small. Aa-ron Small.
(Update: According to Chad Jennings, beat writer for the SWB Yankees, we might not be seeing Edwar anytime soon.)
First base
We make no secret about it: we hate Miguel Cairo at first. We hate Andy Phillips there, too, but just slightly less than Cairo. Either way, we're playing with a significant hole in the lineup (both are best suited for reserve roles, if any in the majors). It's not like Cashman is going to pull a real first baseman out of thin air, and snagging one in a trade doesn't seem likely until we're closer to July 31.
I know it's crazy, but I'm actually missing Mientkiewicz right now. But we're going to have to wait a few weeks still to even hear rumblings of his return. It's going to happen, though, which is probably the reason for Cashman's reluctance to make any real change to the position. Well, that, and the fact that there isn't much he can really do.
A reasonable proposal: While I'd love to see a cheap-o deal swung for Scott Hatteberg or Russ Branyan, I don't see the Yanks adding another lefty first baseman when one is due back from the DL in a few weeks. The call-up of Shelley Duncan would make for a more flexible move (he can play the OF, 1B and DH). Right now, that may be the only move.
Think about it
Wouldn't you like to see the Yankees make just one of these moves today?
Last 7 Days
Alex: .545/.643/.818
Jeter: .348/.423/.609
Posada: .304/.385/.348
Melky: .348/.360/.609
Cairo: .200/.294/.267
Cano: .280/.280/.360
Matsui: .167/.222/.333
Abreu: .125/.160/.208 — Back to killin' us, though the effect on A-Rod is negligible