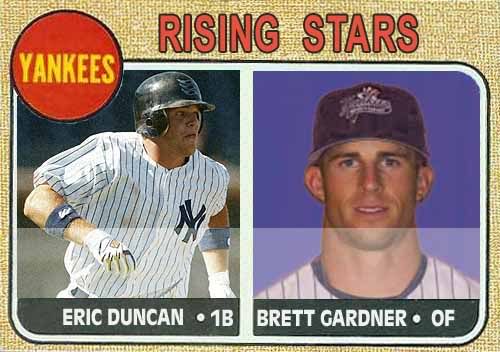 The highest profile winter league out there, the Arizona Fall League, has released it's 2007 rosters. Each club sends 7 players to the hitter's haven, a league were small ballparks, favorable weather and inexperienced pitchers leads to lots and lots of offense. Heck, Eric Duncan won the AzFL MVP 2 years ago, and Brett Gardner hit a homer there last year, so that should tell you just how offensive the league is.
Gardner will be making return trip this year, and joins Steven Jackson, Ross Ohlendorf, Kevin Whelan, Steven White, Reegie Corona & some guy named Juan Miranca on the Peoria Javelinas. Double-A Trenton manager Tony Franklin will also make the trip and call the shots for the Javelinas. Here's a rundown on some of other top prospects heading to the Desert.
I originally thought that the Yanks would send the biggest bust in team history, aka Phil Hughes, to the AzFL to catch up on some innings, but it doesn't look like it'll happen. Hawaii is still a possibility; I just hope they send him somewhere to pitch this winter after missing so much time.