As commenter barry notes, we seem to be getting some ads for Yankees and Mets ringtones. Now, I have no clue what these ringtones are — possibly "New York, New York" for the Yanks and "Meet the Mets" for our cross-town rivals, but beyond that, I'm not sure what else they could do. But that's not what has me scratching my head. Check out the Mets ringtones ad: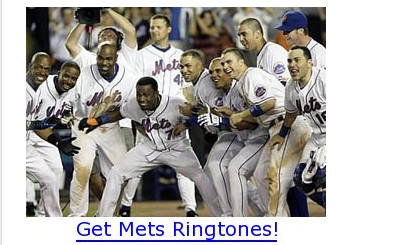 They're all gathered around the plate, apparently awaiting whoever hit a walk-off homer. Everyone looks excited, but more importantly, almost everyone is there. Reyes, Beltran, Wagner, Delgado, Wright…hell, I even see LoDuca off to the right.
Now let's look at the Yanks ad:
So we get Johnny Damon slapping hands with…Nick Green. What the hell? And Melky's in the middle of it, looking as awkward as we've ever seen him — well, without a bat in his hands, at least. And is that a camera dude in the background? He kinda reminds me of Bob Golic.
Seriously, who's going to buy Yanks ringtones when Damon, Melky, and Nick friggin' Green are advertising them?