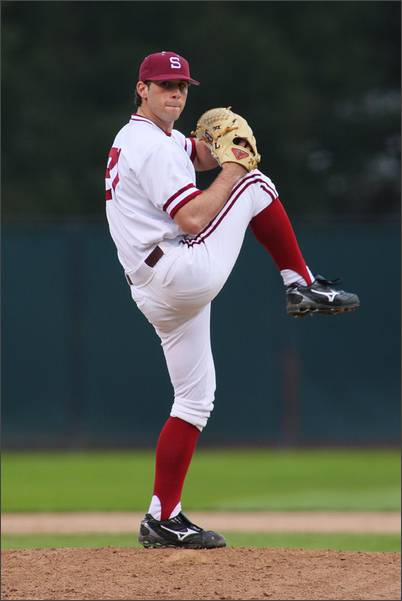 Jeremy Bleich | LHP
Background
Born and raised in the New Orleans suburb of Metairie, Bleich is the son of Stan the Cardiologist, a die-hard Yankees' fan from Brooklyn. Jeremy attended the prestigious Isidore Newman High School, which also produced The Mannings and Moneyball author Michael Lewis. During his final three years with the Greenies, Bleich went 23-7 with 348 strikeouts and a sub-2.00 ERA in 206.2 IP while also hitting north of .360. He helped the school to the 2003 state championship and 2005 district championship as a sophomore and senior, respectively.
Bleich was named to the All-District, All-Metro and All-Orleans teams every year from 2003-2005, and was selected as the 2005 All-Metro Player of the Year. As a senior, Baseball America named him a third team All-American, while Collegiate Baseball named him to the first team. Bleich also earned All-State and District MVP honors as a junior and senior. Rated the 97th best prospect for the 2005 draft, Bleich ultimately went undrafted because he wanted first round money to pass on his commitment to Stanford, which is historically a tough school to pry draftees from.
Bleich started his collegiate career working out of Stanford's bullpen, posting seven saves in nine chances before moving into the rotation near the end of the season. He finished the year with a team high 24 appearances, sporting a 4.05 ERA in 60 IP (his ERA ballooned nearly half-a-run in his final start of the season). He headed to the Cape Cod League that summer and went 1-1 with a 2.09 ERA in 43 IP (10 appearances, 6 starts) for the Wareham Gatemen. Bleich was named to the Western Division All-Star Team and started the Championship Game, taking the loss after allowing three runs (only one earned) in six innings (Side note: David Robertson closed out that game with three perfect innings of relief, striking out Bradley Suttle for the final out). Baseball America named him the 19th best prospect in the circuit (sub. req'd) despite only being a freshman.
Inconsistent as a sophomore, Bleich spent most of the season as Stanford's Friday starter despite going 2-8 with a 5.56 ERA. He alternated brilliant outings with horrific ones before finishing strong in his final three starts, posting a 3.91 ERA while pitching into the 8th inning each game. Bleich returned to Wareham and the Cape after his sophomore year, going 4-2 with a 2.44 ERA in 44.1 IP for a team that won only 15 of their 44 games. Despite his success, Bleich was named only the 29th best prospect in the league by Baseball America.
Expectations for Bleich were high coming into his junior year, as many expected him to take that next step and become one of the best lefthanders in the country. After pitching to a 1.38 ERA in his first five starts, Bleich came down with a strained elbow ligament and missed two months before returning to the team in the postseason. In his first game back, Bleich provided four dominant innings of relief as Stanford took down Arkansas in the Regionals. He followed that up by shutting down Fullerton in the Super Regionals and keeping Florida State in check in the College World Series. Bleich got knocked around in his next start, and ultimately took the loss in his final game with the Cardinal, giving up 6 runs in 3.1 IP as Georgia eliminated Stanford.
Baseball America rated Bleich only the 54th best draft prospect in California because of the elbow troubles, however the Yanks grabbed him with their second pick, number 44 overall in the sandwich round. After the draft Jim Callis noted that Bleich could have been considered a consensus sandwich round talent had it not been for the injury. Negotiations went down to the August 15th signing deadline, but Bleich eventually agreed to a $700,000 bonus, roughly $163,000 below slot.
Pro Debut
Bleich joined Short Season Staten Island after signing, making one regular season start and one postseason appearance in relief of a rehabbing Jon Albaladejo. In those outings he combined to allow six baserunners (all hits) and two runs in seven innings of work while striking out ten.
After the regular season Bleich was assigning to the Waikiki Beach Boys of Hawaii Winter Baseball, where he finished second in the league with 35.2 IP and second amongst starters with a 1.77 ERA. He was also one of three starting pitchers named to the All-League Team. Bleich left the team briefly in late October/early November to attend a wedding in his family, however he threw a side session during the hiatus.
Scouting Report
While watching Bleich's postseason starts with Stanford I saw two fastballs: a pretty true four-seamer at 89-91, and a two-seamer with a nice wrinkle to it at 87-89 (disclaimer: I didn't stay at a Holiday Inn Express last night, but I'm supremely confident in my abilities to recognize different types of pitches). Reports indicate that he could dial his fastball up to 93-95 before the injury, however he has yet to regain that kind of velocity. His best pitch is a fading changeup that he throws with the same arm action as his fastball. He also throws a short & tight curveball, not a big ol' Barry Zito bender.
Bleich's two best assets are his command and his aggressiveness. He commands all four of his pitches very well and they play up because of it (he was rated as having the third best command of all high schoolers prior to the 2005 draft). He models his game after fellow Yankee and Louisiana native Andy Pettitte, and he pitches with the same mentality, attacking hitters in the zone and consistently pitching inside. That's particularly impressive because college guys tend to shy away from coming inside because hitters can still drive a ball in on their hands with metal bats. His makeup and work ethic is strong as well.
Big and solid at 6'2″, 190 lbs, Bleich has a great pitcher's frame with wide shoulders and a powerful lower half. He repeats his delivery well, but it still needs some fine tuning, particularly on the follow through. While there are some nice similarities to Pettitte, one thing Bleich doesn't have is Andy's pickoff move, or even a decent one for that matter. He fields his position well, primarily because he finishes his delivery square to the plate. The elbow strain is also a negative, but he's been pitching pain free since signing and doesn't have any other medical red flags.
You can see his draft video here.
2009 Outlook
There's no reason to think that Bleich won't start the season with High-A Tampa. I'm guessing the Yanks will look to move him up the ladder quickly like they did with Ian Kennedy and Joba Chamberlain, although I would prefer to see him spend at least one full season in minors, probably even two. I don't want Bleich to run into a situation like Joba is in now, where they're trying to figure out how the work around his innings limit. Hopefully they learned from the mistake and will let Bleich develop stamina and arm strength in the minors.
My Take
I was way to harsh with my criticsm of Bleich back on draft day, I tend to get caught up in the moment. I'm still not in love with the pick, I think there were better players on the board (namely Kyle Lobstein, Robbie Ross, and Josh Lindblom) but the Yanks' (hopefully) have better information than I do. Bleich was a solid addition to a system seemingly allergic to lefties, and he seems like a strong, competitive kid that will give the Yanks whatever he has. Let's call it … one thumb up, not quite two.