This, my friends, is the current poll up on FOX Sports' MLB frontpage: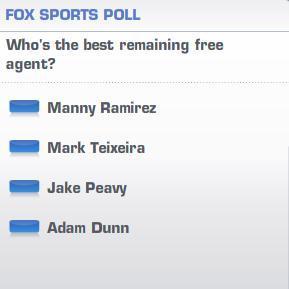 That's been up on their site for the past two days, and of the ~23,000 people who've voted, 11% feel Jake Peavy is the best remaining free agent. 2,530 of FOX Sports' readers are idiots. The three of us are so happy and proud that we're fortunate enough to have such smart readers. Seriously. You guys are the best.
Here's your open thread for the night. You've got the Knicks at home taking on the Bucks, and Anchorman on TBS at 9pm.