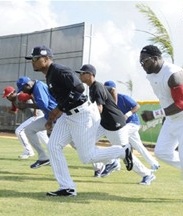 It seems like every year the big stories at the beginning of Spring Training are about how Player X showed up looking trimmer than last year. Player Y looks to be in great shape. We saw that plenty of that last year, and I wouldn't expect any different this year as we head into February. Up first this year: Robinson Cano. Kat O'Brien reports that he looks "very trim," though we know that has little to do with how well he'll perform.
The picture to the right is of Cano at a recent WBC workout for the Dominican team. It's just one picture so it's tough to tell if there's any difference. According to O'Brien, Cano finished the year at 213 and now weights 208 (though she also notes that he probably played most of the year weighing more than 213). While it's good to know that he did work out this off-season, it really means nothing in regards to his performance on the field. He's put himself in a better position to succeed, no doubt, but he still has to prove it with the bat. It's going to be tough to forget his slow starts the past two years.
Thankfully, Cano knows what's at stake:
"I've just been working on my new stance," Cano said, "just getting ready mentally and physically. … I know that I have to start in April, not in May or June."
Or March, for that matter. Cano had a monster spring in 2008, hitting .446/.471/.646 in his 65 at bats. Even if he does tear it up again this March, we'll be looking for how he transitions to April. Adding his bat early on could help the Yankees avoid the slow starts they've experienced the past two years.