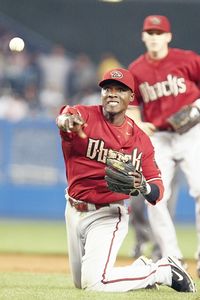 This morning Buster Olney posted "baseball's 31st team," a 24-man (?) squad containing nothing but players still available on the free agent market. Pete Abraham followed his lead with his own need-a-job All-Star team, and now I figured I'd throw my two cents in as well. Here she goes:
C: Gregg Zaun – the best of a bad lot, Zaun's the only legit starting catcher option that posted an OBP north of .321 last year (he was at .340)
1B: Doug Mientkiewicz – I'll take Minky's avg offense and Gold Glove defense over Kevin Millar's & Sean Casey's mediocre bat/no glove offerings
2B: Orlando Hudson – no brainer, my specialty
SS: Orlando Cabrera – another avg bat/GG defense guy, he's easily the best of a terrifying SS crop
3B: Joe Crede – not going to offer much OBP, but he might run into 25 homers … another stud glove guy
LF: Adam Dunn – it's okay Adam, I love your perennial .900+ OPS
CF: Jacque Jones – might have a little offensive rebound in him, but more importantly I need a guy with a ton of range between these two corner OFers
RF: Bobby Abreu – what, were you expecting Brad Wilkerson?
DH: Manny Ramirez – no explanation needed
Rotation: Derek Lowe, Andy Pettitte, Ben Sheets, Braden Looper, John Garland – with above average defense all-around the infield, give me the ground ball guys … and Ben Sheets

Bullpen: Juan Cruz, Aquilino Lopez, Brandon Lyon, Will Ohman, Brian Shouse, Russ Springer, Matt Wise – it's a collection of above avg K guys who throw strikes for the most part
Bench: Pudge Rodriguez (C), Gape Kapler (OF), Damien Easley (IF/OF), Ty Wigginton (IF) – outside of Pudge, everyone on the bench can play multiple positions adequately and hit the ball out of the park … only problem is no lefty hitter
So what do you think? The lineup has a couple big boppers and for the most part they catch the ball, and the starting rotation will give me a ton of innings, enough that Sheets can be handled with care. The bullpen's a crapshoot like always, and some guys on the bench could start for some teams. It's weird, you can see that team winning anywhere from like, 70 games to 90 games.
Here's your open thread for the evening. The Titans are deadlocked at seven with the Ravens at home right now, and the Panthers kick off against the Cards at home at 8:15. The Rangers and Devils are in action (Devs are out on the west coast, so late start), as are the Knicks. Talk abotu whatever, just be nice.