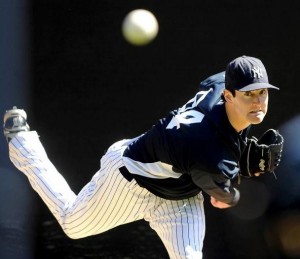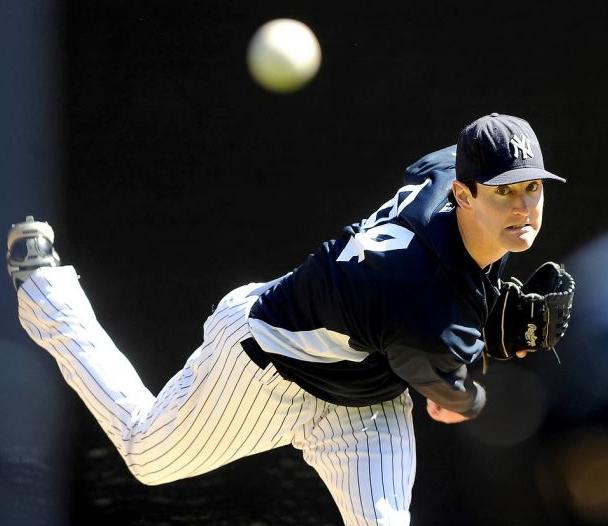 During the last few years we've grown accustomed to seeing the Yankees take chances in the draft. Two years ago they gambled on the upside of Andrew Brackman with their top pick, landing him with what could potentially be the richest contract in draft history. Last year they rolled the dice by taking Gerrit Cole in the first round, though he ultimately chose UCLA's rotation over the Yanks' millions. Because they were unable to sign Cole, the Yanks received a compensation pick in this year's draft, however if they fail the sign the player they take with that pick, they're out of luck. They won't receive another compensation pick.
Losing out on a first round pick one year is one thing, but losing out in two consecutive years can do major damage to a team's farm system. Since the Yanks will only get one shot to use the comp pick they received for Cole (as well as the pick they received for failing to sign second rounder Scott Bittle), I've been wondering if they would maybe go a little bit more conservative this time around. Now, that doesn't mean that they won't pounce on an elite talent if one falls to them, but if that opportunity doesn't present itself, they might lean towards the guy they know they can lock up.
The Yanks are picking 29th overall, and slot money for that pick is around $1.25M. That might not seem like much, but keep in mind that Joba Chamberlain received just a $1.1M signing bonus back in 2006, and guys like Colby Rasmus, Chris Coghlan and David Huff – all excellent prospects on the cusp of the big leagues – signed for less. Gobs of money alone won't build an elite farm system, but strong scouting and development (and luck) will. Don't get me wrong, the money certainly helps, but it's not a necessity. Fun starts after the jump.
Matt Davidson, 3B, Yucaipa HS (Cali)
A physical specimen at 6′-3″, 215 lbs, Davidson just might be the best pure hitter in the high school ranks this year because of the way the ball just flies off his bat. He has a short, compact swing that produces above average power from the right side, and he uses a patient approach to wait for pitches he can drive. He has an immense amount of natural strength that allows him to hit the ball out of any part of the park, but at the same time it doesn't limit his athleticism.
More than just a lumbering slugger, Davidson has the bat speed to hit for average and is solid defensively at third. His hands and footwork work well around the bag, and his strong arm also allows him to double as a pitcher. He has a thick lower half and doesn't run well, but he's not a base clogger (please note the actual meaning of the term). Davidson is an excellent student and has been lauded for his work ethic. Baseball America rated him the 16th best prep prospect for the draft, and right now he projects to be a mid-to-late pick in the first round, but a strong showing this spring could land him in the top half of the round. The USC commit is the kind of power bat the Yanks' system sorely lacks.
Matt den Dekker, CF, Florida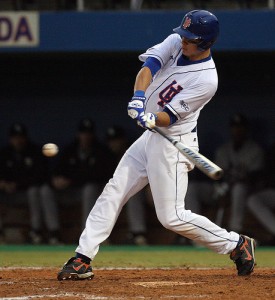 More polish than raw tools, MdD's greatest asset is that he's a true center fielder capable of making highlight reel catches. He has the ability to hit for average and decent power at the pro level, though his swing isn't pretty and his approach is going to need a little refinement. Den Dekker also classifies as a grinder, getting suspended for three games earlier in the year when he threw a punch in a game against Duquesne.
After hitting .333-.413-.469 as a sophomore, MdD is hitting .339-.456-.500 this year with a team leading three homers. In a perfect world a guy like this wouldn't be your top selection because he lacks a standout tool, but a team hellbent on statistics and probability might grab him early. Baseball America rated him the 18th best college prospect before the season.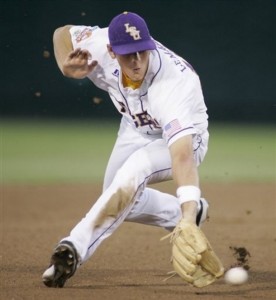 DJ LeMahieu, SS, LSU
While the top college shortstop in the country (Grant Green of USC) struggled both at the plate and in the field early in the season, LeMahieu was busy excelling on both sides of the ball. He started the year in the middle of a 25-game hitting streak that carried over from last year, and to date he's hitting .384-.489-.575. Offense is his calling card, as he combines quick wrists and a strong knowledge of the strike zone to spray the ball to all fields. The power potential he showed as a high schooler in Michigan has started to manifest itself, and at 6′-4″, 195 lbs there's still more projection remaining.
There are questions about his ability to stay at shortstop long term, but he should be able to stick there for the foreseeable future. He'll never be a Gold Glover, but right now he has the ability to provide average defense at a key position with well above average offense. His lone below average tool is his speed, especially for a middle infielder. A draft eligible sophomore, LeMahieu has a little more negotiating leverage than your typical amateur, but he's not considered a tough sign at this point. Rated the 15th best college prospect in the class, LeMahieu's expected to go towards the end of the first round.
Jiovanni Mier, SS, Bonita HS (Cali)

Committed to USC like Davidson, Mier is legit two-way player but draws more interest from pro scouts as a shortstop. With quick reactions, smooth footwork and well-above average range to go with butter hands, Mier is an elite defensive player. There are no concerns that his 6′-1″, 170 lb frame will outgrown the position either. It goes without saying Mier's arm is strong and accurate, more than suitable for the left side of the infield. He has outstanding baseball instincts and top notch makeup.
At the plate Mier is a little less refined, though he has all the ingredients needed to hit at the next level. He has a balanced, level swing and quick wrists, and projects to hit for some power as he fills out. Mier employs a toe tap as a timing mechanism at the plate, and has an advanced approach at the plate for a high schooler. He's an above average runner and an excellent athlete that also stars at defensive back and on the soccer field for his high school. Baseball America rated him the 13th best high school prospect in the draft class, and Mier is a near lock to go in the second half of the first round.
* * *
Of these four, my preference is Davidson (moderately sized gap) Mier (tiny gap) LeMahieu (big gap) den Dekker, though I've always favored high schoolers. I figured I would focus on position players this time around because the Yanks could use some, however there are certainly a strong group of pitchers the Yanks could opt for as well. I'll highlight them sometime in the future.
Photo Credit: Brackman via Barton Silverman (NYT), Davidson via Andrew Drennen, den Dekker via Flickr user Tim Casey, LeMahieu via Eric Francis (AP), Mier via AFLAC