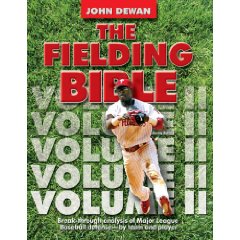 We'll continue the Fielding Bible series today with a bit on Derek Jeter's double play partner, Robinson Cano. The 26-year-old has been a strange case during his tenure with the Yanks. Sometimes he looks like a Top 5 defender at second. Others it appears he lacks the range to play the position. So what gives? Is Cano a guy the Yanks can count on in the future to hold down his position, or is he going to become a liability who needs to switch positions before age 30?
According to John Dewan's plus/minus system, Cano was putrid in 2008. He had a -13 rating, which placed him third to last in the league, ahead of only Felipe Lopez and Luis Castillo. Even Jeff Kent finished ahead of him. It's tough to argue with a poor rating for Cano, since we could all see his defensive deficiencies in 2008. Was he really third worst in the entire league, though?
UZR doesn't have the same result, but certainly a similar one. It pegs Cano at a -7.2 UZR, second worst among qualifiers and beating out only Kelly Johnson of the Braves. Castillo and Lopez do not show up on the UZR list. So yes, Cano had a pretty horrible season in the field by all accounts. That's not the fascinating part, though.
In 2007, Robinson Cano saved the most runs in the league among second baseman, according to plus/minus. That's 13 runs saved with his glove, plus another 9 saved on the double play ball. In 2006, Cano was quite average by plus/minus standards, registering -3 runs saved. UZR backs that up, placing Cano third in the league in 2007, behind only Chase Utley and Brandon Phillips — and ahead of reputed defensive whiz Mark Ellis.
Given the fluctuations in Cano's defensive output, it's tough to make a determination here. He was average in 06, stellar in 07, and horrible in 08. Chances are he's really just average, had a career defensive year in 2007, and took his poor start with the bat out to the field with him in 2008. There's no way to prove that, but it makes at least a degree of intuitive sense.
Maybe, just maybe though Cano is actually an excellent fielder and just needs to keep his focus out there. While his 2008 plus/minus was the pits, he still managed to make a number of what Bill james calls Good Fielding Plays. This is the opposite of Defensive Misplays, in that it gives a fielder extra credit for fielding a ball which seemed likely to be a hit. Surprisingly, Cano led the league in Good Fielding Plays with 69 (dude). While he ranked fourth in the league for Defensive Misplays with 42, he still had enough Good Fielding Plays to rank him fourth in the league in terms of GFP minus DM.
(Also note that Cano fielded more balls than most second basemen in the league in 2008, which inflates his DM and GFP numbers just a bit. In terms of Defensive Misplays plus Errors per touch, Cano was not in the bottom 10 in the league.)
One last statistical note before jumping into the scouting report. Dave Studenmund of The Hardball Times adds Revised Zone Ratings to the mix. For those unfamiliar with ZR, it divides the field up into slices, or zones. When balls are hit to a certain zone a particular fielder is assigned responsibility. In 2008 Cano had a .809 ZR, which put him in the bottom third of the league. However, he made 30 plays out of his zone, which looks to be about average, maybe slightly above. In 2007 he had a .833 ZR, which was right in the middle, but made 53 plays out of his zone. Only Dan Uggla and Aaron Hill fielded more out of their zone that year.
So was Cano's top-notch defense in 2007 attributable to the balls he fielded out of his zone? Given his positive rankings when ranging to his left and to his right in 2007 and their negative values in 2008, that might be the case. It's always a dicey proposition to combine defensive stats, but given what each system tells us, this might be the case. The evidence available suggests Cano has excellent range, so there's plenty to be hopeful about. We can only hope that he acted immaturely last year by taking his offensive woes out to the field with him, and that he'll learn from that mistake in 2009.
Now onto what the scouts say about Cano:
Cano took a step back defensively in 2008. Granted, he made some flashy plays on the run, going side to side or charging softly hit balls. He also possesses an above-average arm and features a nifty sidearm flick that helps on the double play. With all his flashes of brilliance, though, Cano still had a hard time fielding simple groundballs. On balls not hit particularly hard, Cano stabs too quickly at the ball or botches the play entirely. He also can seem lackadaisical. As time passes, 2007 is looking more like the exception than the rule.
Thankfully, the ability to field routine grounders is a skill which can be learned and honed. The ability to range to one's left or right cannot, or cannot so easily. Perhaps Cano should learn something from his double play partner, who we learned is quite adept at avoiding mistakes. If Cano can do that, his range should make him one of the top defensive second basemen in the league.
Previously: Derek Jeter's defense revisited.
You can get The Fielding Bible–Volume II
from Amazon.com for $16.29. That's our Amazon Associate code, so if you buy the book from that link you'll kick us a few pennies.