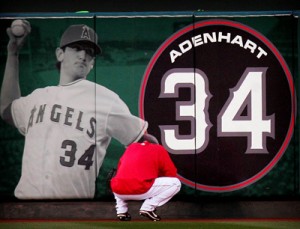 Baseball's amateur draft has quickly become a highly competitive marketplace for talent. Just a few seasons ago only a handful of teams really flexed their financial muscles to acquire top talent in the draft, but as young players have taken over the game clubs have revamped their focus on the annual talent drive. Case in point: The Royals spent $11.1M on the draft last year, a new record, while other traditional tightwads like the A's ($6.5M), Brewers ($8.4M), and Pirates ($9.8M) also ramped up their spending from recent years. The Yankees are no longer the only team digging for late round bargains, but that doesn't mean they still can't uncover talent in the late rounds.
One thing Damon Oppenheimer has shown in recent years is that he's willing to gamble on players with questionable medical dossiers. Both Andrew Brackman and Mark Melancon were drafted knowing that it was extremely likely they would need Tommy John surgery, Damon Sublett was selected after an injury riddled junior year, and Joba Chamberlain was taken despite concerns about his knee, triceps and weight. Perhaps the best example of a player being drafted while he was injured is the late Nick Adenhart, who was the top high school pitcher in 2004 before blowing out his elbow just days before the draft. The Angels gambled on his upside and TJ's success rate, handing him a $710,000 bonus as a 14th rounder before watching him grow into one of the best young pitchers in the game.
Here's some players that are either hurt, or have another negative mark on their resume that could cause them to fall into the later rounds, an avenue a team like the Yankees could explore to land extra talent. Fun starts after the jump.
Luke Bailey, C, Troupe HS (Georgia)
The top all-around catching prospect in the draft class, Bailey blew out his elbow while pitching for his high school team and underwent Tommy John surgery yesterday morning according to Jason Churchill. He owns a premium combination of offensive prowess and defensive aptitude thanks to his supreme athleticism. Capable of squaring up balls and driving them all over the field with big time power potential, Bailey can also shut down the opposition's running game with his strong, accurate arm and quick release.
Rated the 7th best high school prospect by Baseball America, Bailey was a first round lock prior to the injury, likely a top twenty pick. It's possible that a team with multiple picks in the first and/or supplemental round (Angels, Diamondbacks, Mariners) could still pop him early because of the dearth of elite catching. Committed to Auburn, Bailey would be a solid selection for the Yanks at any point given the high success rate of TJ.
Ian Krol, LHP, Neuqua Valley HS (Illinois)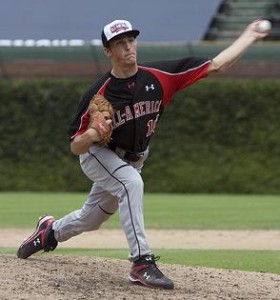 This year's draft class features an excellent collection of high end high school southpaws, and Krol fits right in with that group. The problem is that Krol hasn't played in a game this season because he was kicked off his team for repeated violations of the school's athletic code of conduct. When he's actually on the mound, Krol uses his above average command to locate his low-90's fastball to all four quadrants of the strike zone. He uses his heater to set up his promising curveball and changeup.
Makeup concerns like this tend to get frowned up obviously, but when push comes to shove, talent wins almost exclusively. The problem is that teams have not been able to get a look at Krol this year, and that will certainly affect his draft position. No one's going to risk a high pick on someone who didn't pitch at all this year, so instead of being selected in the top two rounds like he was expected to do before the season, look for Krol to drop down, possibly into the double digit rounds. I wouldn't be surprised if he ends up following through on his commitment to Arizona.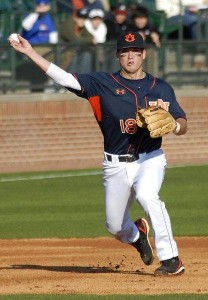 Joe Sanders, IF, Auburn
One the better yet most unheralded hitters in the country, Sanders has been an anchor in the middle of Auburn's lineup for the last three seasons. He was hit by a pitch in the face against Samford two weeks ago, breaking his jaw in two places. The injury required surgery, and Sanders had titanium plates installed to realign his jaw and secure the break. He's expected to be out another week or so, which is astonishing to me considering the guy had titanium freaking plates put in his face.
Despite missing time with the injury, Sanders still leads the team in doubles (14), homers (18), RBI (54), total bases (124) and slugging (.756). He uses the same aggressive approach at the plate that embodies the Auburn program, and he has the bat speed and brute strength to drive the ball out of any part of any park. The problem is that while he's played both second and third base for the Tigers, he doesn't have the defensive skills for those positions and will likely be relegated to a corner outfield spot as a pro.
Unlike the other players in this post, Sanders isn't a premium draft prospect. Instead he was borderline day one player, a fourth or fifth rounder under normal conditions because of some concerns about holes in his swing. Now with the injury, chances are that Sanders falls out of day one entirely and instead becomes a sixth through tenth round kind of player. That would be the perfect spot to gamble on a player with this kind of bat, especially for a Yankee team without too many impact bats on the way.
Chad Thompson, RHP, El Toro HS (Cali)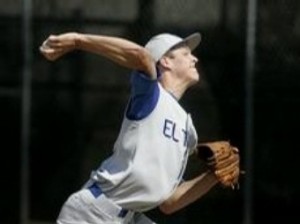 Thompson is sort of the Dellin Betances of the 2009 draft. He's huge (6′-8″, 210 lbs), raw, and didn't really pop up on the radar until he flashed premium arm strength on the showcase circuit the year before he was draft eligible. Unfortunately for him, the promise of a top three rounds pay day went out the window when he blew out his elbow and underwent Tommy John surgery last Friday.
Thompson was as raw as it gets before the injury, even more raw than Betances was when he came out of high school. He shows mid-90's velocity but doesn't hold it because he struggles mightily to repeat the thing he calls a delivery. Both his breaking ball and changeup are as underdeveloped as Dustin Pedroia's hair follicles. Thompson is a major project, but his upside is in orbit. TJ is likely to knock him out of day one of the draft, but if someone pops him in the late rounds and is willing to pony up a six figure bonus, Thompson may forego his commitment to Arizona State. He could be a major, major coup.
* * *
Now, obviously there's an increased risk in taking players who are presently hurt or have not played at all this year, but some of that risk is mitigated by taking the player at a spot lower than their talent warrants. You still have the risk of getting no return on a big bonus, but frankly the Yankees aren't hurting for cash and can assume the risk for a potentially high reward.
What d you guys think about gambling on players that are hurt? Good strategy or bad?
Photo Credits: Adenhart via Kurt Miller (Press-Enterprise); Bailey via LaGrange Daily News; Krol via Flickr user Let's Play Two; Sanders via Anthony Hall (Auburn); Thompson via Jebb Harris (OC Register)