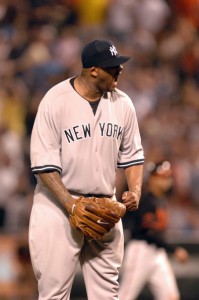 So the Yankees kinda have a good thing going right now. They're coming off a four-game sweep of the formerly first place Twins, and have won their last six overall. But wait, it gets better.
On the mound tonight is CC Sabathia, who has a 2.84 ERA, 0.92 WHIP, and a .552 OPS against in his last four starts (31.2 IP). After a rocky start, it's safe to say that CC is pitching just like the Yankees expected him to when they forked over $161M over the winter. The last time Sabathia faced the Orioles he twirled the best start of his Yankee career, throwing a four-hit complete game shutout. Eleven days later, the Yankees are looking for the same kind of performance out of their ace.
With Sabathia on the mound there's a good chance the Yanks won't need to dig to deep into their bullpen, but in case they need too they'll have the services of Brian Bruney for the first time in exactly four weeks. Bruney's return couldn't have come at a better time, because it looks like Phil Coke will be unavailable tonight after throwing 36 pitches last night. To make room for Bruney on the roster, the Yanks … have done nothing yet. They're going to make a decision after batting practice, so stay tuned for an update.
Here's the starting nine:
Jeter, SS
Damon, LF
Teixeira, 1B
A-Rod, 3B
Matsui, DH
Swisher, RF – .148 BABIP in May
Cano, 2B
Melky, CF
Cervelli, C
And on the mound, the sensational southpaw, CC Sabathia.
Update (6:43pm): Edwar Ramirez has been optioned to Triple-A Scranton to make room for Bruney.
Photo Credit: Mitchell Layton, Getty Images