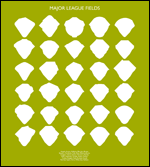 Over the weekend, we witnessed a mini-viral baseball phenomenon. Late on Friday night, David Pinto at Baseball Musings tossed up a post with a link to a site called Flip Flop Fly Ball. The site, run by a baseball fan/graphic designer, features some fascinating infographics about America's Pastime. The one on the right, for example, is a quiz of any fan's baseball field acumen. It's nigh impossible.
As I poked around the site on Saturday, I dropped a link to it on Twitter via both the River Ave. Blues account and my personal feed. It was re-Tweeted all over the place, and one RAB reader wanted to know if prints of the graphics were available.
I inhaled the site. The combination of interesting graphics and baseball made for a good amount of high-quality wasted time over the weekend. Take a look, for example, at the height of the Green Monster as compared to some well-known landmarks, the directional orientation of home plate at every stadium and the amount of travel the Royals have to do this season. The rest are equally as entertaining.
After looking at a few graphics and poking around the site, I realized that Craig Robinson, the man behind Flip Flop Fly Ball was a Yankee fan and a River Ave. Blues reader. In fact, he sent us the ticket prices infographic a few months ago. I e-mailed Craig yesterday, and he answered a few questions about himself and the infographics. The interview follows. Be sure to visit the site as well.
What inspired you to develop the infographics at Flip Flop Fly Ball?
The main reason is that I'm relatively new to the game (I've never known a World Series-winning Yankees team), and I was finding it difficult to retain so much information about the Yankees and the sport in general. For whatever reason, I found it easier to remember team relocations and stuff if I made charts and graphs. It spiraled out of that.
I saw you recently added an amusing new one on the felonious side of stolen bases. How often do you plan to produce new sports infographics? From where do you derive ideas for the new graphics?
Hopefully, I'll be doing a new one every week. That may not be the case in the next month or so, unfortunately, as my wife and I just split up and, without a green card, I'll be leaving the country soon. Ideas tend to pop up just from little things I see watching games. Just seeing Chief Wahoo; one day it just seemed an obvious question: How many native Americans live in the Cleveland area?
As a big fan of Bruce Springsteen, I loved the one entitled Really Fantasy Baseball in which the Wu Tang Clan, behind a complete game by RZA, tops the E Street Band for Eastern Division champions. What's your personal favorite? Which ones were the most fun to make?
I'd agree that the Wu vs. E Street one is definitely one of my favourites. Mostly because I enjoyed spending a day working out how each half-inning was played out. The Cleveland Indians one is probably my favourite, though; it just seems to sum up the ridiculousness of their name quite nicely.
Tell me a little about your background. I understand from your website that you are a UK native who spent some time in Bellingham, Washington but you are a Yankee fan. How did you find your way to both baseball and the Yanks?
Yeh, I was born in the UK, lived most of the last decade in Berlin, Germany. Until last weekend, I lived in Bellingham and went to see Mariners games. I'm returning to Berlin shortly, but hopefully, I'll be breaking the piggy bank to try to get a ticket to see my first game at the new Yankee Stadium, ironically, against the Mariners. I'd always been primarily a soccer fan, but I was on a business trip, and one of the people I was working with was an NY-based lifelong Yankees fan. His colleague was a Mets fan. When I expressed an interest in going to see a baseball game, I left it up to them to fight it out whether I'd be going to the Bronx or Shea. The Yankees fan was on it right away, and I went to a fairly pedestrian defeat at the hands of the Twins, but, I know it's a cliche, I fell in love straight away. The sport just seems so perfectly beautiful. The next day, I watched a Yankeeography of Mickey Mantle on YES in my hotel room, and, well, the rest is a history of very late nights watching live streaming games on MLB.com, and more recently, having people in Washington continually reminding me that the "Yankees suck!"
Can you preview any upcoming FFFB infographics? And at the request of some readers, do you plan to offer prints of the infographics for sale?
Once I get my life sorted out again, I'd love to do some prints. I'm working on a few new ones at the moment. Once this current round of Interleague play is done with, I've got one about how each league's teams fared in the history of Interleague play; a Venn diagram about the origins of team nicknames; a history of Japanese teams in a style like the history of the NL and AL teams; and a more research-intensive one, looking at how much of each team's opening day roster were homegrown/traded/free agents.
* * *
I'm looking forward to the new graphics. In the meantime, the current ones provide enough of a distraction. A big RAB thanks to Craig as he gets everything straightened out.