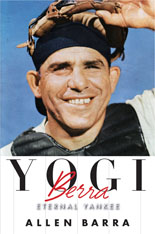 For Yankee fans of my generation, Yogi Berra is an icon, a piece of Yankee history reminiscent of the golden age of New York City baseball and, well, a spokesman for AFLAC who manages to confuse even an insurance-savvy duck. While Berra was in a self-imposed exile from George Steinbrenner and the Yankees for 15 years, no Yankee Moment is complete without Yogi there, wearing his trademark number 8 and taking his place behind the plate or throwing out the first pitch.
To others, Yogi is a goofy guy, the man behind some of the more eccentric quotes in sports. "Baseball is 90 percent mental and the other half is physical," Yogi once said. He was, after all, a catcher and not a mathematician. In fact, Yogi is so identified with his quotes that he once penned a book called I Really Didn't Say Everything I Said explaining the source of these so-called Yogiisms.
Over the years, though, Yogi and his sayings have taken on a life of their own. Yogi is often viewed as a caricature of himself: he's this short, funny-looking guy. How could he have been a baseball player, let alone one of the best hitting catchers of all time with 10 World Series rings?
In an effort to rescue Yogi's image from itself, Allen Barra, respected baseball author and acquaintance of Yogi's, has spent the last few years working on a biography of the Yankee great. The book — called Yogi Berra: Eternal Yankee — hit stores this March, and in the beginning, Barra states his desire to paint a picture of Yogi unobscured by the Yogi-as-a-joke picture that has emerged in popular culture. He succeeded. The book is a real treat and definitely one of the better baseball biographies I've read in a while. Barra delves into Yogi's life and presents a rich picture of one of the all-time greats.
Adhering to the traditional chronological structure of the genre, Barra's tome traces Berra's life from his parents' arrival in the states to their eventual settling in St. Louis, Yogi's childhood, adolescence, stint in the army and baseball career. It sweeps wide but comes in close and intimate on Berra, and the real meat of the tale — Yogi's years in pinstripes during the 1940s, 1950s and 1960s — breathes life into a black-and-white era in the minds of many fans.
Time and again, the story is about Yogi's beating the odds. He's a little guy with a lot of power and the ability and desire to hit just about anything. In fact, Yogi struck out just 414 times in his career in over 8300 trips to the plate. Those who first saw Yogi doubted his ability. Those who then saw him play knew that the sky was the limit, and the Yankees enjoyed those golden years once Branch Rickey and the Cardinals passed on Berra in the 1940s over a matter of $500. (Of course, by signing Joe Garagiola, a childhood friend and neighbor of Yogi's, the Cards didn't do too badly for themselves.)
When Yogi arrives in New York, a lesser writer would be overcome with legends. How do you fit all the characters and greats, the Casey Stengels, the Mickey Mantles and Phil Rizzutos, the Whitey Fords and Elston Howards into the same book? Barra does so with grace and aplomb. Mantle, that other guy in the room during the 1950s, fits seamlessly into the book while Stengel is a true supporting character, a Yogi supporter through and through. As the Yankees defy the odds to win World Series after World Series, Yogi is there for them all, a stalwart behind the plate who learns future generations everything he knows.
After his playing days, Yogi moved into a series of successful coaching and managerial jobs. He never captured a ring as a manager and yet, as Barra notes, he had a stellar career behind a team. What he didn't have though was the same loose personality as a manager. Always a straight guy off the field, while playing Yogi was closer to the character with which we associate him. He chatted up umpires and opposing hitters to no end. But as a manager, he was a serious and smart leader who managed to coax a few great runs out of the Yankees and Mets clubs he fronted.
The book ends, of course, with Yogi's triumphant return to the Bronx . After George Steinbrenner fired him by fiat in 1985, Yogi swore never to come back, and for a decade and a half, he did not. But George, as Barra writes and others have noted, needed Yogi more than Yogi needed George, and the Boss came begging, cap in hand. All is right in the Bronx as Yogi the player, the star, the icon, returns home.
Beyond the final page, Barra detours into analysis. Was Yogi the best catcher ever, he asks. It is a question still debated today and his look provides a fitting coda to the tale. If he wasn't the best, he sure was near the top, and he has the hardware to prove it.
There isn't really much more to say about Barra's book. He brings alive a lost era in New York baseball, and with Father's Day around the corner, this one would make for an excellent gift for the baseball-loving dad. Or else, just buy it for yourself and read it. It's well worth the investment.
You can find Allen Barra's Yogi Berra: Eternal Yankee on sale at Amazon. Using this link to buy the book will toss a few bucks RAB's way.