The one thing I love about the evolving use of mathematics in baseball is that it helps us learn math concepts outside the class room. I played Tetris on my graphing calculator in the back of calculus class in high school, but once I see a concept applied to baseball stats, I'm all ears. My fascination with randomness started with baseball, and was amplified by this guy. I'm still a fledgling in randomness, but I can usually recognize when someone is misusing the concept, as Tom Verducci did.
His argument goes a little like this. When you seed all the playoff teams by record, and then see how those seeds fared in the postseason, you'll see that seed has no correlation to World Series championships. In fact, in the past nine years, the first through seventh seeds have each won the series once, while seed eight or worse have won it twice. Verducci presents a table with the data, but Flip Flop Fly Ball has an even better one.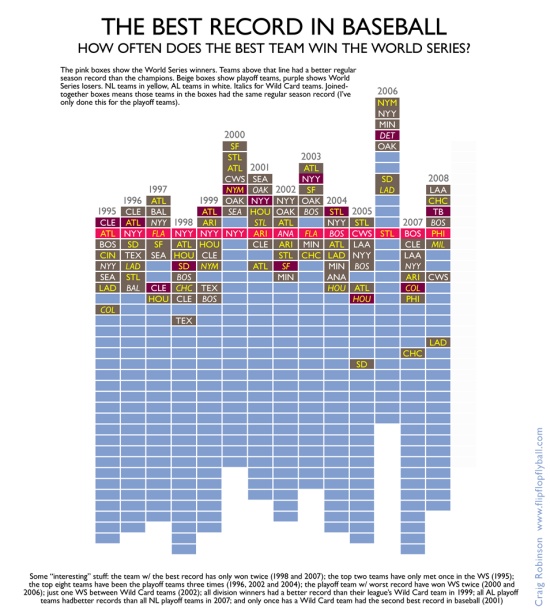 Unfortunately, Verducci misses something in all this. Yes, in the playoffs it appears not to matter what seed you were in the regular season. But this information by itself does not denote a completely, or even somewhat, random situation, as Verducci believes.
So the next time an expert tells you that they know who is going to win the World Series because a certain team is "built for the postseason" or because of how well that team played in the regular season, don't believe it. As the chart shows, the postseason is incredibly random, partly because all the off days make for very different circumstances than teams find all year, but mostly because it's such a small sample. The best team doesn't always win the World Series — or even anything close to most of the time. The hottest team wins it.
The data, as presented, does not dispel the "built for the postseason" argument. Just last month we playoffs are a crapshoot. A team can get hot at the right time and mow down the competition. A great team can get cold and take an early exit. But I also understand that there are other factors that play into the playoff equation, and I wouldn't write them off as completely random. Verducci does a good job to show that teams of all seeds can win and have won the World Series. That doesn't mean that the process is completely random.