If baseball writers interpret Most Valuable Player as best player, Joe Mauer will be the clear-cut choice for AL MVP. He's so far ahead of the pack, in fact, that, to quote Dave Cameron, his season might "go down as the best season any catcher has ever had in the history of the game." That might sound like hyperbole, but in Mauer's case it's not. He won't have the counting stats of Mike Piazza's 1997 season, because Mauer missed the first month of the season, but his rate stats are as good as any catcher ever. Since catcher is obviously the most demanding position, and since so few catchers can actually hit, it's tough to argue against Mauer as the AL's best player in 2009.
The middle word in the acronym is what gives everyone trouble. Humans have tried to define value since we created the term, but to this day it remains ambiguous. Does "most valuable" mean best? If not, what does it mean? Baseball writers try to define it for themselves, and then vote on the MVP award accordingly. They are issued a set of criteria on which to base their selections, and even though said criteria makes no mention of a player's place on a playoff team, many writers will vote only for players in a pennant chase. How can a player be most valuable to his team, the reasoning goes, if his team didn't do anything?
Because of MVP's ambiguous definition, there's actually a conversation about who should take home this year's hardware. So far as the Yankees are concerned, Derek Jeter and Mark Teixeira have entered the picture, though, again, neither is having as good a season as Mauer. They're both not only on a playoff team, but the clear-cut best team in baseball. Other outsiders include Kevin Youkiis, Miguel Cabrera, and Kendry Morales. But once the ballots are filled out, it's likely to be Mauer, Jeter, or Teixeira.
Ben, Mike, and I do not have votes. Even if the powers that be at the BBWAA decided one morning to go out and get full frontal lobotomies, they probably still wouldn't let bloggers sniff a postseason award vote. But that won't stop us from trying. Hell, I'm not even going to make my own argument. I'm going to cite two arguments from other writers, neither really associated with the Yankees, who have interesting takes on the term "value," and in each case find a Yankee worthy of the MVP crown.
First up is Tommy Rancel, normally of DRays Bay, but here writing for Beyond the Boxscore. His pick for MVP is so out of the box that he doesn't even play every day.
In 2007 the Boston Red Sox won the AL East, the AL pennant and the World Series. Who was on that team? Eric Hinske. Foolishly after 2007, the Sox let Hinske go to rival Tampa Bay. What happened in 2008? They lost to the Rays in the ALCS, and a team that had never won anything ended up AL East Champions, won the AL pennant and only lost the World Series thanks to B.J. Upton (when in doubt always blame B.J. Upton). Not learning from Theo Esptein's mistake, Andrew Friedman let Hinske walk after the season.
Hinske then went to the Pirates, where he kinda sucked, posting just a .741 OPS with, get this, one homer. Rancel explains the change between the Pirates and the Yanks: "He needs a challenge. He is not an old starting pitcher who can't handle the AL East. Hinske NEEDS the AL East. Since joining the Yankees his OPS is .949 with seven home runs in 65 at-bats. If you give him 600 at-bats he would hit 65 home runs at this current pace; baller."
For those not following the argument, Rancel even includes a nifty graph which explains everything in straight forward terms.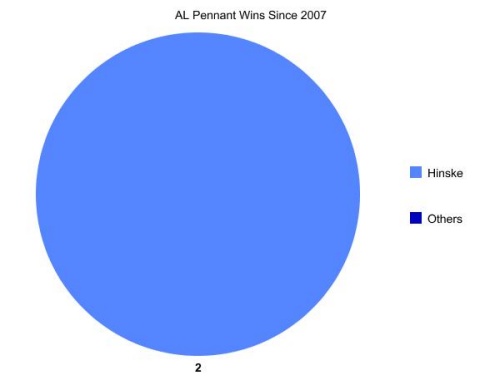 QED, as my math buddies would say.
On a more serious, though still pretty ridiculous, note, Nick Kapur of Ump Bump takes a look at the WPA leader boards and finds another Yankee sitting atop, at least for position players: Johnny Damon. His 4.27 WPA sits behind Zack Greinke, 4.81, and Justin Verlander, 4.31, but is out ahead of the next highest position player, Jason Bay at 4.04, by a decent margin. Since WPA tracks the ebbs and flows of a game, trying to place a greater value on high-pressure situations, it could be argued that Johnny Damon is the position player most valuable to his team.
This presumes that we can evaluate a player in terms of WPA by adding up his figures from each game, coming up with a nice, neat number. This, I fear, is not the case. WPA is a nice narrative tool. It can show who made the biggest impact in any given game, and even then it has its shortcomings. For instance, it will oftentimes award a reliever, who pitches one inning late in the game, more points than a starter who went seven strong, but allowed a couple of runs and got no offense.
Yes, Johnny Damon has had some stupendously clutch hits this season. He's been a rock in the No. 2 spot, providing timely hits and bombs over the short porch in right. That's helped boost his WPA for sure, but it does not make him the MVP. Not of the AL, not even of the Yankees. It's not a knock on Damon, really, but rather a testament to the seasons of Derek Jeter and Mark Teixeira.
Let me 'splain. … No, there is too much. Let me sum up. Joe Mauer is the AL MVP. We can have fun talking about how it could be Mark Teixeira or Derek Jeter, and when the votes are counted it could very well be one of those two. But if the writers were more concerned with awarding the MVP to the league's most outstanding player and not trying to come up with definitions of the term value, it would be Mauer. And it wouldn't be particularly close.