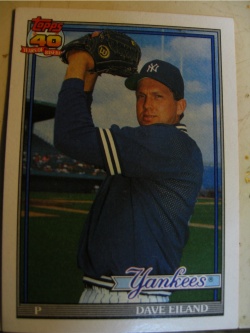 When good players fail, fans tend to blame the coaches. Since the team can't fire the players, the coaching staff is the next logical target. When the Yankees struggled earlier this season, fans laid the blame on two coaches in particular. First was the obvious one, manager Joe Girardi. The manager always takes the blame when a team, good or bad, fails. It's to be expected.
The other target was pitching coach Dave Eiland. Brian Cashman had spent $243 million over the off-season to improve the pitching staff, and they were not performing anywhere near expectations. After the Red Sox completed a two-game sweep of the Yanks in early May, the staff had a 5.86 ERA in 233.1 innings, striking out 189 to 113 walks. They'd also surrendered 32 homers, many of which came at the new Stadium. Eiland was also an easy target in this situation.
Eiland, whom the Yankees hired after he retired from playing in 2002, didn't help himself out with the media. His staff had improved since the Red Sox series, lowering its ERA more than a full run by June 8. But then the Yankees ran into the Red Sox again and faced yet another three-game sweep. The middle game, a 6-5 loss, featured another poor performance from Chien-Ming Wang. "I can't go stand behind the mound with him during the game," said Eiland, seemingly throwing his pitcher under the bus.
That's not what Eiland meant — or at least not what I think he meant upon further consideration. At the time, it sounded like he was trying to deflect the blame he had been receiving all season. But after watching Wang struggled through another month before succumbing to a shoulder injury, it's clear what Eiland meant. You can work with a guy every day to help him get back in form, but if he's not executing when it counts, there's little else you can do. Eiland understood this and he tried to explain it to everyone, but his words didn't work at the time.
The Yankees staff performed well for the rest of the season, and the criticism of Eiland dwindled. Even with two pitchers, A.J. Burnett and Joba Chamberlain, struggling in August, fans didn't point to Eiland. Instead they put the blame where it belonged: with the pitchers themselves. Eiland can help them prepare for games, but if they can't find the strike zone, or if their best pitches don't have any bite, there's not much he can do from the bench, other than walk to the mound once an inning. But something tells me he won't explain it that way to the media.
How do we know that Eiland is the right man for the job? His colleagues speak highly of him, as Marc Topkin writes in the St. Petersburg Times (hat tip Pinto). This ranges from GM Brian Cashman to farm director Mark Newman, from manager Joe Girardi to the pitchers he coaches. Perhaps the most endearing remarks from from his players. When describing Eiland's skills as a listener, Andy Pettitte, with whom Eiland pitched at AAA Columbus in 1994, describes him as, "Almost like a wife."
One of this year's notably struggling pitchers, Joba Chamberlain, is equally impressed with Eiland. "He's not afraid to kick you in the behind. And he means it when he comes at you." The two will try to figure out what went wrong with 2009 and correct it for 2010. It seems that at the very least, Chamberlain is receptive to Eiland, which could help the pitcher in the future. I'm sure both have noticed this (Eiland is reputedly big on video), and hopefully they can get Chamberlain back on track during Spring Training.
Why is Eiland a good pitching coach? Ask the people around him and you'll get a few different answers, ranging from his having to "fight for everything he got" (Girardi) to simple that, "He had it" (Newman). Ask Eiland, though, and he'll tell you that it's because he wasn't that good a pitcher himself.
"In reality, I gave it all I could," Eiland said. "I threw 87-89 miles an hour, but I thought I had a pretty good feel for pitching and for my delivery. I had to be almost perfect when I pitched to be successful. I didn't have that God-given talent, the 90-plus mph fastball, things like that. But I felt like I had everything else."
It's easy for fans to blame coaching staffs when results don't meet expectations. This goes especially when good players struggle. Fans criticized Eiland when the pitching staff wasn't doing well, but those times are behind us. The staff picked it up as the season rolled along, and has shined in the playoffs. Eiland deserves part of the credit for that.