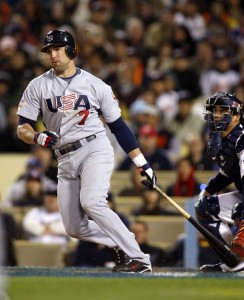 Earlier today, Marc Carig tweeted that the Yanks have had initial talks with Mark DeRosa's agent, and plan to meet with him later this week. There's certainly nothing wrong with kicking the tires on a player, however I hope the Yanks aren't falling into the trap of thinking DeRosa is better than he actually is, something that's plagued the MSM.
Don't get me wrong, DeRosa is a fine player worthy of a roster spot on any team, however he's not a three win super-sub capable of playing every position under the sun. He's a soon-to-be 35-year-old that's coming off wrist surgery with negative UZR/150 scores pretty much everywhere. Here's what Keith Law had to say about DeRosa in his Top 50 Free Agents piece, in which DeRosa was ranked #44:
DeRosa is now recovering from surgery to repair a torn tendon sheath in his left wrist, an injury that contributed to an incredibly disappointing season for him after a career year in 2008. When fully healthy, he's a useful utility player who can play four or five positions, but none of them really well enough to handle every day. The average power he developed in Texas has stayed with him through three more teams, none in parks as hitter-friendly as the Rangers' stadium, and prior to 2009 he'd shown increased patience. He has a strong reputation for intangibles, which should keep his market fairly strong even with the injury and down year and may even have him land a starter's salary, but if a team can grab him at a reserve's salary there's value to be had here.
From what I've seen on the interwebs, the general thought is that DeRosa could either a) replace Johnny Damon in left, or b) fill-in at a different position every day while everyone else on the team rotates at DH to stay fresh. The former sounds fine, however for the life of me, I can't figure out why any player would accept the latter role unless he had one foot in the big leagues and one foot in independent ball. Think about it: would you want to go into work every day not knowing what you're going to be asked to do? I don't see why an accomplished player like DeRosa would accept a handyman role with the Yanks when other clubs will be offering full-time gigs at a set position.
As for the leftfield thing, DeRosa and Damon have actually been very close in value over the last four years, dating back to DeRosa's breakout with Texas. Since then, DeRosa's been a .281-.356-.448 hitter worth a total of +11.0 WAR. In his four years with the Yanks, Damon has been a .286-.363-.441 hitter worth +11.7 WAR. The raw triple-slash stats don't account for the AL-NL difference, but WAR does. Of course, you're not getting the last four years of either player. You're getting the next year or two of them.
DeRosa is coming off wrist surgery, which I already mentioned a few times, and that generally saps a player's power for a year or so. He's also swinging at more pitches out of the zone (19.5% in 2007, 20.9% in 2008, 23.5% in 2009), and (not coincidently) he's also making contact on a fewer percentage of the swings he takes (82.5%, 79.3%, 77.9% in those three years, respectively). Moving to the AL East, where power pitchers are plentiful, could lead to further regressing from DeRosa.
Meanwhile, we basically know what Damon is. He probably won't ever be as good as he was last year again, however it's not unreasonable to think he could maintain the ~.360 OBP and ~.445 SLG he posted in his three other years as a Yankee. His defense in left if awful, but DeRosa's is nothing special, checking in at -1.1 UZR/150 in barely 400 career innings played in left. Sometimes the devil you know is better than the devil you don't, even if the devil you don't know is a gritty gamer that plays the game the right way.
DeRosa is reportedly looking for three years at $9M each, which should be an absolute no-no. The Yankees have no need to lock themselves into a player's decline years for that long at that price, especially when there are equally qualified candidates available. However, as Erik Manning noted this morning, the Chone Figgins and Placido Polanco deals set DeRosa's price tag in that range. Like I said earlier, I have no problem with the Yanks kicking the tires on DeRosa. In fact, I love it. It'll drive up the price for whoever does sign him. However, I don't want to see the Yanks bring him in and expect him to produce at an above-average pace, regardless of where they stick him on the field.
Photo Credit: Danny Moloshok, Reuters