Every time I think we've concluded this series, a rumor pops up and I think to add another player to the list. Yesterday, Joel Sherman said that the "player that most enticed the Yankees is Xavier Nady." So, in what is hopefully the last post of this series, we'll discuss Nady's case.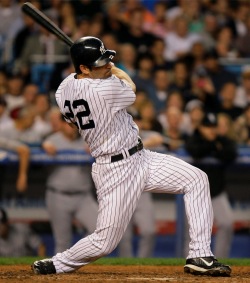 It feels like we hardly got to know Xavier Nady. Acquired at the 2008 trade deadline with Damaso Marte, Nady made just 276 plate appearances during his tenure. An April elbow injury cut short his 2009 campaign right after it began, leaving many questions unanswered. Could he repeat his breakout 2008, or was it a fluke? Even without a breakout, could he hold the starting right field job with Nick Swisher right behind him?
Nady's elbow injury, which resulted in his second Tommy John surgery, changed the outlook of his first crack at free agency. Even with a year that mirrored his 2007, a team with corner outfield needs, like the Braves and Giants, would probably have shown interest in him. The injury, however, has given teams pause. It shouldn't take Nady the full 12 to 18 months of recovery — he doesn't throw at max effort for 100 pitches at a clip, so he should recover quicker than a pitcher. Still, considering the low success rate of second time Tommy John victims (among them is Dave Eiland), it's understandable why a market for Nady has yet to develop.
Offensively, Nady showed improvement in most aspects of his game from 2006 through 2008. His power jumped in 2007, as he went from a .178 and .173 mark in 2005 and 06 to .197 in 07. He sustained that in 2008, posting a career high .205 ISO. His batting average increased in 2008 as well, going from around .280 in 2006 and 2007 to .305 in 2008. This coincides with a rise in BABIP, .337 in 2008, up from .323 in 07 and .311 in 06. Nady did hit fewer fly balls and more line drives in 2008, which helps explain the spike.
Earlier in his career a platoon player, Nady showed improvement against righties from 2006 through 2008. His batting average, on base percentage, and slugging percentage each rose every year, most notably from 2007 to 08. Whether he could repeat that in 2009 was another question left unanswered due to injury. As I noted in this post, Nady was hitting .335/.368/.538 against righties in 2008 at the time of the trade. He ended up with a .317/.357/.529 line against righties. But while he didn't sustain his first half marks against righties, his numbers against lefties also declined. So maybe he has turned a corner against right-handed pitching. But, because the most marked improvement came in one season, we can't really say one way the other.
While Nady's time in New York doesn't look great on paper, he did continue to hit while the Yankees were still in the race. In August, while the team still had a fighting chance, Nady hit .308/.351/.523 in 114 plate appearances. The moo wore off in September, however, as he hit .223/.270/.379 in 111 plate appearances. So it's not like he came to New York and fell off a cliff. That's a good sign, I think…
On the down side, Nady's ability to avoid making outs rests largely on his batting average. His 6.6 walk percentage in 2008 was a career high, though not by a lot. For comparison, Melky Cabrera walked in 6.5 percent of his plate appearances in his horrible 2008, and 8.1 percent in 2009. Thankfully for Nady, he's shown himself to be a .280 to .300 hitter over the last four years he played, so that does help his case. But if he sees a decline in that batting average, he'll be far less valuable to the team.
Defensively, he has shown himself as a below average player. Throughout his career he has almost exclusively been worth negative runs in terms of UZR. That did change in 2008, as he posted a 4.6 UZR/150 in left field and a 3.7 mark in right. He was, however, negative at both positions in 2006 and 2007 (though he didn't play left in 2006). This suggests that Nady is a below average outfielder. It would have been nice to get a better read on him in 2009.
Yesterday afternoon, ESPN's Keith Law commented on Nady, saying that he and Reed Johnson "represent marginal improvements ha may not justify the cost." This, I think, holds true if Nady regresses to his 2007 form. His power is nice, but unless he keeps his walk rate at around 6.5 to 7 percent and sustains his .280 to .300 batting average, he doesn't represent a significant upgrade over Brett Gardner. If, however, Nady comes back and plays to his final 2008 numbers, then he might be an improvement. Is that upside worth gambling the remaining budget?
In the skills post from last night, Gardner profiled as a three-skill player: speed, discipline, and defense. Nady possesses two: contact and power. Four current Yankee starters possess both of those skills. Other than Gardner, only Curtis Granderson has speed. So, unless Nady's demands come down — perhaps to a million with incentives — the Yankees are probably better off saving that cash for a possible addition down the road. That is, of course, if they truly plan to stay within their current budget all season. If that's just the Opening Day budget and the team is willing to spend more mid-season, well, then all bets are off.
Photo credit: AP Photo/Kathy Willens